EasyMile in Autonomous Mobility Service Experiment with STELLANTIS and SNCF Group within Framework of the SAM Project
Toulouse, 10 February 2021
Technology
Photo Credit: EasyMile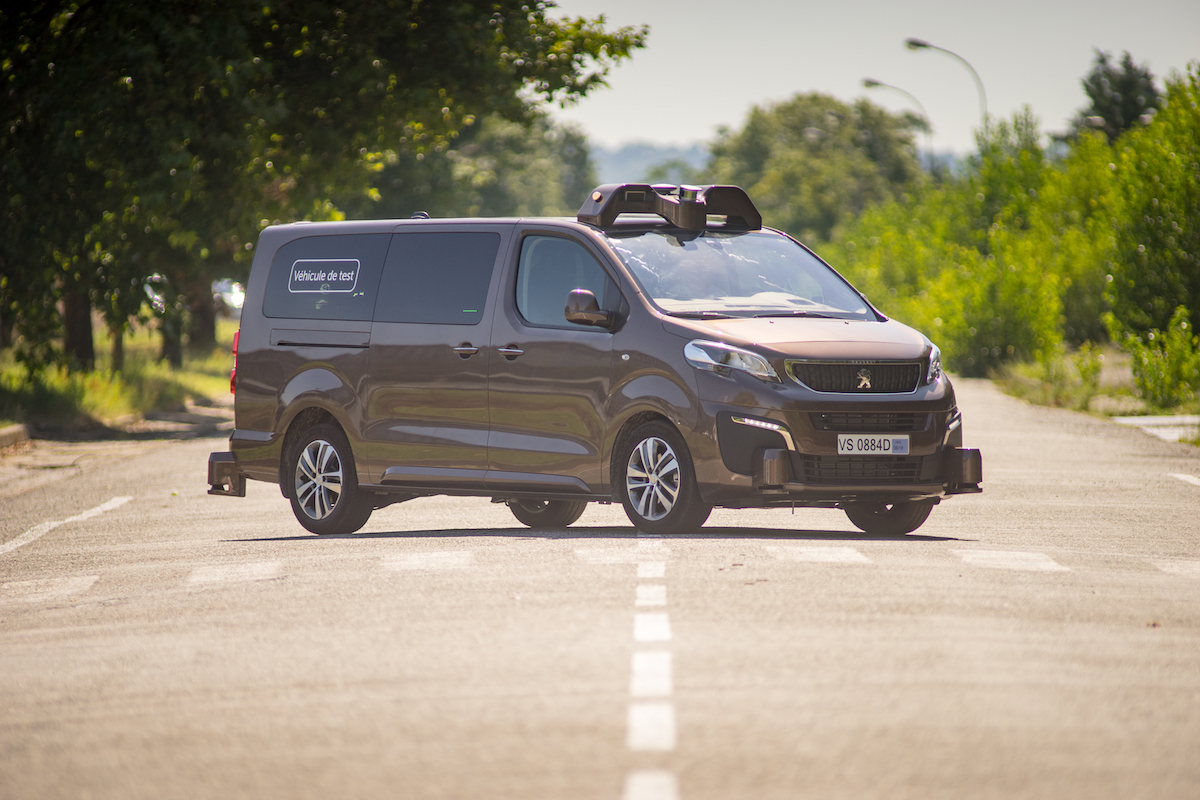 Toulouse, 10 February 2021 - As part of an experiment in the SAM* Project launched in June 2019, EasyMile is collaborating with car manufacturer STELLANTIS and the Innovation & Research Department of the SNCF Group, to design and test autonomous vehicles for public and shared transportation. The experiment will evaluate an autonomous mobility service on a converted railway, under real operating conditions, and demonstrate the safety of such a service on a dedicated track.
The full-scale tests will take place on the Nantes-Carquefou railway line, part of which has been converted by the SNCF Group to house its innovation platform for the development of autonomous collective mobility and to accommodate road vehicle traffic.
The initial study phase will use a first section of track that will allow EasyMile to prepare the technology for the deployment of the systems validation phase with the final vehicles.
EasyMile is differentiated by its approach, with low-speed autonomous mobility applications deployed in nearly 300 locations around the world. The implementation of this collaborative project is therefore essential for the development of the supplier's technology.
Benoit Perrin, Managing Director of EasyMile, said: "We are delighted to have been chosen by STELLANTIS to work collaboratively on this project. It allows us to combine the leading expertise of a car manufacturer with our standalone technology. This cooperation will make a major contribution to the future of autonomous driving for large-scale shared transportation".
EasyMile develops cutting-edge technology with intelligent navigation software, a range of latest-generation sensors and a fleet management system for autonomous vehicles. 
The software processes the data provided by the set of sensors, analyzes it and transmits the information to the vehicle. This includes systems for location, perception and path planning. The sensors collect and analyze the recorded data to create a 360-degree image of the environment, including road infrastructure, other vehicles, pedestrians and everything in its path.
Real-time processing of the data allows the autonomous vehicle system to decide how to behave in order to progress safely on the road (stop, start, slow down, etc.).
---
EasyMile Media Contact
Lucas Yon
Communications Executive
+33 (0)6 99 25 92 07 - lucas.yon@easymile.com
---
*The SAM Project is a French national-scale project of driving and autonomous mobility experiments bringing together industrial players, research and territorial partners. The challenge is twofold: to develop the uses and knowledge of these systems by citizens and local stakeholders and to build the future regulatory framework, particularly in terms of safety validation.
This operation was carried out with the help of the State's Future Investments entrusted to ADEME (French Environment and Energy Management Agency). 
---
---
EasyMile participe à l'expérimentation d'un service de mobilité autonome avec STELLANTIS et le Groupe SNCF dans le cadre du Projet SAM
Toulouse, 10 Février 2021 - Dans le cadre d'une expérimentation du Projet SAM* lancé en juin 2019, EasyMile, expert en technologie autonome démarre sa collaboration avec le constructeur automobile STELLANTIS et la Direction Innovation & Recherche du Groupe SNCF, pour concevoir et tester des véhicules autonomes pour le transport collectif et partagé.
Cette expérimentation permettra d'évaluer un service de mobilité autonome sur emprise ferroviaire reconvertie, dans des conditions réelles d'exploitation, et de démontrer la sécurité d'un tel service sur voie dédiée.
Les tests grandeur nature se dérouleront sur la ligne ferroviaire Nantes-Carquefou, dont une partie a été transformée par le Groupe SNCF afin d'y implanter sa plateforme d'innovation pour le développement de la mobilité collective autonome et pouvoir accueillir la circulation de véhicules routiers.
La phase d'étude initiale utilisera un premier tronçon de piste qui permettra à EasyMile de préparer la technologie pour le déploiement de la phase de validation des systèmes avec les véhicules finaux. 
EasyMile se différencie par son approche, avec des applications de mobilité autonome à basse vitesse déployées dans près de 300 sites. Le mise en œuvre de ce projet collaboratif est donc essentielle pour le développement de la technologie du fournisseur.
Benoit Perrin, Directeur Général d'EasyMile, déclare : "Nous sommes ravis d'avoir été choisi par STELLANTIS pour travailler en collaboration sur ce projet. Il permet de combiner l'expertise de pointe du constructeur automobile, avec notre technologie autonome. Cette coopération apportera une contribution majeure à l'avenir de la conduite autonome pour le transport partagé à grande échelle."
EasyMile développe une technologie de pointe composée d'un logiciel de navigation intelligente, d'une gamme de capteurs de dernière génération ainsi que d'un système de gestion de flotte pour véhicules autonomes. 
Le logiciel traite les données fournies par l'ensemble de capteurs, les analyse et transmet les informations au véhicule. Cela inclut des systèmes de localisation, de perception et de planification des trajectoires. Les capteurs collectent et analysent les données enregistrées pour créer une image à 360 degrés de l'environnement, y compris les infrastructures routières, les autres véhicules, les piétons et tout ce qui se trouve sur son chemin.
Le traitement en temps réel des données permet au système du véhicule autonome de décider comment se comporter pour progresser en toute sécurité sur la route (s'arrêter, partir, ralentir, etc.).
---
Contact Presse EasyMile
Lucas Yon
Chargé de Communication 
+33 (0)6 99 25 92 07 - lucas.yon@easymile.com
---
*Le Projet SAM est un projet français d'envergure nationale, d'expérimentations de conduite et de mobilité autonome rassemblant des acteurs industriels, de la recherche et des partenaires territoriaux. L'enjeu est double, développer les usages et la connaissance de ces systèmes par les citoyens et les acteurs des territoires et construire le futur cadre de régulation, notamment en termes de validation de la sécurité.
Opération réalisée avec le concours des Investissements d'Avenir de l'Etat confiés à l'ADEME.