EasyMile in French Tech 2030
Toulouse, France - 15 June 2023
Technology
French Tech 2030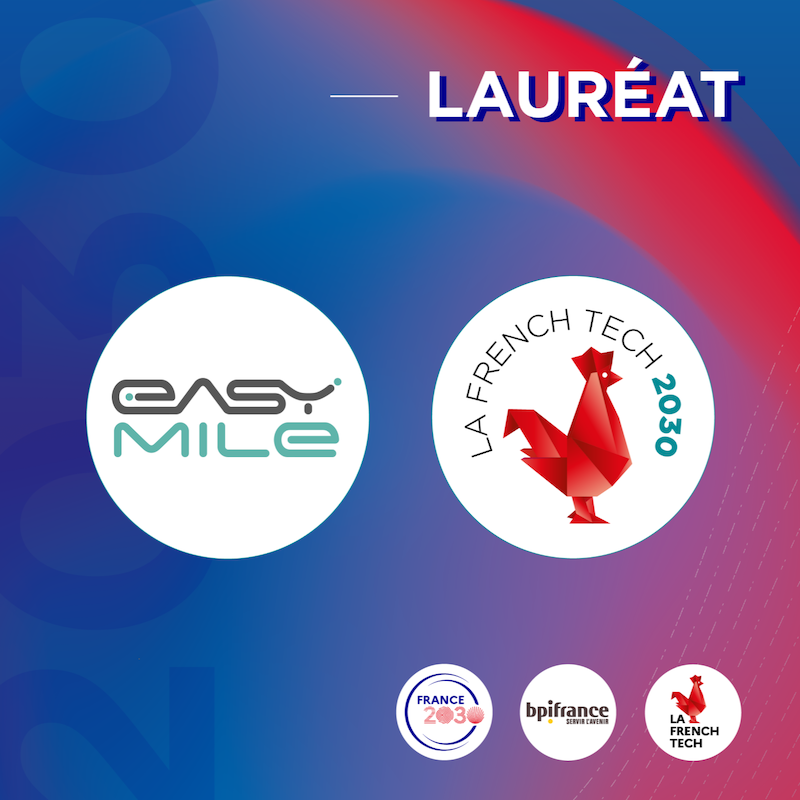 Toulouse, 15 June 2023 – EasyMile, a global driverless technology leader, is proud to announce its inclusion among 125 companies selected by the French government as innovating in the themes of "France 2030". The announcement was made by the French President, Emmanuel Macron, further reinforcing EasyMile's position as a key player in the country's tech landscape.
The selected companies are deemed to demonstrate a level of economic and technological maturity that enables them to be global technological leaders.
French Tech 2030 is an initiative aimed at highlighting France's technological and innovative ecosystem, supported by the Secrétariat Général pour l'Investissement and Bpifrance.  The winners are a mix of industrial start-ups and deeptech focussed on ecological transition, healthcare, digital, agri, new frontiers and education. 
Like EasyMile, more than half of the winners are headquartered outside the Paris Region and underwent a robust selection process by representatives of the Direction Générale des Entreprises, the Direction Générale de la Recherche et de l'Innovation, the Agence de l'innovation de défense, the Agence de l'Innovation en Santé and the Commissariat Général au Développement Durable. 844 applications were received.
"We are honored to be selected as part of the French Tech 2030," said Benoit Perrin, General Manager at EasyMile. "This recognition is testament to our commitment to ready technology and setting a benchmark for innovation. It fuels our passion to continue developing autonomous solutions that meet real needs. We are proud to be contributing to France's position as a global leader in technology."

EasyMile provides software and complete solutions for driverless goods and passenger transport.  It partners with blue-chip manufacturers to autonomize their vehicles. 
The company's global clients list includes major public transport operators, industrial sites and airports, and ports. They use the EZ10 public transport solution, the most deployed autonomous shuttle in the world, the TractEasy tow-truck, deployed at a growing number of large vehicle manufacturing plants in both Europe and North America, as well as at major international airports, or the port terminal tractor, EZTug, which automates horizontal container transport.  
EasyMile has deployed vehicles in over 400 locations around the world and is accelerating its commercialization.
 
Media Contact 
Benieke Treverton
Head of Communications
+33 (0)7 62 83 13 44 - benieke.treverton@easymile.com
---
EasyMile lauréat de la première promotion French Tech 2030 
Toulouse, 15 juin 2023 - EasyMile, fournisseur leader de technologie autonome, est fière d'annoncer être lauréat de la première promotion French Tech 2030, aux côtés de 124 entreprises, renforçant ainsi sa position en tant qu'acteur clé de l'écosystème innovant et technologique du pays. Les lauréats de cette première promotion ont été annoncés par le Président de la République Emmanuel Macron lors du salon VivaTech. 
Les entreprises sélectionnées ont démontré un niveau de maturité économique et technologique qui leur permet d'être des leaders technologiques mondiaux.
French Tech 2030 est une initiative visant à mettre en valeur l'écosystème technologique et innovant français, soutenue par le Secrétariat Général pour l'Investissement et Bpifrance.  Les lauréats comprennent des start-ups industrielles et de deeptech axées sur la transition écologique, la santé, le numérique, l'agroalimentaire, les nouvelles frontières et l'éducation. 
Comme EasyMile, plus de la moitié des lauréats ont leur siège en dehors de l'Île-de-France et ont fait l'objet d'un processus de sélection rigoureux par des représentants de la Direction Générale des Entreprises, de la Direction Générale de la Recherche et de l'Innovation, de l'Agence de l'innovation de défense, de l'Agence de l'Innovation en Santé et du Commissariat Général au Développement Durable. 844 candidatures ont été reçues.
"Nous sommes très honorés d'avoir été sélectionnés dans le cadre de French Tech 2030", a déclaré Benoit Perrin, Directeur Général d'EasyMile. "Cette reconnaissance témoigne de notre engagement envers l'innovation et notre contribution à la transformation de la mobilité.  Cela renforce notre motivation à développer des solutions autonomes qui répondent à des besoins réels. Nous sommes fiers de contribuer à la position de la France en tant que leader mondial dans le domaine de la technologie."
EasyMile fournit des logiciels et des solutions complètes pour le transport autonome de marchandises et de passagers. L'entreprise s'associe à des constructeurs de premier plan pour automatiser leurs véhicules. 
La liste des clients mondiaux de l'entreprise comprend les principaux opérateurs de transport public, des sites industriels et des aéroports, ainsi que des ports. Ils utilisent la solution de transport public EZ10, la navette autonome la plus déployée au monde, le tracteur logistique, TractEasy, déployé dans un nombre croissant de grandes usines de fabrication de véhicules en Europe et en Amérique du Nord, ainsi que dans les principaux aéroports internationaux, ou encore le tracteur de terminal portuaire EZTug. 
EasyMile a déployé des véhicules dans plus de 400 sites à travers le monde et accélère sa commercialisation.
Media Contact 
Lucas Yon
Chargé de Communication
+33 (0)6 99 25 92 07 -lucas.yon@easymile.com