European first in the Yvelines: Autonomous, electric shuttles without an on-board operator, in a complex environment
Les Mureaux, France - 15 December 2022
EZ10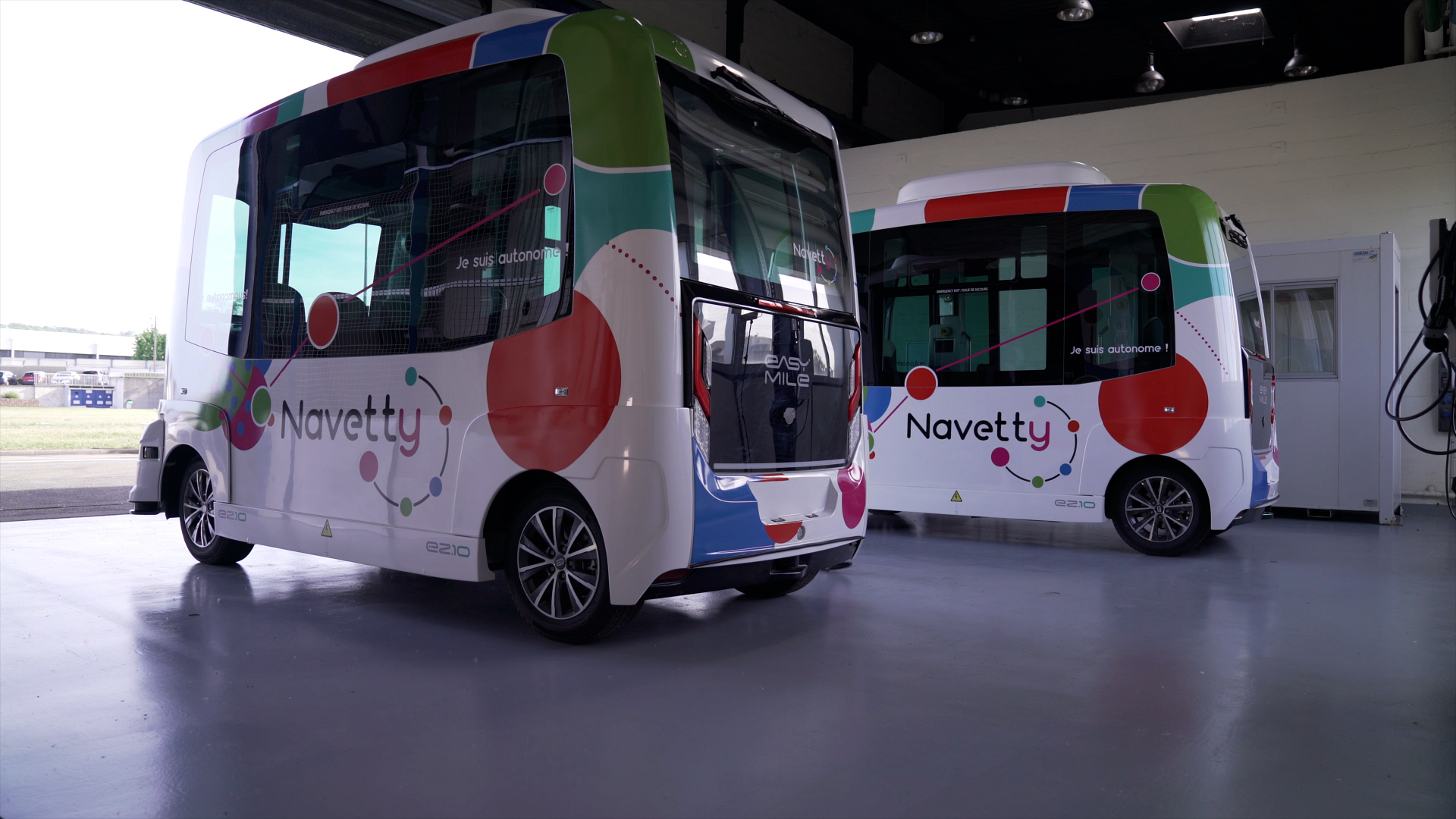 The autonomous and electric shuttles of the Navetty research project, supported by the Yvelines Department, EasyMile, Transdev, ArianeGroup and VEDECOM have been running with an on-board supervizor since their official launch in May 2021 at the ArianeGroup site in Les Mureaux, France. In early November, a new step was taken. The shuttles are now running completely autonomously, without a human supervisor inside the vehicle, marking the first of its kind on a European scale - fully driverless in a complex environment, in normal traffic conditions.
Les Mureaux, France, 15 December 2022 - For the Yvelines department, which has invested 2.5 million euros in the project, the Navetty research program aims to promote industrial R&D in the region, but also to ensure the deployment of these innovations on roads open to public traffic.
"Solving the last mile problem, which many of the region's residents encounter in their daily travels, is also a priority objective, and is fully in line with the strengthening of the region's mobility investment policy. This autonomous shuttle service should eventually provide an optimal connection to the future RER EOLE stations. The department is also continuing to support the strengthening of links between the aeronautical, technological and automotive industries, which are very present in the region," explains Maxime Rabasté, Director of Environment and Development position at the Yvelines department.
The first mobility service without an on-board supervisor is operational in a complex environment in the Yvelines 
Two shuttles, developed by EasyMile and operated by Transdev, run daily on routes of up to 6.6 km to enable ArianeGroup employees - up to 10 passengers per trip - to travel around the 92-hectare site, while guaranteeing service quality and safety. Since the launch, more than 50 daily trips have been made, covering 23,000 kilometers in complete safety.
The ArianeGroup site is the ideal launch pad to future deployment on an urban scale. It brings together all the complexities of a city. The shuttles are integrated into a shared environment where pedestrians and vehicles circulate, without modifying existing infrastructures or dedicated lanes. The route integrates traffic circles, intersections, a tunnel and 18 stops spread throughout the site
For Benoit Perrin, General Manager of EasyMile: "We are proud to have a reliable and relevant service for ArianeGroup employees, on such a complex site and in a totally autonomous way. Autonomous shuttles reinforce the attractiveness of public transport, by offering practical and safe collective mobility solutions. Our technology is ready to be deployed on sites of this scale and other sites will soon follow Ariane's example."
One remote supervizor for 3 autonomous shuttles
The autonomous shuttles were deployed progressively over a period of five months, guaranteeing a total level of safety at each stage. A remote supervisor can intervene or interact with passengers at any time from the Central Control Station (CCS), with the possibility of acting when necessary. 
The arrival of a third shuttle in January will test the feasibility of supervising a fleet of three autonomous shuttles with a single supervisor, while ensuring safety and service performance.
In addition, it allows planning for the development of a permanent commercial service of autonomous shuttles. This is the only project in Europe in which three shuttles will be supervised remotely by a one single supervisor, without an on-board operator and under normal traffic conditions.
"Through this program, Transdev is preparing to operate the first commercial autonomous shuttle services. From the training of supervisors to the deployment and operation of the service, we are applying our business expertise to achieve the same standards of safety and quality of service as in our fleets of driven vehicles," says Virginie Fernandes, Director of Strategy and Transformation for Transdev Group.
Next step: Deploying an on-demand autonomous shuttle service 
With the initial technological goals achieved, efforts will focus on developing the service for ArianeGroup employees. A mobile application for on-demand reservations is set to be launched in early 2023. Employees will be able to order a shuttle directly from their location thanks to an integrated geolocation system. "Navetty has been part of the life of our site for a year and a half and is now preparing to go out into the city to eventually extend the service offered to our employees. True to its innovative and pioneering spirit, the ArianeGroup site in Les Mureaux is proud to actively contribute to the development of autonomous urban vehicles," explains Hugues Emont, Director of the ArianeGroup site in Les Mureaux.
The Navetty project will continue to progress, with the launch in 2023 of a route on an open road between the Mureaux train station and the ArianeGroup site. This will be an opportunity to test the implementation of a "last mile" service and to reflect on the next stages of deployment.
For Eric Lebeau, VEDECOM's Managing Director, "the Navetty program is a concrete illustration of VEDECOM's mission to encourage and federate innovation in the mobility ecosystem, by bringing together territories, manufacturers and transport operators in this European first. As part of this program, VEDECOM will soon be experimenting with two cooperative driving scenarios between infrastructure and vehicles through the implementation of an intelligent traffic circle where disembarked perception followed by a collision risk analysis will make it possible to communicate maneuvering instructions to the shuttles, thus further improving safety and optimizing the time taken to pass through the traffic circle. One more step towards the safe deployment of shared automated vehicle fleets."
 
---
NAVETTY PROJECT PARTNERS

ABOUT VEDECOM
The Institute for Energy Transition (ITE) VEDECOM is a public-private partnership foundation dedicated to innovative and sustainable mobility, i.e. more ecological, more autonomous and better shared. It has been commissioned by the French government, via the ANR, to support technological innovation and the French industrial sectors involved in the mobility of the future. Based on an unprecedented collaboration of more than 50 players, it brings together academic institutions, local authorities and various private players impacted by the evolution of mobility: automotive, public transport and mobility, logistics, road infrastructure, telecommunications, energy, aeronautics and defense, digital services and simulation, and insurance. This central role as a trusted third party enables its members to work together to accelerate innovation and the deployment of new solutions. Through its three areas of multidisciplinary R&D, electrification, autonomous and connected vehicles and new mobility and shared energy solutions, VEDECOM provides a systemic vision of the vehicle, its environment and the deployment of new mobilities. 
For more information: www.vedecom.fr 

ABOUT THE YVELINES DEPARTMENTAL COUNCIL 
The Departmental Council, a local institution serving nearly 1.4 million inhabitants in 259 municipalities, assists all the people of Yvelines at various stages of their lives. Social support, regional planning, mobility and education through the colleges are its major structuring projects. The Department works to improve the daily lives of the people of Yvelines thanks to its deliberative Assembly composed of 42 councillors and its 3,800 agents spread throughout the territory. In 2019, the Department is investing €420 million, or €287 per inhabitant. The main investments concern infrastructure and public transport, colleges, solidarity and social action, territorial attractiveness and the financing of development projects. For more information: www.yvelines.fr

ABOUT EASYMILE 
EasyMile is an industry leader in autonomous technology. The company develops software to automate transportation platforms without dedicated infrastructure. EasyMile's cutting-edge technology is revolutionizing passenger and freight transportation by providing completely new mobility options. Its passenger shuttle, the EZ10, provides first- and last-mile transportation on private sites or public roads. EasyMile is also developing theTractEasy, an autonomous cargo tractor for logistics and airport sites. Since 2014, EasyMile's cutting-edge technology has been deployed at more than 300 sites in over 30 countries. EasyMile relies on the support of its strategic partners and minority shareholders, Alstom, Continental and Bpifrance. 
For more information: www.easymile.com

ABOUT TRANSDEV 
As a global mobility operator and integrator, Transdev enables everyone to move freely.
Transdev is a leader in the operation of autonomous mobility services with more than 3.5
million passengers transported worldwide. Transdev relies on Transdev Autonomous
Transport Systems, a dedicated expert entity developing the technologies and services
required for the daily operation of fleets of shared autonomous vehicles, in the context of
public or private transport services. We are proud to provide 11 million passenger trips on
average everyday thanks to efficient, easy to use and environmentally-friendly transportation
services that connect people and communities. Our approach is rooted in long-term partnerships
with businesses and public authorities, and in the relentless pursuit of the safest and most innovative
mobility solutions. We are a team of people serving people, and mobility is what we do. Transdev is
jointly held by Caisse des Dépôts Group (66%) and the Rethmann Group (34%). In 2021, with some
82,000 employees in 18 countries, the Group generated total revenues of €7 billion. For more
information: www.transdev.com 
ABOUT ARIANEGROUP 
ArianeGroup is a prime contractor for civil and military space launch vehicle systems. It is responsible for the design, production, integration and flight preparation of the Ariane 5 and 6 European launchers, marketed and operated by its subsidiary Arianespace. It also designs, manufactures, integrates and provides operational maintenance for missiles used by France's ocean deterrent force. A world-renowned specialist in innovative, competitive solutions, ArianeGroup has mastered the most advanced propulsion technologies for launchers and space applications. Through its subsidiaries, it also brings its expertise in equipment, services, space surveillance and critical facilities to other sectors. A joint venture equally owned by Airbus and Safran, ArianeGroup employs about 7,000 highly skilled people in France and Germany. The group's consolidated revenues in 2021 are expected to reach €3.1 billion. For more information: press.ariane.group
 
---

PRESS CONTACTS 
VEDECOM 
Emmanuelle Laplace | Emmanuelle.boittin-laplace@vedecom.fr | 06 72 31 95 90

YVELINES DEPARTMENTAL COUNCIL 
Amélie Baillot | ABailleau@yvelines.fr | 01 39 07 78 41 or 06 10 68 07 49

EASYMILE 
Lucas Yon | lucas.yon@easymile.com | 06 99 25 92 07

TRANSDEV
Sophie Geng | sophie.geng@transdev.com | 06 24 12 13 70
Olivier Le Friec | olivier.le-friec@transdev.com | 06 10 60 58 45

ARIANEGROUP
Astrid Emerit | astrid.emerit@ariane.group | 06 86 65 45 02
Camille Sohier | Camille.sohier@ariane.group | 06 49 00 90 75
 
---
---
Première européenne dans les Yvelines : Des navettes autonomes et électriques circulent, sans opérateur à bord, dans un environnement complexe
Lancées officiellement en mai 2021 sur le site d'ArianeGroup aux Mureaux, les navettes autonomes et électriques du programme de recherche Navetty porté par le Département des Yvelines, EasyMile, Transdev, ArianeGroup et VEDECOM roulaient depuis lors avec un opérateur à bord. Début novembre une nouvelle étape a été franchie. Les navettes fonctionnent à présent de manière totalement autonome, sans opérateur humain à l'intérieur des véhicules, concrétisant ainsi une première à l'échelle européenne au sein d'un environnement complexe, dans des conditions habituelles de circulation. 
Les Mureaux, France, 15 décembre 2022 - Pour le Département des Yvelines, qui y a investi 2,5 millions d'euros, le programme de recherche Navetty vise à favoriser la R&D industrielle sur le territoire, mais aussi à s'assurer du déploiement de ces innovations sur voie ouverte à la circulation publique. « La résolution de la problématique du dernier kilomètre, que nombre d'habitants du territoire rencontrent dans leurs déplacements quotidiens, est aussi un objectif prioritaire, et s'inscrit pleinement dans le renforcement de la politique d'investissement dans les mobilités du territoire. Ce service de navettes autonome devra permettre, à terme, une connexion optimale aux futures gares du RER EOLE. Le Département poursuit également son appui au renforcement des liens entre les industries aéronautiques, technologiques et automobiles, très présentes sur le territoire. » explique Maxime Rabasté, Directeur de l'Environnement et du Développement au Département des Yvelines.
Le premier service de mobilité sans opérateur à bord est opérationnel dans un environnement complexe dans les Yvelines 
Deux navettes, développées par EasyMile et opérées par Transdev, parcourent chaque jour des boucles pouvant aller jusqu'à 6,6 km pour permettre aux collaborateurs d'ArianeGroup - jusqu'à 10 voyageurs par trajet - de se déplacer sur le site de 92 ha, tout en garantissant qualité de service et sécurité.
Depuis le lancement, c'est plus de 50 rotations quotidiennes et 23 000 kilomètres parcourus en toute sécurité.
Le site d'ArianeGroup constitue une étape idéale avant un déploiement futur à l'échelle urbaine. Il rassemble en effet tous les éléments de complexité d'une agglomération. Les navettes sont intégrées dans un environnement partagé où circulent piétons et véhicules, sans modification des infrastructures existantes ni de voie dédiée. Le parcours intègre des ronds-points, des intersections, un tunnel et 18 arrêts répartis sur l'ensemble du site.
Pour Benoît Perrin, Directeur Général d'EasyMile : "Nous sommes aujourd'hui fiers d'avoir un service fiable, et pertinent pour les salariés d'ArianeGroup, sur un site aussi complexe et de manière totalement autonome. Les navettes autonomes sont un moyen de renforcer l'attractivité du transport public, en proposant des solutions de mobilité collectives pratiques et sûres. Notre technologie est prête à être déployée sur des sites de cette envergure et d'autres sites vont bientôt suivre l'exemple d'ArianeGroup."
Un superviseur à distance pour 3 navettes autonomes
La mise en circulation des navettes autonomes sans opérateur à bord a suivi un déploiement progressif et s'est étalée sur 5 mois, garantissant à chaque étape un niveau de sécurité total. Un superviseur à distance peut intervenir ou échanger avec les passagers à tout moment depuis le Poste de Commande Centralisé (PCC), avec une possibilité d'agir lorsque cela est nécessaire. 
L'arrivée d'une troisième navette en janvier va permettre de tester la faisabilité de superviser une flotte de trois navettes autonomes avec un seul superviseur, tout en assurant la sécurité et la performance du service.
De plus, cela permet de se projeter vers le déploiement d'un service commercial permanent de navettes autonomes. C'est le seul projet en Europe dans lequel trois navettes seront opérées à distance par un superviseur, sans opérateur à bord et dans des conditions habituelles de circulation.
« A travers ce programme, Transdev se prépare à opérer les premiers services commerciaux de navettes autonomes. Depuis la formation des superviseurs jusqu'au déploiement et à l'exploitation du service, nous déclinons nos expertises métiers pour atteindre les mêmes standards de sécurité et de qualité de service que dans nos flottes de véhicules conduits. » indique Virginie Fernandes, Directrice de la stratégie et de la Transformation du groupe Transdev.

Prochaine étape : Déployer un service de navettes autonomes à la demande 
Maintenant que les premiers objectifs technologiques sont atteints, les efforts vont se concentrer sur le développement du service pour les salariés d'ArianeGroup. Une application mobile devrait être lancée début 2023 pour permettre aux salariés de commander une navette directement depuis le lieu où ils se trouvent grâce à un système de géolocalisation intégré. « Navetty fait partie de la vie de notre site depuis un an et demi et se prépare maintenant à sortir dans la ville pour étendre à terme le service proposé à nos salariés. Fidèle à son esprit novateur et pionnier, le site ArianeGroup des Mureaux est fier de contribuer activement au développement de véhicules urbains autonomes », explique Hugues Emont, directeur du site ArianeGroup des Mureaux.
Le programme Navetty continuera ses avancées avec le lancement, courant 2023, d'un parcours sur route ouverte, entre la gare des Mureaux et le site d'ArianeGroup. Ce sera l'occasion d'expérimenter la mise en place d'un service du « dernier kilomètre » et de réfléchir aux prochaines étapes de déploiement. Pour Eric Lebeau, Directeur Général de VEDECOM, « le programme Navetty est une illustration concrète de la mission de VEDECOM d'encourager et de fédérer l'innovation dans l'écosystème de la mobilité, en associant territoires, constructeurs et opérateurs de transport dans cette première européenne. Dans le cadre de ce programme, VEDECOM va prochainement expérimenter deux scénarios de conduite coopérative entre infrastructure et véhicules à travers la mise en place d'un rond-point intelligent où la perception débarquée suivie d'une analyse de risque de collision permettront de communiquer aux navettes des consignes de manœuvre, permettant ainsi d'améliorer encore la sécurité et d'optimiser le temps de passage du rond-point. Un pas de plus vers le déploiement sécurisé de flottes de véhicules automatisés partagés. »

PARTENAIRES DU PROGRAMME NAVETTY
À PROPOS DU CONSEIL DÉPARTEMENTAL DES YVELINES 
Le Conseil départemental, institution de proximité au service de près de 1,4 millions d'habitants répartis dans 259 communes, accompagne tous les Yvelinois à différents moments de leur vie :  solidarités, insertion, aide sociale, collèges, mobilités... Le Département agit également de façon volontariste dans des domaines qui représentent un enjeu pour son territoire : accès à la culture et aux sports, ruralité, développement et attractivité territoriale, aides aux communes, préservation de l'environnement. 42 conseillers départementaux élus au suffrage universel se réunissent en assemblée délibérante (ouverte au public) environ six fois par an pour décider des grandes orientations et voter le budget. Les 3 800 agents répartis sur tout le territoire mettent en œuvre ses décisions. 
En 2022, les Yvelines ont choisi de maintenir un investissement fort et consacrent pas moins de 461M€ aux communes du territoire et aux projets d'avenir. Les principaux investissements concernent les infrastructures et les transports en commun, les collèges, la solidarité et l'action sociale, l'attractivité territoriale et le financement de projets d'aménagement. Avec plusieurs missions phares telles que l'implantation et la croissance des entreprises, le soutien à l'innovation, l'accompagnement des pôles de recherche, la réindustrialisation et l'avènement de nouvelles filières, le Département des Yvelines se positionne comme un opérateur d'investissement puissant au service des acteurs du territoire. 
Plus d'informations : www.yvelines.fr
À PROPOS D'EASYMILE 
EasyMile est un leader de l'industrie de la technologie autonome. L'entreprise développe des logiciels pour automatiser les plateformes de transport sans infrastructures dédiées. La technologie de pointe d'EasyMile révolutionne les transports de passagers et de marchandises en proposant des options de mobilité totalement novatrices. Sa navette pour le transport de passagers, l'EZ10, assure le transport du premier et du dernier kilomètre sur des sites privés ou sur des routes publiques. EasyMile développe également leTractEasy, un tracteur de transport de marchandise autonome pour les sites logistiques et aéroportuaires. Depuis 2014, la technologie de pointe d'EasyMile a été déployée sur plus de 300 sites dans plus de 30 pays. EasyMile s'appuie sur le soutien de ses partenaires stratégiques et actionnaires minoritaires, Alstom, Continental et Bpifrance. 
Plus d'informations : www.easymile.com
À PROPOS DE TRANSDEV 
En tant qu'opérateur et intégrateur global de mobilités, Transdev permet à tous de se déplacer librement. Transdev est leader dans l'opération de services de mobilité autonome avec plus de 3,5 millions de passagers transportés dans le monde. Transdev s'appuie pour cela sur Transdev Systèmes de Transport Autonome, entité experte dédiée développant les technologies et services nécessaires à l'opération quotidienne de flottes de véhicules autonomes partagés, dans le cadre de services de transport public ou privé. Transdev transporte 11 millions de passagers au quotidien grâce à ses différents modes de transport efficaces et respectueux de l'environnement, qui connectent les individus et les communautés. Transdev conseille et accompagne, dans une collaboration durable, les collectivités territoriales et les entreprises dans la recherche de solutions de mobilité plus sûres et innovantes : ce sont 85 000 femmes et hommes au service de ses clients et passagers. Transdev est codétenu par la Caisse des Dépôts à 66% et par le Groupe RETHMANN à 34%. En 2019, présent dans 18 pays, le Groupe a réalisé un chiffre d'affaires de 7,4 milliards d'euros. 
Plus d'informations : www.transdev.com 
À PROPOS D'ARIANEGROUP 
ArianeGroup est maître d'œuvre de systèmes de lanceurs spatiaux civils et militaires. Il est responsable de la conception, de la production, de l'intégration et de la préparation au vol des lanceurs européens Ariane 5 et 6, commercialisés et opérés par sa filiale Arianespace. Il assure également la conception, la fabrication, l'intégration et la maintenance opérationnelle des missiles de la force de dissuasion océanique française. Spécialiste mondialement reconnu pour ses solutions innovantes et compétitives, ArianeGroup maîtrise les différentes technologies les plus avancées en matière de propulsion pour les lanceurs et les applications spatiales. Avec ses filiales, il fait aussi bénéficier d'autres secteurs de son expertise en matière d'équipements, de services, de surveillance spatiale et d'installations critiques. Co-entreprise détenue à part égales par Airbus et Safran, ArianeGroup emploie environ 7000 personnes hautement qualifiées en France et en Allemagne. Le chiffre d'affaires consolidé du groupe en 2021 est de 3,1 milliards d'euros. Plus d'informations : press.ariane.group
À PROPOS DE VEDECOM
L'Institut pour la Transition Énergétique (ITE) VEDECOM est une fondation partenariale publique-privée dédiée aux mobilités innovantes et durables, c'est-à-dire plus écologiques, plus autonomes et mieux partagées. Il est missionné par l'État, via l'ANR, pour soutenir l'innovation technologique et les filières industrielles françaises engagées dans les mobilités du futur. Fondé sur une collaboration inédite de plus de 50 acteurs, il rassemble établissements académiques, collectivités territoriales et différents acteurs privés impactés par l'évolution des mobilités : automobile, transport public et mobilité, logistique, infrastructures de la route, télécommunications, énergie, aéronautique et défense, services numériques et simulation, assurance. Ce rôle central de tiers de confiance permet à ses membres d'accélérer ensemble l'innovation et le déploiement de nouvelles solutions. A travers ses trois axes de R&D multidisciplinaire, l'électrification, le véhicule automatisé et connecté et les nouvelles solutions de mobilité et d'énergies partagées, VEDECOM apporte une vision systémique du véhicule, de son environnement et du déploiement des nouvelles mobilités. 
Plus d'informations : www.vedecom.fr 
CONTACTS PRESSE 
VEDECOM 
Emmanuelle Laplace | Emmanuelle.boittin-laplace@vedecom.fr | 06 72 31 95 90
CONSEIL DEPARTEMENTAL DES YVELINES 
Agence Droit Devant | Jeanne Pitrou | pitrou@droitdevant.fr | 01 39 53 53 53 ou 06 58 69 04 30 
EASYMILE 
Lucas Yon | lucas.yon@easymile.com | 06 99 25 92 07
TRANSDEV
Sophie Geng | sophie.geng@transdev.com | 06 24 12 13 70
Olivier Le Friec | olivier.le-friec@transdev.com | 06 10 60 58 45
ARIANEGROUP
Astrid Emerit | astrid.emerit@ariane.group | 06 86 65 45 02
Camille Sohier | Camille.sohier@ariane.group | 06 49 00 90 75
 
---
---
Erstmals in Europa: Flotte von autonomen Elektro-Shuttles ohne Bordpersonal im Einsatz am Industriestandort der ArianeGroup in den Yvelines bei Paris
Die autonomen und elektrischen Shuttles des Forschungsprojekts Navetty, unterstützt vom Departement Yvelines, EasyMile, Transdev, ArianeGroup und VEDECOM, fahren seit ihrem offiziellen Start im Mai 2021 am ArianeGroup-Standort in Les Mureaux, Frankreich, mit einem On-Board-Supervisor. Anfang November wurde ein neuer Schritt getan. Die Shuttle-Flotte fährt jetzt völlig autonom, ohne menschliche Aufsicht im Fahrzeug, und markiert damit die erste ihrer Art auf europäischer Ebene – das heißt, völlig fahrerlos in einer komplexen Umgebung, unter normalen Verkehrsbedingungen.
Les Mureaux, Frankreich, 15 Dezember 2022 - Für das Departement Yvelines, das 2,5 Millionen Euro in das Projekt investiert hat, zielt das Forschungsprogramm Navetty darauf ab, die industrielle Forschung und Entwicklung in der Region zu fördern, aber auch den Einsatz dieser Innovationen auf öffentlichen Straßen sicherzustellen. "Die Lösung des Last-Mile-Problems, dem viele Einwohner der Region auf ihren täglichen Wegen begegnen, ist ebenfalls ein vorrangiges Ziel und steht voll im Einklang mit der Stärkung der Mobilitätsinvestitionspolitik der Region. Dieser autonome Shuttle-Service soll schließlich eine optimale Verbindung bieten zu den zukünftigen RER EOLE-Stationen. Die Abteilung unterstützt auch weiterhin die Stärkung der Verbindungen zwischen der Luftfahrt-, Technologie- und Automobilindustrie, die in der Region sehr präsent sind", erklärt X, Position in der Abteilung Yvelines.
Flottenmobilitätsdienste ohne Bordaufsicht sind in einer komplexen Umgebung in den Yvelines in Betrieb
Zwei von EasyMile entwickelte und von Transdev betriebene Shuttles verkehren täglich auf Strecken von bis zu 6,6 km, um es den Mitarbeitern der ArianeGroup – bis zu 10 Passagiere pro Fahrt – zu ermöglichen, sich auf dem 92 Hektar großen Gelände fortzubewegen und gleichzeitig Servicequalität und Sicherheit zu gewährleisten. Seit dem Start wurden mehr als 50 tägliche Fahrten unternommen und 23.000 Kilometer in absoluter Sicherheit zurückgelegt.
Der Standort der ArianeGroup ist eine ideale Startrampe für den zukünftigen Einsatz im städtischen Maßstab. Es vereint alle Komplexitäten eines urbanen Gebiets. Die Shuttles sind in eine gemeinsame Umgebung integriert, in der Fußgänger und Fahrzeuge zirkulieren, ohne bestehende Infrastrukturen oder spezielle Fahrspuren zu verändern. Die Strecke umfasst Kreisverkehre, Kreuzungen, zahlreiche Haltestellen – mindestens 20 pro Fahrt – und einen Tunnel.
Für Benoit Perrin, CEO von EasyMile: "Wir sind stolz darauf, einen zuverlässigen und relevanten Service für ArianeGroup-Mitarbeiter an einem so komplexen Standort und auf völlig autonome Weise anzubieten. Autonome Shuttles verstärken die Attraktivität des öffentlichen Verkehrs, indem sie praktische und sichere Verbindungen bieten Mobilitätslösungen. Unsere Technologie ist bereit, an Standorten dieser Größenordnung eingesetzt zu werden, und andere Standorte werden bald dem Beispiel von Ariane folgen."
Ein reibungsloser, effizienter und sicherer Service dank eines Aufsichtspersonals für 2 und bald 3 Shuttles
Die autonomen Shuttles ohne Bordpersonal wurden schrittweise über einen Zeitraum von 5 Monaten eingesetzt, um durch die Überwachung von Schlüsselindikatoren in jeder Phase ein hohes Sicherheitsniveau zu gewährleisten. Ein Remote Supervisor kann jederzeit von der Central Control Station (CCS) aus eingreifen oder sich mit Passagieren austauschen, mit der Möglichkeit, bei Bedarf Maßnahmen zu ergreifen. Allerdings kann der Supervisor das Shuttle nicht aus der Ferne steuern: In komplexen Situationen greift ein Außendienstmitarbeiter vor Ort ein.
Die Ankunft eines dritten Shuttles wird es einem Bediener ermöglichen, eine zu testende Shuttle-Flotte zu überwachen, wobei die maximale kognitive Belastung berücksichtigt wird, um die Sicherheit und Leistung des Dienstes zu gewährleisten.
Dies wird auch eine Projektion auf die Demonstration eines tragfähigen Wirtschaftsmodells für den Einsatz eines permanenten autonomen Shuttle-Dienstes ermöglichen. Dies ist das einzige Projekt in Europa, bei dem 3 Shuttles von einem übergeordneten Operator ferngesteuert werden, ohne Bordoperator und in einer komplexen privaten Umgebung.

Nächster Schritt: Bereitstellung eines autonomen On-Demand-Shuttle-Service
Nachdem die anfänglichen technologischen Ziele erreicht wurden, werden sich die Bemühungen auf die Entwicklung des Dienstes für die Mitarbeiter der ArianeGroup konzentrieren. Eine mobile Anwendung für On-Demand-Reservierungen soll Anfang 2023 auf den Markt kommen. Mitarbeiter können dank eines integrierten Geolokalisierungssystems direkt von ihrem Standort aus einen Shuttle bestellen. "Nach zwei Jahren voller Tests und Demonstrationen ist Navetty nun Teil des Lebens unseres Standorts und bereitet sich darauf vor, in die Stadt zu gehen, um den Service zu verstärken, der unseren Mitarbeitern und den Menschen in Mureaut angeboten wird. Getreu seinem innovativen und bahnbrechenden Geist, Der ArianeGroup-Standort in Les Mureaux ist stolz darauf, aktiv zur Entwicklung autonomer Stadtfahrzeuge beizutragen", erklärt Hugues Emont, Direktor des ArianeGroup-Standorts in Les Mureaux.
Das Navetty-Projekt wird weiter voranschreiten und 2023 eine Strecke auf offener Straße zwischen dem Bahnhof Mureaux und dem Standort der ArianeGroup in Betrieb nehmen. Dies wird eine Gelegenheit sein, die Implementierung eines Dienstes für die "letzte Meile" zu testen und über die nächsten Phasen der Bereitstellung nachzudenken.
NAVETTY-PROJEKTPARTNER
ÜBER VEDECOM
Das Institute for Energy Transition (ITE) VEDECOM ist eine öffentlich-private Partnerschaftsstiftung, die sich innovativer und nachhaltiger Mobilität verschrieben hat, d. h. ökologischer, autonomer und besser geteilt. Es wurde von der französischen Regierung über die ANR beauftragt, die technologische Innovation und die an der Mobilität der Zukunft beteiligten französischen Industriesektoren zu unterstützen. Basierend auf einer beispiellosen Zusammenarbeit von mehr als 50 Akteuren bringt es akademische Einrichtungen, lokale Behörden und verschiedene private Akteure zusammen, die von der Entwicklung der Mobilität betroffen sind: Automobil, öffentlicher Verkehr und Mobilität, Logistik, Straßeninfrastruktur, Telekommunikation, Energie, Luftfahrt und Verteidigung, digitale Dienstleistungen und Simulation sowie Versicherungen. Diese zentrale Rolle als vertrauenswürdiger Dritter ermöglicht es seinen Mitgliedern, zusammenzuarbeiten, um Innovationen und die Bereitstellung neuer Lösungen zu beschleunigen. Durch seine drei Bereiche multidisziplinäre Forschung und Entwicklung, Elektrifizierung, autonome und vernetzte Fahrzeuge sowie neue Mobilitäts- und gemeinsame Energielösungen bietet VEDECOM eine systemische Vision des Fahrzeugs, seiner Umgebung und des Einsatzes neuer Mobilitäten.
Weitere Informationen: www.vedecom.fr
ÜBER DEN ABTEILUNGSRAT VON YVELINES
Der Departementsrat, eine lokale Institution, die fast 1,4 Millionen Einwohner in 259 Gemeinden betreut, unterstützt alle Einwohner von Yvelines in verschiedenen Lebensphasen. Soziale Unterstützung, Regionalplanung, Mobilität und Bildung durch die Hochschulen sind die wichtigsten Strukturierungsprojekte. Die Abteilung arbeitet daran, das tägliche Leben der Menschen in Yvelines zu verbessern, dank ihrer beratenden Versammlung, die aus 42 Ratsmitgliedern und ihren 3.800 Agenten besteht, die über das gesamte Gebiet verteilt sind. 2019 investiert das Ministerium 420 Millionen Euro oder 287 Euro pro Einwohner. Die Hauptinvestitionen betreffen Infrastruktur und öffentliche Verkehrsmittel, Hochschulen, Solidarität und soziales Handeln, territoriale Attraktivität und die Finanzierung von Entwicklungsprojekten. 
Weitere Informationen: www.yvelines.fr
ÜBER EASYMILE
EasyMile ist ein Branchenführer in der autonomen Technologie. Das Unternehmen entwickelt Software zur Automatisierung von Transportplattformen ohne dedizierte Infrastruktur. Die Spitzentechnologie von EasyMile revolutioniert den Personen- und Gütertransport, indem sie völlig neue Mobilitätsmöglichkeiten bietet. Sein Passagier-Shuttle, der EZ10, bietet Transporte auf der ersten und letzten Meile auf privaten Geländen oder öffentlichen Straßen. EasyMile entwickelt auch theTractEasy, einen autonomen Lastzug für Logistik- und Flughafenstandorte. Seit 2014 wird die Spitzentechnologie von EasyMile an mehr als 300 Standorten in über 30 Ländern eingesetzt. EasyMile ist auf die Unterstützung seiner strategischen Partner und Minderheitsaktionäre Alstom, Continental und Bpifrance angewiesen.
Weitere Informationen: www.easymile.com

ÜBER TRANSDEV
Als globaler Mobilitätsbetreiber und -integrator ermöglicht Transdev jedem, sich frei zu bewegen. Transdev ist führend im Betrieb von autonomen Mobilitätsdiensten mit weltweit mehr als 3,5 Millionen beförderten Passagieren. Transdev stützt sich auf Transdev Autonomous Transport Systems, eine engagierte Experteneinheit, die die Technologien und Dienstleistungen entwickelt, die für den täglichen Betrieb von Flotten gemeinsam genutzter autonomer Fahrzeuge im Rahmen öffentlicher oder privater Verkehrsdienste erforderlich sind. Transdev befördert täglich 11 Millionen Fahrgäste dank seiner verschiedenen effizienten und umweltfreundlichen Transportmittel, die Einzelpersonen und Gemeinschaften verbinden. Transdev berät und unterstützt Kommunen und Unternehmen bei der Suche nach sichereren und innovativeren Mobilitätslösungen: 85.000 Frauen und Männer im Dienste seiner Kunden und Fahrgäste. Transdev befindet sich im gemeinsamen Besitz von Caisse des Dépôts (66 %) und der RETHMANN-Gruppe (34 %). Im Jahr 2019 erwirtschaftete die in 18 Ländern vertretene Gruppe einen Umsatz von 7,4 Milliarden Euro.
Weitere Informationen: www.transdev.com

ÜBER ARIANEGROUP
Die ArianeGroup ist ein Hauptauftragnehmer für zivile und militärische Trägerraketensysteme. Es ist verantwortlich für Design, Produktion, Integration und Flugvorbereitung der europäischen Trägerraketen Ariane 5 und 6, die von seiner Tochtergesellschaft Arianespace vermarktet und betrieben werden. Es entwirft, fertigt, integriert und sorgt auch für die betriebliche Wartung von Raketen, die von Frankreichs Meeresabschreckungstruppe eingesetzt werden. Als weltbekannter Spezialist für innovative, wettbewerbsfähige Lösungen beherrscht die ArianeGroup die fortschrittlichsten Antriebstechnologien für Trägerraketen und Raumfahrtanwendungen. Über seine Tochtergesellschaften bringt es sein Know-how in den Bereichen Ausrüstung, Dienstleistungen, Weltraumüberwachung und kritische Einrichtungen auch in andere Sektoren ein. Die ArianeGroup, ein Joint Venture zu gleichen Teilen im Besitz von Airbus und Safran, beschäftigt rund 7.000 hochqualifizierte Mitarbeiter in Frankreich und Deutschland. Der konsolidierte Umsatz der Gruppe im Jahr 2021 wird voraussichtlich 3,1 Milliarden Euro erreichen. 
Weitere Informationen: press.ariane.group

PRESSEKONTAKTE
VEDECOM 
Emmanuelle Laplace | Emmanuelle.boittin-laplace@vedecom.fr | 06 72 31 95 90
YVELINES DEPARTMENTAL COUNCIL 
Amélie Baillot | ABailleau@yvelines.fr | 01 39 07 78 41 or 06 10 68 07 49
EASYMILE 
Lucas Yon | lucas.yon@easymile.com | 06 99 25 92 07
TRANSDEV
Sophie Geng | sophie.geng@transdev.com | 06 24 12 13 70
Olivier Le Friec | olivier.le-friec@transdev.com | 06 10 60 58 45
ARIANEGROUP
Astrid Emerit | astrid.emerit@ariane.group | 06 86 65 45 02
Camille Sohier | Camille.sohier@ariane.group | 06 49 00 90 75