Software providers EasyMile and Continental Automotive, public transport provider Hamburg-Holstein GmbH (VHH), Institute for Transport Systems Technology of the DLR (German Aerospace Center) and vehicle inspection company DEKRA Automobil GmbH joined forces in a pilot project in northern Germany bringing autonomous driving onto public roads.
Riding autonomously in Hamburg´s Bergedorf district
Hamburg's Bergedorf district offered ideal conditions to put autonomous driving through its paces. With around 36,000 inhabitants, the suburban district had a high demand for individual and seamless journeys from people's homes to the region's suburban railway system. Already very well connected to public transport, planners expected the addition of an on-demand shuttle service to close gaps in the first and last mile between people's homes and the next public transport hub.
The project involved several partners:
DLR Institute of Transportation Systems provided software for scheduling the demand-driven shuttles. It also researched user and personnel requirements and how to make the service as user-friendly and barrier-free via an application. 
Auto-parts manufacturer Continental was responsible for transferring industrialised products to the autonomous shuttles. This included braking technology and sensors used for environmental perception and determining the vehicles' position on the road. Continental also provided digital mobility services. 
Meanwhile, experts from the DEKRA Technology Center supported the vehicle registration process with independent expertise and ensured that all passengers were safe on the road. 
Insights and findings from the project didn't just serve as a recommendation for the metropolitan area of Hamburg on how to implement autonomous technology in an existing traffic network. Bergedorf is also now a benchmark for environmentally and climate-friendly redesign of future mobility systems. The project was presented at the 2021 ITS World Congress – the largest annual conference on intelligent transport systems and services and one of the most important global events focusing on the transportation ecosystem.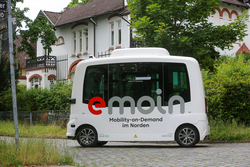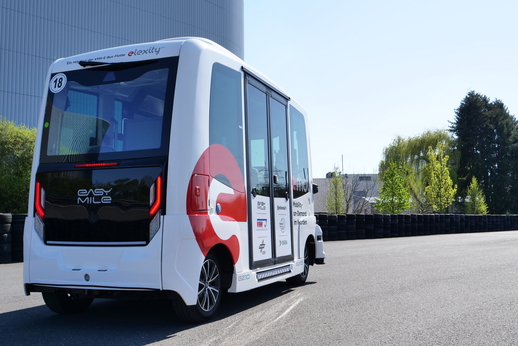 Rides bookable in an app
Demand was high for the service, which was run as part of Hamburg's living laboratory 'RealLabHH' project. Within two months of operations, more than 1,000 passengers had used the shuttles.
Three EZ10 Gen3 shuttles tested autonomous driving in real-world conditions and helping seal the gaps in the first and last mile between people's homes and the next public transport hub. The shuttles were bookable in an on-demand service via a smartphone app.  
During the trial period. from August to October 2021, passengers were able to ride shuttles free of charge. Running at speeds of just 18 kilometers per hour, the vehicles carried up to 12 passengers. During the trial they were accompanied by a service assistant from local transport provider VHH, who monitored the autonomous journey and could intervene if necessary.
 
The Reallabor Hamburg aimed to test trends in mobility under real conditions - with success! For us, the route in Bergedorf was a real challenge with its many parked cars, various road users and narrow, sometimes steep Roads that have put our technology through its paces. We are very proud that our shuttles have proven themselves in this environment and offered a real service for residents and visitors.