Fully driverless, commercial shuttle service at tourist site
EasyMile's driverless vehicles are helping visitors to Terhills, a tourist spot developed on a former mining site in Belgium.
EZ10 shuttles are covering a 2.5-kilometer route connecting the Terhills Hotel to a resort and a future walking and cycling bridge over a large lake. The service includes a complete transport system, validated safety, and will eventually run at Level 4 of autonomous driving (running without an on-board supervisor).
The site is comparable in size to a small town with diverse mobility challenges. The vehicles currently run for eight hours a day, with the potential to increase running times, and have 
a maximum waiting time for passengers of just 10 minutes. With smart fleet management and a booking tool developed by Belgian firm Ush (part of the Lab Box start-up studio supported by D'Ieteren Automotive), each stop is served every four minutes during the busiest periods of the day.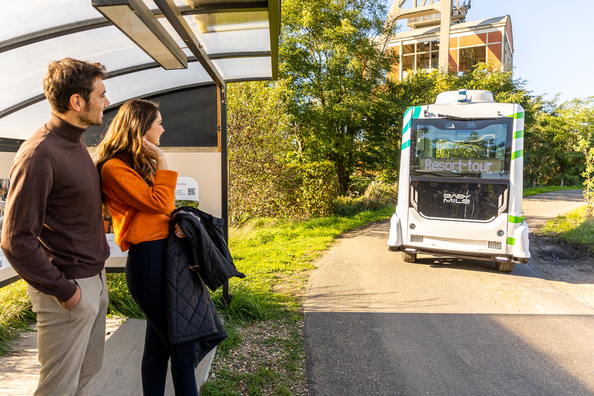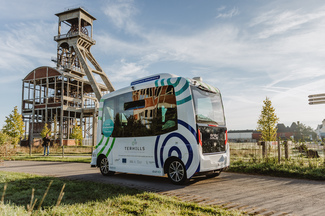 Unique and complete smart mobility offer
For LRM, the investment company behind Terhills, having autonomous vehicles on site are not a short-lived demonstration project but a long-term solution to its complex mobility needs. EasyMile came out on top of a European tender process, undergoing a thorough technical, financial and legal assessment.
The fleet of driverless shuttles replace a conventional electric bus that was infrequent and not regularly used by passengers.
And the addition of a driverless shuttle service links up with the site's current smart mobility offering, connecting to the network of electric boats, e-steps, e-bikes, and electric golf carts. 

We are delighted to support Terhills in their need for an efficient, long-term transport solution on-site.  The longevity and commercial nature of this service is a real tipping point for the viability of autonomous shuttles, and mobility overall. It has the potential to put Terhills and LRM on the map not only in innovation, but also as a response to a real business case.