Another Milestone for EasyMile: The First Fully Driverless Service
2019 January 7, Toulouse, France
EZ10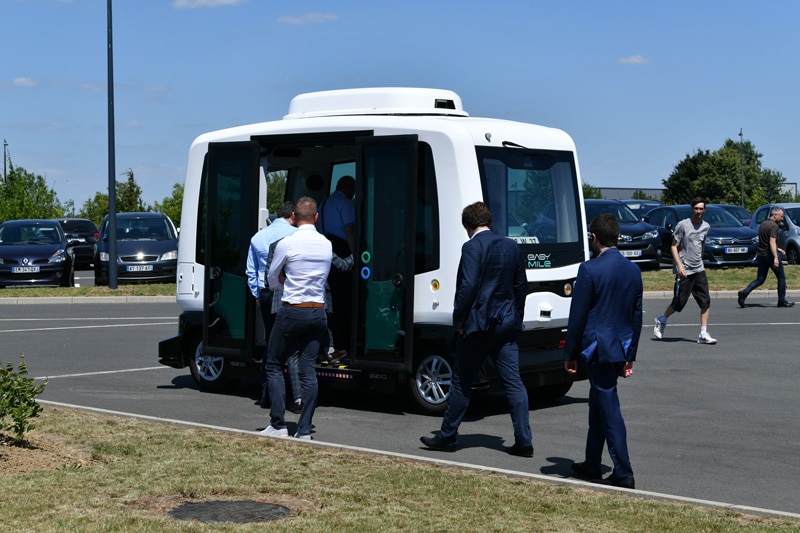 For the last two months, EasyMile has been running a Level 4 - fully driverless shuttle service on a corporate campus, demonstrating the maturity of the technology for local mobility needs. While most "driverless" operations include 1 or 2 "operators" on board the vehicle, this is one of the first deployments in the world that is purely relying upon a remote "operator."
FRANCE – 8th January 2019 – In France, at the Sorigny factory of TLD Group, the EZ10 shuttle drives employees to the cafeteria and back four days per week at lunch time for a 1.5km journey round-trip. Up to 50% of the TLD factory employees use the driverless service daily. With no backup operator on-board, the EZ10 is supervised from a remote control center. The control room is manned by a fully trained supervisor who monitors the autonomous vehicle at all times and ensures communication with passengers.
The service has been running very smoothly for the past 2 months.
This is a major step forward and demonstrates EasyMile's ability to deliver the full promise of autonomous driving for local mobility. It solves the first/last mile challenge with:
• Attractive cost per passenger thanks to driverless operations
• EasyMile's safe, turnkey driverless solution, which includes the driverless vehicle, autonomous driving software, fleet management system, as well as control center.
"The EZ10 has proven to be a safe, reliable service around our campus. Employee feedback is very positive, especially in case of inclement or hot weather! TLD is proud to be involved in such an important milestone both for EasyMile and for mobility in general," said Nicolas Verin, CEO of TLD Europe.
During 2019, EasyMile plans to progressively deploy this fully driverless service to other private sites, in coordination with clients, transport operators, and the authorities.