Autonomous terminal tractor successfully tested in mixed traffic terminal operations in Vlissingen
9 June 2022, Vlissingen, Netherlands
Terberg Special Vehicles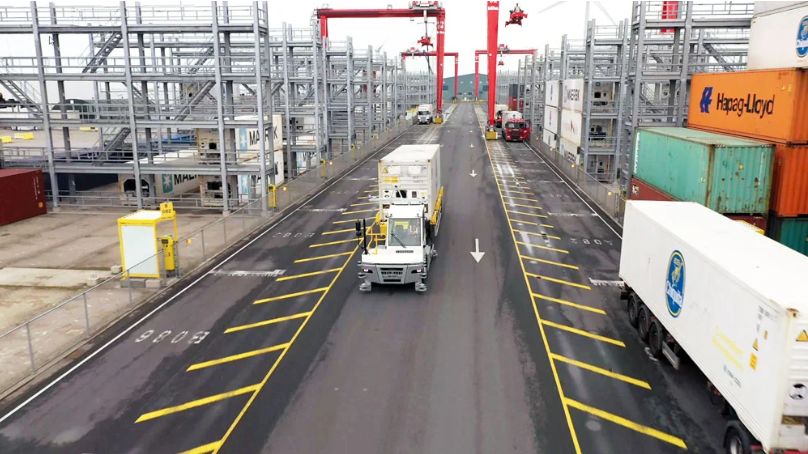 The proof of concept Terberg autonomous terminal tractor, fitted with EasyMile driverless technology, was put to the test in May 2022 at the Lineage Logistics terminal in Vlissingen, the Netherlands. The test formed part of the Living Lab Autonomous Transport Zeeland project. The project aims to develop an innovative transport solution in which an autonomous (i.e. driverless) tractor can drive safely in a mixed traffic container terminal.
The fully automated electric tractor performs autonomous operations in a mixed traffic container terminal environment, alongside other trucks, vehicles and pedestrians. The primary objective of the test is to obtain a safe and smooth autonomous transportation flow. The tractor receives the job from the Terminal Operating System (TOS), then drives to the correct location where a container is being loaded or offloaded by an RTG, Reach Stacker or Mobile Harbour Crane (MHC).
In Vlissingen the terminal tractor is fully integrated with the Terminal Operating System which dispatches the job to the tractor the same way it would do with other vehicles and equipment on the terminal. All that is needed from the port terminal is a TOS that can integrate with third party systems and resources to realize the integration.
The main advantages of deploying autonomous tractors in port terminal environments is to increase efficiency, reduce the risk of people working in a hazardous environment and overcoming the shortage of drivers.
The Living Lab Autonomous Transport project is supported by the European Fund for Regional Development, the Dutch government, and the Province of Zeeland, within the framework of OPZuid regional development programme.
Original article published by Terberg Special Vehicles.