EasyMile and Alyzia put autonomous baggage tractor into service in real conditions in Toulouse
Toulouse, 13 September 2022
EZTow
EasyMile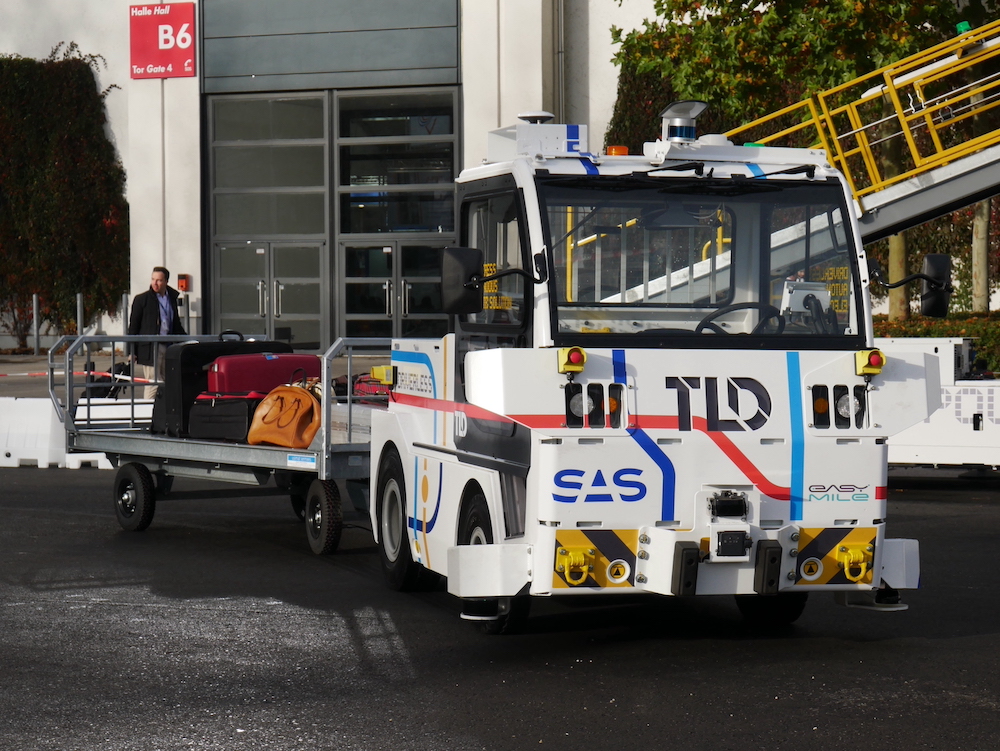 EasyMile and Alyzia Group announce that together with TLD they are partnering to operate the latest generation of the autonomous TractEasy tractor at Toulouse airport. It is a vehicle capable of Level 4 autonomy (i.e. without a human on board), to tow luggage.
The objective is to implement a real luggage and freight transport  service by an autonomous vehicle, on roads representative of airports (intersections, traffic circles...). 
This project is further proof that autonomous towing solutions in airports are now mature, and that the TractEasy is ready for a real commercial service. The solution addresses known airport issues such as labor shortages and the need for increased efficiency. 
Global deployment
TractEasy has also served airports such as Narita International in Japan, Schiphol in the Netherlands, as well as major automotive manufacturing plants and logistics centers in Europe and the United States, and operates in a fleet at Changi Airport in Singapore.
A local partnership
EasyMile specializes in the development of intelligent mobility software solutions and driverless technology, automation techniques and methods, including expertise in the deployment of autonomous vehicles, particularly the TractEasy cargo vehicle. With international operations, its headquarters are in Toulouse.
TLD, manufacturer of the TractEasy and Smart Airport Systems, its operator, are companies of the Alvest Group, a world leader in the design, manufacture and distribution of technical products for the aeronautical industry. More specifically, airport ground support equipment (GSE), spare parts and services, technical adhesives, signage for the airport and the airlines, technical adhesives, signage for the aeronautical and industrial markets.
Alyzia, the leading French company specializing in ground handling services for airlines and in particular ramp services, is present in major French airports, and in Belgium.

Media contact:
Benieke Treverton 
benieke.treverton@easymile.com 
+33 (0)7 62 83 13 44
---
EasyMile et Alyzia mettent en service un tracteur à bagages autonome en conditions réelles à Toulouse
Toulouse, 13 septembre 2022 - EasyMile et Alyzia Groupe, avec TLD, annoncent qu'ils s'associent pour faire circuler la dernière génération du tracteur autonome TractEasy sur l'aéroport de Toulouse. C'est un véhicule capable d'autonomie à niveau 4 (c'est-à-dire sans humain à bord), pour tracter les bagages. 
L'objectif est de mettre en œuvre un vrai service de transport des bagages et de fret par un véhicule autonome,  sur des routes représentatives des aéroports (intersections, ronds-points…). 
Ce projet est une preuve supplémentaire que les solutions de remorquage autonome dans les aéroports sont désormais matures, et que le TractEasy est prêt pour un vrai service commercial. La solution répond aux problèmes connus des aéroports, tels que le manque de main-d'œuvre et la nécessité d'accroître l'efficacité. 
Déploiement mondial
TractEasy a aussi desservi des aéroports tels que Narita International au Japon, Schiphol aux Pays-Bas, ainsi que de grandes usines de fabrication automobile et des centres logistiques en Europe et aux États-Unis, et opère dans une flotte à l'aéroport de Changi à Singapour.
Un partenariat local
EasyMile est une société spécialisée dans le développement de solutions logicielles de mobilité intelligentes et de technologie sans chauffeur, des techniques et méthodes d'automatisation incluant un savoir-faire portant sur le déploiement des véhicules autonomes et tout particulièrement le véhicule destiné au transport de marchandises TractEasy. Avec des opérations internationales, son siège est à Toulouse.
TLD, fabricant du TractEasy et Smart Airport Systems, son opérateur, sont des sociétés du groupe Alvest, leader mondial spécialisé dans la conception, la fabrication et la distribution de produits techniques pour l'industrie aéronautique. Plus particulièrement des équipements aéroportuaires d'assistance au sol (GSE), des pièces de rechange et des services, des adhésifs techniques, la signalisation pour l'aéronautique et les marchés industriels.
Alyzia, leader Français spécialisé dans le service d'assistance en escale aux compagnies aériennes et en particulier aux services de piste, est présent sur les principaux aéroports Français et en Belgique.
Contact média: 
Benieke Treverton 
benieke.treverton@easymile.com 
+33 (0)7 62 83 13 44