EasyMile Completes Major Technology Project to Verify Critical Embedded Systems of its Autonomous Solutions
31 March 2023, Toulouse, France
Technology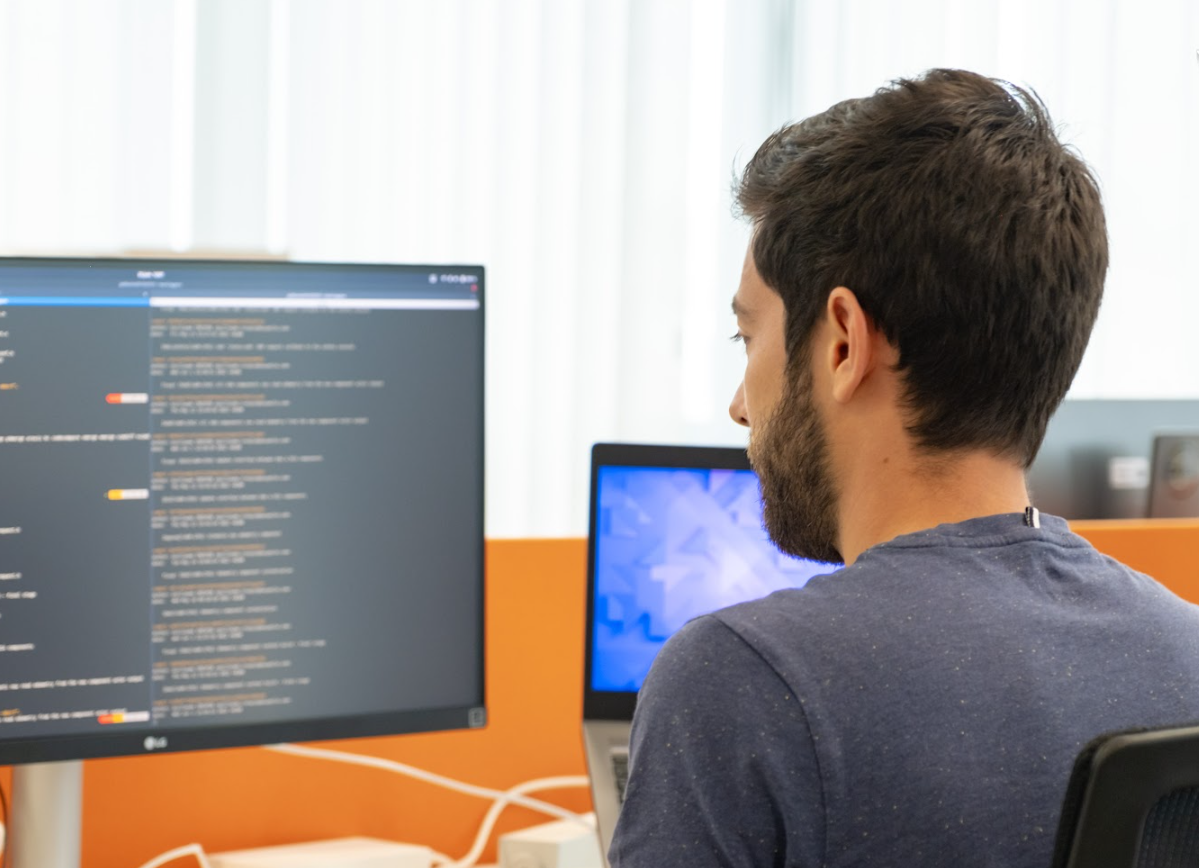 31 March 2023, Toulouse, France - STARTREC (for Solution de Tests Appliquée aux Requis des Systèmes Temps Réel Embarqués et Critiques): this is the name of the project that EasyMile is coordinating, in partnership with TrustInSoft, CEA-Tech, StatInf and Inria, and supported by Bpifrance and the Occitanie Region*. Launched in April 2021, the 2-year project, whose goal is to work on the verification of safety-critical embedded systems for autonomous solutions developed by EasyMile, is coming to an end.
A major and essential step for the deployment of Level 4 autonomous vehicles
A critical embedded system is a safety system that verifies that the driving software is behaving correctly and that nothing dangerous is happening to the vehicle.
In the context of an autonomous vehicle service operating in a public area, the failure of a critical embedded system can have immediate consequences on the passengers and other road users safety. This is why EasyMile has always placed safety and security at the heart of its software design.
The goal of the project is to set up an efficient, portable, agile, uniformly rigorous and with a high scientific level verification process, thanks to a team of experts with a culture and experience in advanced fields, such as aeronautics. 
EasyMile and its partners thus achieved their goal and were able to formally prove an emergency anti-collision function, an essential step to prove, with a high level of certainty, that autonomous vehicles are safer than drivers.
Arnaud Telinge, R&D Manager - Safety-Critical Systems at EasyMile, says: "With this collaborative project of high technological level, we are bringing our operational safety activities to standards equivalent to those of aeronautics, and bringing this technological brick to a level of quality never achieved before for critical automotive onboard systems."
A collaborative project led by industry experts
TrustinSoft and CEA-tech, experts in the field of formal verification methods, have made it possible to facilitate, accelerate and improve the quality of verification of these critical embedded systems.
Specialists in statistical analysis, Statinf and the Kopernic project-team from the Inria center in Paris, observe in a non-intrusive way the behavior of software performing the most critical functions of embedded systems, via sensors or actuators, to validate their behavior, reliability and performance.
In order to illustrate the principles of statistical analysis proposed in STARTREC, the Kopernic project-team and StatInf share with the academic and industrial community a set of benchmark programs called KDBench.
EasyMile has provided hardware resources and will integrate the tools and verification solutions that will be developed.
EasyMile has received financial support from La Région Occitanie Pyrénées - Méditerranée. 
---
 EasyMile achève un projet technologique majeur autour de la vérification des systèmes embarqués critiques de ses solutions autonomes
31 Mars 2023, Toulouse, France - STARTREC (pour Solution de Tests Appliquée aux Requis des systèmes Temps Réels Embarqués et Critiques) : c'est le nom du projet qu'EasyMile coordonne, en partenariat avec TrustInSoft, CEA-Tech, StatInf et Inria, et soutenu financièrement par Bpifrance et la Région Occitanie*. Lancé en Avril 2021, le projet d'une durée de 2 ans, dont le but est de travailler sur la vérification de systèmes embarqués critiques pour la sûreté de fonctionnement des solutions autonomes développées par EasyMile, arrive à son terme.
Une étape majeure et essentielle pour le déploiement de véhicules autonomes de niveau 4
Un système embarqué critique est un système de sécurité qui vérifie que le logiciel de conduite se comporte correctement et que rien de dangereux ne se produit au niveau du véhicule.
Dans le cadre d'un service de véhicule autonome qui évolue dans l'espace public, la défaillance d'un système embarqué critique peut avoir des conséquences immédiates sur la sécurité des passagers et des autres usagers de la route. C'est pour cela que depuis sa création, EasyMile met au cœur de la conception de ses logiciels, la sûreté et la sécurité.
Le but du projet est de mettre en place une démarche de vérification efficace, de haut niveau scientifique, portable, agile et uniformément rigoureuse, grâce à une équipe d'experts ayant une culture et une expérience dans des domaines de pointe, comme l'aéronautique. 
Au terme du projet, EasyMile et ses partenaires ont donc atteint leur objectif et ont pu faire la preuve formelle d'une fonction d'anti-collision d'urgence, étape essentielle pour prouver, avec un haut niveau de certitude, que les véhicules autonomes sont plus sûrs que les conducteurs.
Arnaud Telinge, Responsable R&D - Systèmes Embarqués Critiques chez EasyMile déclare : "Avec ce projet collaboratif de haut niveau technologique, soutenu par la Région Occitanie, nous amenons nos activités de sûreté de fonctionnement à des standards équivalents à ceux de l'aéronautique, et portons cette brique technologique à un niveau de qualité jamais encore atteint pour des systèmes critiques embarqués de véhicules autonomes."
Un projet collaboratif mené par des experts du domaine
Les experts dans le domaine de la vérification par méthodes formelles TrustinSoft et CEA-tech ont permis de faciliter, accélérer et améliorer la qualité de vérification de ces systèmes critiques embarqués. 
Spécialistes en analyse statistique, Statinf et l'équipe-projet Kopernic du centre Inria de Paris, observent de manière non intrusive le comportement des logiciels assurant les fonctions les plus critiques des systèmes embarqués, via des capteurs ou des actionneurs, pour en valider leur comportement, leur fiabilité et leur performance.
Afin d'illustrer les principes des analyses statistiques proposées dans STARTREC, l'équipe-projet Kopernic et StatInf partagent avec la communauté académique et industrielle un ensemble de programmes témoins appelés KDBench. 
EasyMile a fourni des ressources matérielles et intégrera les outils et solutions de vérification qui seront développées.
*EasyMile a reçu le soutient financier de la La Région Occitanie Pyrénées - Méditerranée.