EasyMile Showcases KelRide Weather-Proof Shuttles at Hannover Messe
Hannover, Germany, 12 April 2023
EZ10
Hannover Messe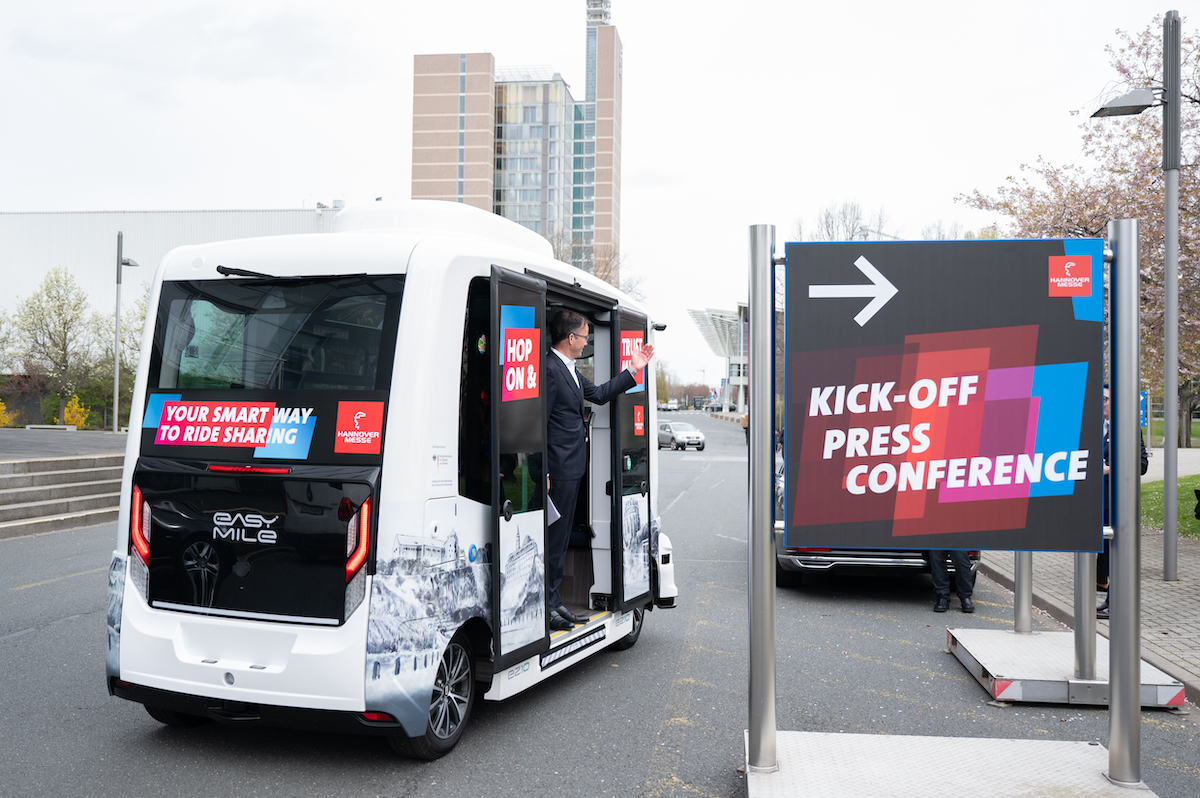 Hannover, Germany, 13 April 2023 - EasyMile, the leading driverless solutions provider, is proud to showcase its KelRide weather-proof shuttles at Hannover Messe. The event, which is one of the largest industrial trade fairs in the world, is the perfect platform for EasyMile to demonstrate the capabilities of its driverless technology.
The KelRide weather-proof shuttles are designed to provide reliable and efficient transportation in all weather conditions. Equipped with advanced sensors and navigation systems, these shuttles can safely navigate through rain, snow, and even fog. With a capacity of up to 12 passengers, the KelRide shuttles are ideal for last-mile transportation solutions, connecting people to major transportation hubs, shopping centers, and other public facilities.
Visitors to Hannover Messe can experience the KelRide weather-proof shuttles both in service and on display at the event. The shuttles are providing transportation services to attendees between the exhibition halls, providing a convenient and efficient way to move around the event. Additionally, the shuttles are on display at the KelRide booth (H06/14), where visitors can learn more about the technology and its applications.
"We are excited to showcase our KelRide weather-proof shuttles at Hannover Messe," said Nathalie Teer, Strategic Affairs Lead at EasyMile. "Our driverless technology is revolutionizing the way people and goods are transported, and we are proud to demonstrate our capabilities to the world."
Video by ©Monika Arnold
EasyMile has a proven track record of delivering innovative and reliable driverless solutions. Its shuttles are in operation in over 30 countries, providing efficient transportation to thousands of passengers every day. With its focus on safety, reliability, and efficiency, EasyMile is leading the way in the driverless technology industry.
For more information about EasyMile and its driverless technology solutions, visit EasyMile | Autonomous vehicle technology and solutions.
For more information about the KelRide project, visit KelRide.
 
---
EasyMile präsentiert wetterfeste KelRide Shuttles auf der Hannover Messe
Hannover, Deutschland, 13. April 2023 - EasyMile, der führende Anbieter autonomer Systeme, ist stolz darauf, seine wetterfesten KelRide-Shuttles auf der Hannover Messe zu präsentieren. Die Veranstaltung, eine der größten Industriemessen der Welt, ist die perfekte Plattform für EasyMile, um die Fähigkeiten seiner fahrerlosen Technologie vorzustellen.
Die wetterfesten KelRide-Shuttles sind so konzipiert, dass sie unter allen Wetterbedingungen einen zuverlässigen und effizienten Transport bieten. Ausgestattet mit fortschrittlichen Sensoren und Navigationssystemen, können diese Shuttles sicher durch Regen, Schnee und sogar Nebel navigieren. Mit einer Kapazität von bis zu 12 Fahrgästen sind die KelRide-Shuttles ideal für Transportlösungen auf der letzten Meile und verbinden Menschen mit wichtigen Verkehrsknotenpunkten, Einkaufszentren und anderen öffentlichen Einrichtungen.
Die Besucher der Hannover Messe können die wetterfesten KelRide-Shuttles sowohl im Einsatz als auch auf der Messe selbst erleben. Die Shuttles transportieren die Besucher zwischen den Messehallen und bieten eine bequeme und effiziente Möglichkeit, sich auf der Veranstaltung zu bewegen. Außerdem sind die Shuttles am KelRide-Stand (H06/14) ausgestellt, wo die Besucher mehr über die Technologie und ihre Anwendungen erfahren können.
"Wir freuen uns sehr, unsere wetterfesten KelRide-Shuttles auf der Hannover Messe präsentieren zu können", sagt Nathalie Teer, Strategic Affairs Lead bei EasyMile. "Unsere fahrerlose Technologie revolutioniert die Art und Weise, wie Menschen und Güter transportiert werden, und wir sind stolz darauf, einem internationalen Publikum unsere Fähigkeiten zu demonstrieren."
EasyMile verfügt über eine nachweisliche Erfolgsbilanz bei der Bereitstellung innovativer und zuverlässiger autonomer Lösungen. Die Shuttles des Unternehmens sind in über 30 Ländern im Einsatz und befördern täglich Tausende von Fahrgästen sicher und effizient. Mit seinem Fokus auf Sicherheit, Zuverlässigkeit und Effizienz ist EasyMile ein Vorreiter in der fahrerlosen Technologiebranche.
Weitere Informationen über EasyMile und seine fahrerlosen Technologielösungen finden Sie unter EasyMile.
Weitere Informationen über das KelRide-Projekt finden Sie unter KelRide.
---
EasyMile présente les navettes KelRide résistantes aux intempéries au salon de Hanovre