EasyMile in First Fully Autonomous Level 4 Driving Operation in Northern Europe
Friday 30th October 2020 - Toulouse, France
EZ10
Photo Credit: Applied Autonomy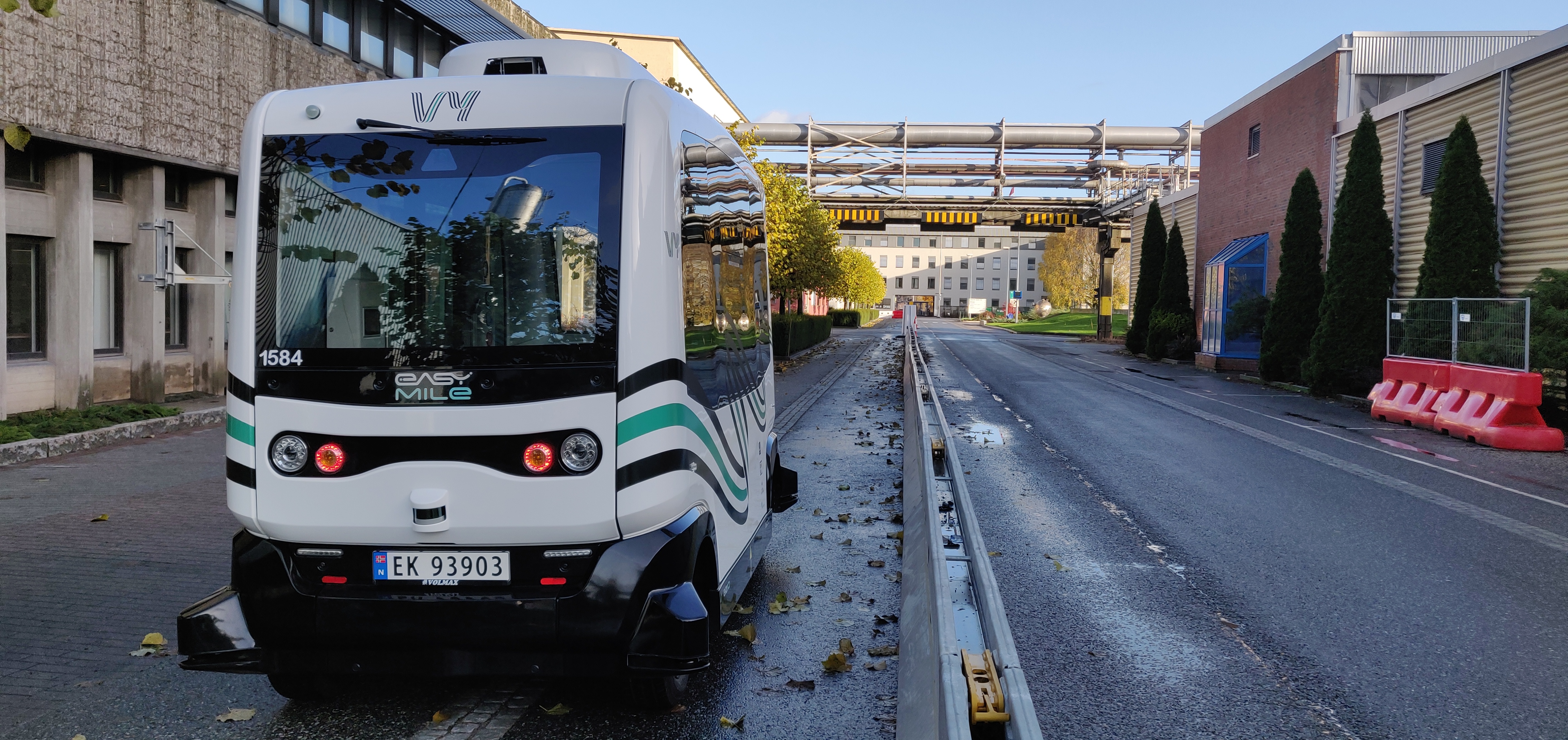 Norway has reached a new milestone in autonomous mobility with it's first driving operation completely removing any human supervisor from the vehicle.
French Versions below.
Toulouse, France - 30 October, 2020 - Norway has reached a new milestone in autonomous mobility with it's first driving operation completely removing any human supervisor from the vehicle. EasyMile's technology, with clients Applied Autonomy, Vy, Yara, City & Lab and Herøya Industripark AS, is behind the inaugural Society of Automotive Engineers (SAE) level 4 mobility operation.
Launched at industrial premise Herøya the deployment is an important step toward better mobility, zero-emission and increased safety on private sites. 
An EZ10 shuttle is carrying employees to and from the canteen area and main gate. Beside it are lanes with cars, lorries, buses, pedestrians and cyclists. It will cross two intersections. The pilot project will initially run for five days before an evaluation is carried out.
"This project gives us valuable experience in the work of making Herøya an autonomous industrial park," says Sverre Gotaas, CEO of Herøya Industripark AS.
With the added possibility of making the service on-demand it paves the way for a clear roadmap in Norway to cost-efficient and fully flexible mobility services.
"This is a large and important step on the road to self-driving public transport. Within a few years, we envisage that small, self-driving buses will be able to transport people to or from public transport hubs for trains and buses," says Synne Homble, Director of Mobility and Tourism at Vy.
Unlocking cost-efficient and fully flexible mobility
Physically removing any operator from inside an autonomous passenger vehicle while maintaining the same levels of safety for other vehicles and road users unlocks benefits like:
Scalability
A single operator can supervise multiple vehicles from anywhere meaning scaling to autonomous vehicle fleets without additional manpower is possible.
Full flexibility
The service becomes fully flexible as vehicles can be deployed immediately as demand arises, without having to wait for additional operators to be available/on site.
Growing real-world fully autonomous commercial portfolio
For technology provider EasyMile, it is a further step in its vision to completely autonomize shared transport. With its level 4 service ready now, the deployment adds another fully autonomous driving operation to its growing commercial portfolio (the first was in France, with services in the US and Germany following).
EasyMile's early success in level 4 deployments is largely thanks to its safety architecture. At the core of its evolving, cutting-edge software is a safety by design approach proven by external audits and certifications.
EasyMile's driverless technology uses robotics, computer vision and vehicle dynamics to teach vehicles how to behave without a human attendant on board. This means behaviors like recognizing a stop sign, or knowing the difference between a pedestrian or a lamppost. Vehicles running the technology at level 4 of autonomous driving, like the one in Herøya, can handle the majority of driving situations independently.
The company is the first autonomous vehicle solutions provider to be ISO 9001:2015 certified.
With several mass operations around the world EasyMile was also the first autonomous vehicle shuttle provider to deploy fully driverless at level 4 of autonomous driving. 

About EasyMile:
EasyMile is an industry leader in driverless technology.
Its EZ10 passenger shuttle, improves public transport by connecting hubs and in many areas, provides a service where there otherwise wasn't one. TractEasy is a tow-truck solution optimizing supply chains with cross/indoor-outdoor, 24/7 material handling at factories and industrial sites. It is also leading the way for specialized application of new autonomous solutions.
Since 2014, the company  has become known for quality delivery and real-service deployments. EasyMile's expert technology has driven autonomous vehicles in 300+ locations in more than 30 countries.
With a global presence clients include leading transport operators, city authorities, airports, business parks, universities, manufacturers, factories and logistics centers.
Media Contact:
Lucas Yon
Communications Executive
Mobile +33 (0)699 25 92 07
lucas.yon@easymile.com
---
French version
Première opération de conduite autonome de niveau 4 en Norvège pour EasyMile
Toulouse, France - 30 octobre 2020 - La Norvège franchi une nouvelle étape dans la mobilité autonome avec sa première opération de conduite supprimant complètement l'opérateur à bord du véhicule, une première en Europe du Nord. Le fournisseur de technologie EasyMile, et ses clients Applied Autonomy, Vy, Yara, City & Lab et Herøya Industripark AS, sont à l'origine de ce premier service de mobilité de niveau 4 (SAE).
Lancé sur le site industriel d'Herøya, ce déploiement est une nouvelle étape importante vers une meilleure mobilité zéro émission et une sécurité accrue sur les sites privés.
Une navette EZ10 transporte les employés entre la cantine et la porte principale. La navette circulera sur une voie dédiée, au côté d'une voies où circule des voitures, des camions, des bus, des piétons et des cyclistes, et traversera deux intersections. Le projet pilote se déroulera initialement pendant cinq jours avant qu'une évaluation ne soit effectuée.
«Ce projet représente une grande opportunité de faire d'Herøya un parc industriel autonome», déclare Sverre Gotaas, PDG de Herøya Industripark AS.
Avec la possibilité supplémentaire de rendre le service à la demande, cela ouvre la voie à une feuille de route claire en Norvège pour des services de mobilité rentables et entièrement flexibles.
«Il s'agit d'une étape importante pour le transports publics autonomes. D'ici quelques années, nous prévoyons que ces navettes autonomes pourront transporter des personnes depuis et à destination des hubs de transports publics», déclare Synne Homble, directrice de la mobilité et du tourisme chez Vy.
Pour une mobilité rentable et entièrement flexible
Retirer physiquement tout opérateur d'un véhicule autonome tout en maintenant les mêmes niveaux de sécurité pour les autres usagers de la route apporte de nouveaux avantages tels que:
Scalabilité
Un seul opérateur peut superviser plusieurs véhicules de n'importe où, ce qui signifie que la mise à l'échelle vers des flottes de véhicules autonomes sans main-d'œuvre supplémentaire est possible.
Flexibilité totale
Le service devient totalement flexible car les véhicules peuvent être déployés immédiatement en fonction de la demande, sans avoir à attendre que des opérateurs supplémentaires soient disponibles / sur place.
Un portefeuille commercial de services totalement autonomes en pleine croissance
Pour le fournisseur de technologie EasyMile, il s'agit d'une étape supplémentaire dans sa vision d'autonomisation complète du transport partagé. Avec un service de niveau 4 aujourd'hui prêt, ce déploiement totalement autonome vient s'ajouter à un portefeuille commercial en pleine croissance (la première opération totalement autonome sur site privé était en France en 2018, suivie de services aux États-Unis et en Allemagne en 2020).
Les premiers succès d'EasyMile dans les déploiements de niveau 4 sont largement dus à son architecture de sécurité. Au cœur de son logiciel évolutif et de pointe se trouve une approche de sécurité dès la conception, éprouvée par des audits externes et des certifications.
La technologie sans conducteur d'EasyMile fait appel à la robotique, à la vision par ordinateur et à la dynamique des véhicules pour apprendre aux véhicules à se comporter sans accompagnateur à bord. C'est à dire pouvoir reconnaître un panneau d'arrêt ou connaître la différence entre un piéton ou un lampadaire. Les véhicules utilisant la technologie de niveau 4 de la conduite autonome, comme celui de Herøya, peuvent gérer la majorité des situations de conduite de manière autonome.
EasyMile est le premier fournisseur de solutions pour véhicules autonomes à être certifié ISO 9001: 2015.
EasyMile a été le premier fournisseur de technologie pour véhicules autonomes à déployer entièrement sans conducteur au niveau 4 de la conduite autonome.

À propos d'EasyMile:
EasyMile est un leader de l'industrie de la technologie autonome.
Sa navette pour le transport de passager, l'EZ10, assure le transport du premier et du dernier kilomètre sur des sites privés ou sur des routes publiques. La navette sans chauffeur peut accueillir jusqu'à 15 passagers et est accessible aux Personnes à Mobilité Réduite grâce à une rampe intégrée.
EasyMile développe également, en partenariat avec TLD, le TractEasy, un tracteur de transport de marchandise autonome pour les sites logistiques et aéroportuaires, optimisant les chaînes d'approvisionnement grâce à des opérations intérieur/extérieur, 24h/24 et 7j/7.
Depuis 2014, la technologie experte d'EasyMile a été déployé sur plus de 300 sites dans plus de 30 pays.
 
Contact Presse:
Lucas Yon
Communications Executive
Mobile +33 (0)699 25 92 07
lucas.yon@easymile.com