EasyMile is Recruiting for its Future Projects
Toulouse, 25 March 2021
Corporate
Photo Credit: EasyMile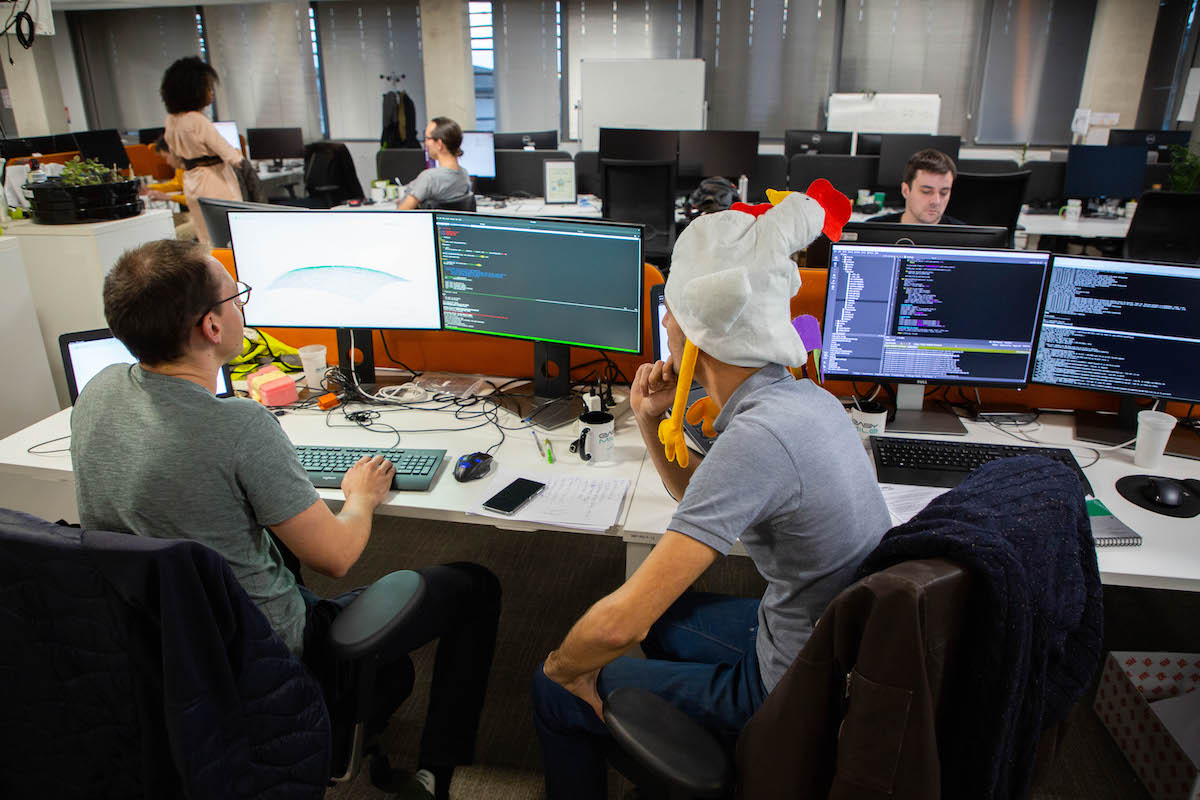 Toulouse, 25 March 2021 - EasyMile, the leading driverless vehicle software provider for shared passenger transport and material handling, is on a recruitment drive across its research and development teams in robotics, embedded and safety critical systems.
The company is continuing its growth trajectory with the range of vehicle platforms and solutions it is delivering in ongoing expansion. A number of technical positions are available in robotics, computer vision, vehicle dynamics, safety critical software development and testing.
Candidates with key skills in these areas are encouraged to apply for the vacancies based at the company's headquarters in Toulouse, France. The jobs are for young technical and/or engineering graduates, baccalaureate +5 years level (including PhDs), with 2 or 3 years' successful experience, as well as more experienced professionals. 

"EasyMile is a place for growth and success with a great culture. As well as technical expertize, we're looking for the right attitude: ambition, creativity and perseverance. We value innovation, collaboration and delivering on promises," said Benoit Perrin, General Manager of EasyMile. "If you want to address tough challenges with state-of the-art technology and great teammates at the top of the autonomous vehicle world - come join us."
EasyMile is a leader in both its primary growth sectors: material handling and shared passenger transport. It has partnerships with TLD and Iveco, market leaders in goods and passenger transport respectively. It also holds 60% of the global market share of autonomous shuttles. It recently announced a joint project on automated vehicle technology with Stellantis (Peugeot-Chrysler-Fiat), the world's fourth-largest largest automaker, and has further vehicle platforms in development.
Its employees in Toulouse enjoy a high quality of life with it being coined as French executives' most-preferred city to work and live.
The jobs can be found here.
---
EasyMile recrute de nouveaux talents pour ses futurs projets
Toulouse, le 25 mars 2021 - EasyMile, fournisseur leader de logiciels pour véhicules autonomes pour le transport de passagers et la manutention de matériel, lance une campagne de recrutement au sein de ses équipes de recherche et développement dans les domaines de la robotique et de la sûreté de fonctionnement des systèmes embarqués.
L'entreprise poursuit sa trajectoire de croissance avec la gamme de plates-formes de véhicules et de solutions qu'elle propose en constante expansion. Un certain nombre de postes sont disponibles dans les domaines de la robotique, de la vision par ordinateur, de la dynamique des véhicules, du développement et des tests de logiciels de sûreté de fonctionnement des systèmes embarqués.
Les candidats possédant des compétences clés dans ces domaines sont encouragés à postuler aux postes vacants au siège de la société à Toulouse, France. Les offres d'emplois sont destinés aux jeunes diplômés en technique et / ou en ingénierie, niveau bac +5 (y compris les doctorants), avec une expérience réussie de 2 ou 3 ans, ainsi qu'aux professionnels plus expérimentés.
«EasyMile est un lieu de croissance et de réussite avec une grande culture. En plus de l'expertise technique, nous recherchons des valeurs telles que: l'ambition, la créativité et la persévérance. Nous valorisons l'innovation, la collaboration et la réalisation de nos engagements », déclare Benoit Perrin, directeur général d'EasyMile. « Si vous souhaitez vous challenger grâce à une technologie de pointe et à d'excellents coéquipiers, experts de la technologie autonome, rejoignez-nous! »
EasyMile est un leader dans ses deux principaux secteurs de croissance: la manutention et le transport de passagers, grâce notamment à des partenariats avec TLD et IVECO, respectivement leaders du marché du transport de marchandises et du transport de passagers. L'entreprise détient également 60% de la part de marché mondiale des navettes autonomes. Il a récemment annoncé un projet conjoint sur la technologie des véhicules automatisés avec Stellantis (Peugeot-Chrysler-Fiat), le quatrième constructeur automobile mondial, et possède d'autres plates-formes de véhicules en développement.
Ses collaborateurs toulousains bénéficient d'une qualité de vie élevée dans la ville préférée des cadres français pour travailler et vivre. 
Les offres peuvent être trouvées ici.
---
Technologieunternehmen EasyMile rekrutiert für zukünftigen Projekte
Toulouse, 25. März 2021 - EasyMile, der führende Softwareanbieter für fahrerlose Fahrzeuglösungen für den Personenverkehr und Logistikbereich ist auf einer Rekrutierungskampagne für seine Forschungs- und Entwicklungsteams in den Bereichen Robotik, embedded- und safety critical systems.
Das Unternehmen setzt seinen Wachstumskurs mit einer Reihe von Fahrzeugplattformen und -lösungen fort, die es in kontinuierlicher Expansion liefert. Daher sind eine Vielzahl von Positionen in den Bereichen Robotik, Computer Vision, Fahrzeugdynamik, Software-Entwicklung sicherheitskritischer Systeme und -Tests verfügbar.
Kandidaten mit Schlüsselqualifikationen in diesen Bereichen werden gebeten, sich für die offenen Stellen zu bewerben, die im Hauptsitz des Unternehmens in Toulouse, Frankreich, angesiedelt sind. Die Stellenausschreibungen richten sich nicht nur an erfahrene Fachkräfte, sondern auch an junge Absolventen oder Doktoranden mit 2 bis 3 Jahren Erfahrung. 
"EasyMile ist ein Ort für Wachstum und Erfolg mit einer großartigen Firmenkultur. Neben technischen Fachkenntnissen suchen wir die richtige Einstellung: Ehrgeiz, Kreativität und Ausdauer. Wir legen Wert auf Innovation, Zusammenarbeit und die Einhaltung von Versprechen", sagte Benoit Perrin, General Manager von EasyMile. "Wenn Sie schwierige Herausforderungen mit modernster Technologie und großartigen Teamkollegen an der Spitze der autonomen Fahrzeugwelt bewältigen möchten, kommen Sie zu uns."
EasyMile ist in beiden Hauptwachstumssektoren führend: autnome Materialtransport und Shared Mobility. Das Unternehmen kooperiert mit TLD und Iveco, Marktführern im Güter- bzw. Personenverkehr, und hält rund 60% des globalen Marktanteils autonomer Shuttles. EasyMile hat kürzlich ein gemeinsames Projekt zur Entwicklung automatisierten Fahrzeugtechnologie mit Stellantis (Peugeot-Chrysler-Fiat) angekündigt, dem viertgrößten Autohersteller der Welt, um weitere Fahrzeugplattformen zu entwickeln.
EasyMile's internationales Team in Toulouse genießen eine hohe Lebensqualität. Das im Süden Frankreichs gelegene Toulouse gilt als bevorzugter Wohnort französischer Führungskräfte.
Die Jobs finden Sie hier.