South Australia's Driverless Bus 'Murray' On A Brand New Track
Photo Credit: Renmark - Ride with Murray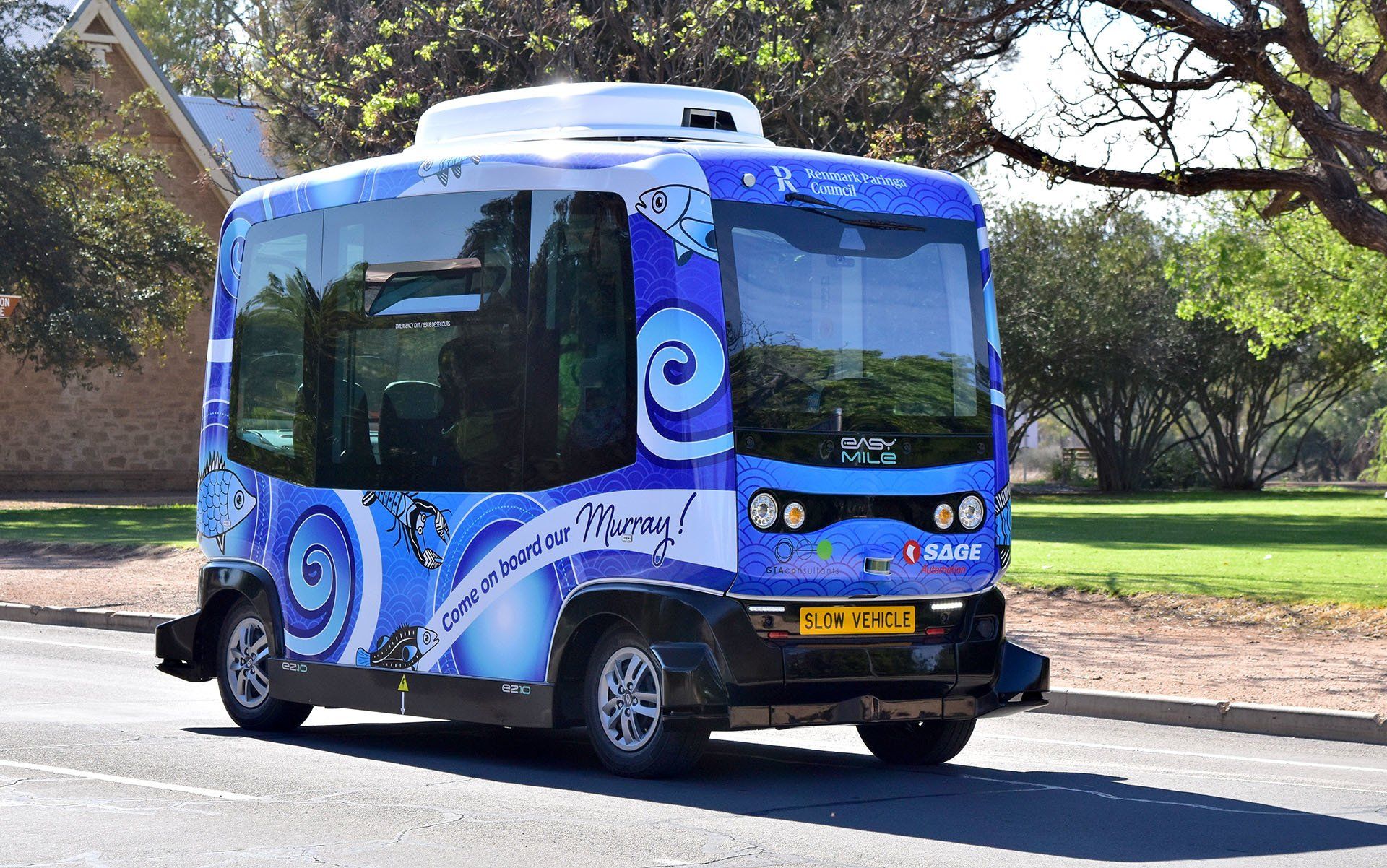 Adelaide, 9 February, 2021 - Project partners, the South Australian Department for Infrastructure and Transport, EasyMile, Renmark Paringa Council and Flinders University, have collaborated to increase customer engagement and awareness around this new technology with their autonomous public transport service on an enhanced route.
The South Australian regional town Renmark's driverless bus 'Murray' is back on the road as part of a new trial starting on 9 February and ending in June 2021. Murray will provide a free hop-on and hop-off service at six bus stops along the 2.4km loop from Murray Avenue to the Fourteenth Street shopping precinct.
There will be no need to book a ride in advance, as customers are invited to use the service whenever they want during operating hours, on Tuesdays from 10am to 1pm and Wednesdays to Saturdays from 10am to 4pm.
The new route takes in the Renmark riverfront and key locations, including the Renmark Swimming Pool, supermarket, and food outlets, aiming to best service people with limited mobility and visitors to Renmark. Further information on Murray and the route can be found at https://www.renmark.ridewithmurray.com.au/
The trial is a joint project between the Department for Infrastructure and Transport, Renmark Paringa Council,Flinders University, autonomous technology provider EasyMile and multi-modal transport operator Keolis Downer, who are excited to bring smart technology to regional South Australia. Keolis Downer has employed five local residents to undertake the role of safety chaperones for the duration of the Phase 2 trial.      
The EZ10 autonomous shuttle is in constant communication with infrastructure, such as traffic lights, sending signals to the shuttle, which then analyses and makes the decision to continue its route or stop. It is guided by a range of GPS, camera, sensors and odometry with extensive safety processes in place. It is the most-deployed driverless passenger shuttle in the world with its technology having driven autonomous vehicles in 300+ locations in more than 30 countries.
A key focus of the project is to support those in the community with restricted transport opportunities, and the tourism sector.  Services like the one in Renmark are informing us of the reliability, acceptance and operational framework for automated vehicle technologies which may play a role in the future transport mobility mix.
Keolis Downer are currently project partners with two additional driverless bus trials in Australia: one in Raby Bay, Queensland and another in Tonsley, South Australia. They also come with international expertise, as parent company Keolis operates over 30 driverless vehicle projects worldwide, with operations in Paris, London, Belgium, Montreal, and Las Vegas (just to name a few), moving 140,000+ passengers on driverless vehicles each year.
Find out more in Keolis Downer's media release here.
---
EasyMile Media Contact
Benieke Treverton
benieke.treverton@easymile.com
+33 (0)7 62 83 13 44