EasyMile showcases technology for fully driverless public transport at IAA Mobility in Munich
28 August 2023 - Berlin, Germany
EZ10
EasyMile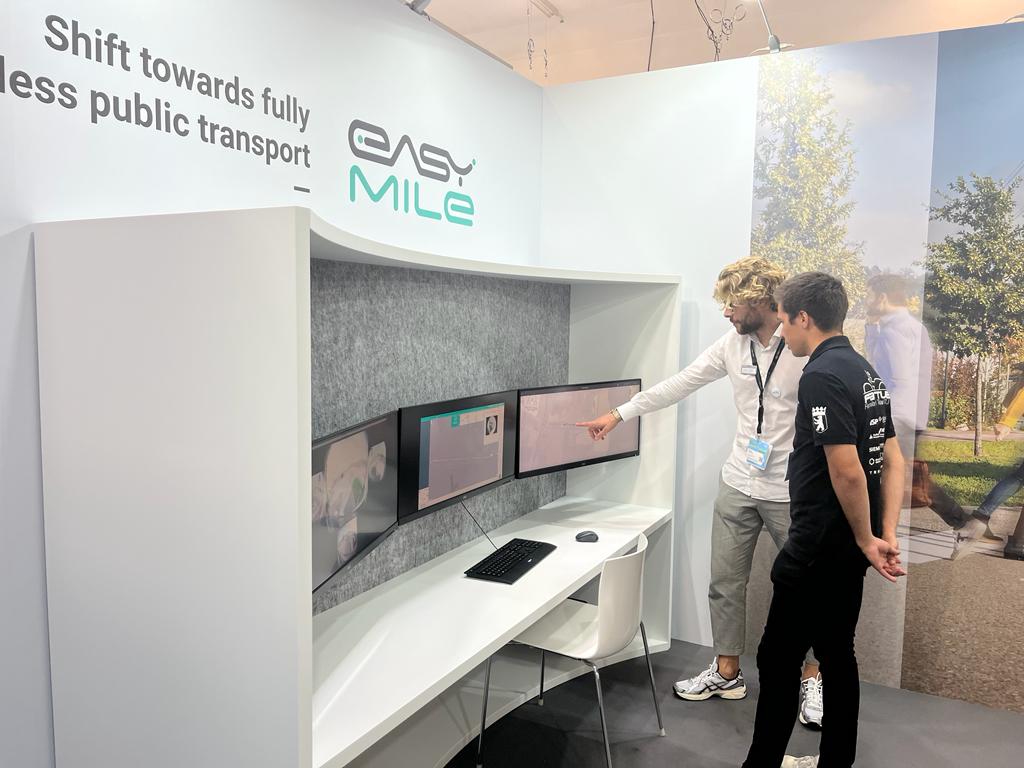 Berlin, Germany, 28 August 2023 — EasyMile was pleased to participate in IAA Mobility Summit that took place in Munich from 5-8 September, 2023. The global autonomous technology leader showcased its remote supervision for fleets of autonomous shuttles at the event.
At the IAA Summit, EasyMile introduced visitors to the future of public transport through its autonomous shuttle supervision center. This display allowed attendees to remotely observe the operations of EasyMile's driverless shuttles.
EasyMile was also representing SAFESTREAM, a consortium it's leading and partnered with mobility leaders including Deutsche Telekom's T-Systems, TÜV Rheinland, P3, the Technical University of Munich (TUM), and the District of Kelheim and Bahnen der Stadt Monheim. SAFESTREAM is driving the future of autonomous transport in Germany by spearheading Level 4 autonomous driving for public transit. This ambitious initiative aims to replace the need for an onboard safety attendant with a remote technical supervisor, ensuring compliance with regulations while advancing the field of autonomous transportation.
Visitors to the EasyMile booth had the unique opportunity to engage with both EasyMile and SAFESTREAM's team of experts and thought leaders in the autonomous vehicle industry. They explored the advancements in autonomous technology, discussed the challenges and opportunities in urban mobility, and gained insights into the future of transportation.
"We were thrilled to be participating in the IAA Summit showcasing our latest technology toward the future of fully autonomous public transport," said Arwed Schmidt, Director of Strategic Initiatives at EasyMile. "Our collaboration with SAFESTREAM and its expert partners represented a significant step towards revolutionizing public transport in Germany and beyond."
About EasyMile
EasyMile is a global leader in driverless technology, providing innovative and safe solutions for autonomous transportation. With a strong focus on research and development, EasyMile is at the forefront of shaping the future of mobility. For more information, visit easymile.com.
 
Media Contact 
Benieke Treverton
Head of Communications
+33 (0)7 62 83 13 44 - benieke.treverton@easymile.com