EasyMile's EZTug in AWARD´s port use case testing
13 September 2023 - Toulouse, France.
Goods Transportation
EasyMile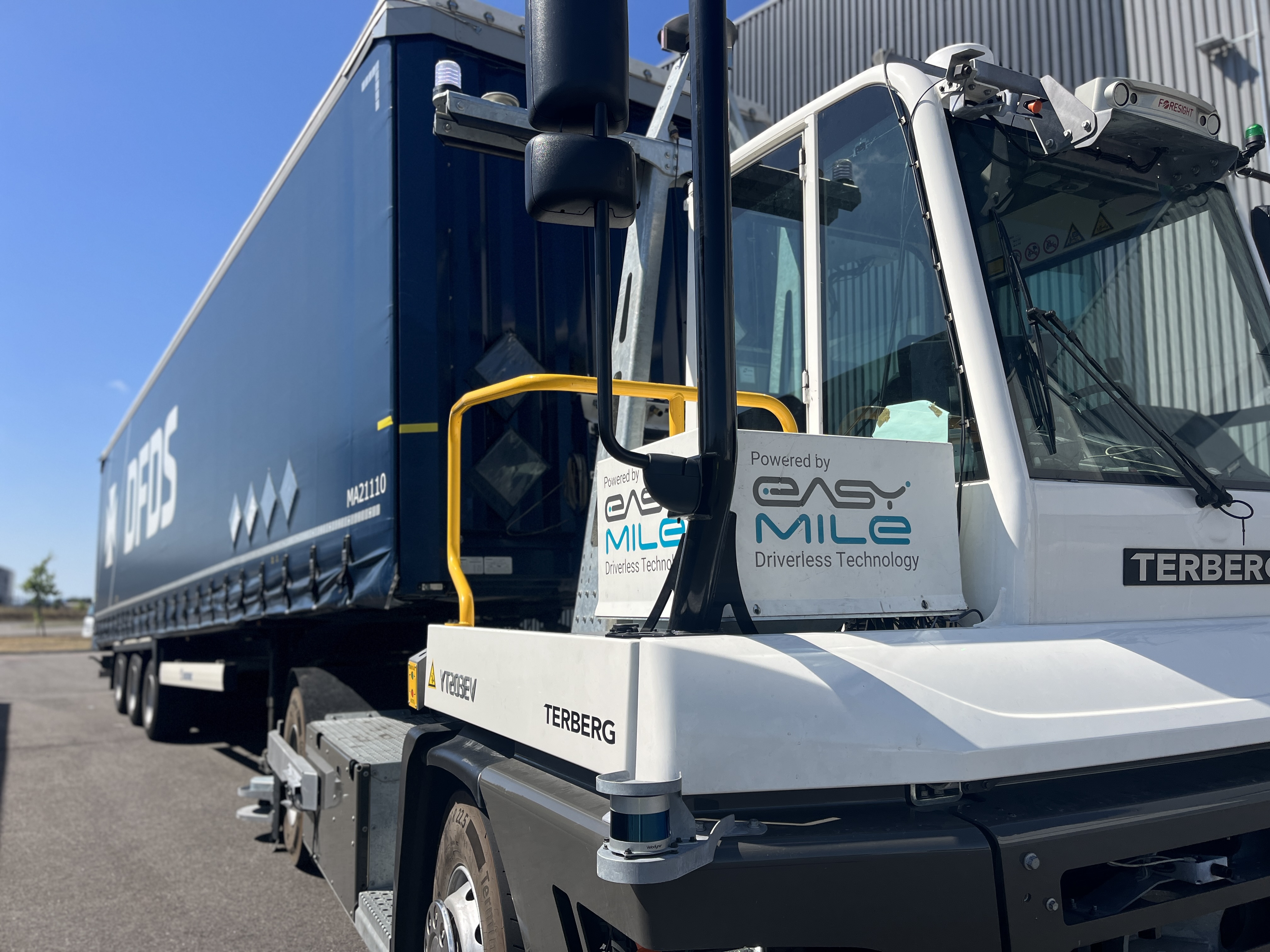 Toulouse, France, 13 September 2023 - AWARD's port use case commences with high momentum! In September 2023, we set sail at full throttle as we launched yet another use case, featuring the testing of the Terberg vehicle EZTug, an autonomous terminal tractor, at the Port of Vlaardingen, near Rotterdam, in the Netherlands! The use case is a partnership between valued partners of the AWARD consortium DFDS, Terberg, Applied Autonomy and EasyMile. The use case is set to be demonstrated on a busy port terminal operated by DFDS and involves the automated movement of trailers. Remarkably, this marks the world-first deployment of an automated terminal tractor in a roll-on/roll-off terminal!
Safety validation of the Terberg vehicle was successfully conducted at the beginning of this month! Utilizing various dummies from Humanetics Group, our project consortium partner Digitrans conducted a series of tests, including rain and safety assessments, along with tests in a roundabout on the proving ground in St. Valentin.
This validation process is comprised of three phases, set to conclude by mid-October 2023, with invaluable support from AWARD project coordinator EasyMile and AWARD Consortium partner Applied Autonomy:
Phase #1: trailer moves from point A to point B on the terminal ready to load a ship
Phase #2: public road for last-mile delivery from the terminal to the public road including gate-in and -out process
Phase #3: ship loading/unloading is anticipated to conclude in early October 2023
 
The objective of the project is to showcase the possibilities of automating routine trailer transfer on a terminal. Automation will bring a lot of value to the terminal because it enhances safety, flexibility, productivity and sustainability. In addition, it will give employees who now deal with repetitive work, the opportunity to tackle more intricate loading and unloading operations, enhancing a more efficient service for customers.  
On this occasion, we will be implementing mechanical and electrical integration of the ADS (Automated Driving System) in the EZTug—an autonomous yard tractor engineered for rugged weather conditions and round-the-clock use. This includes extended ODD (Operational Design Domain) validation, and qualifications. The fleet management system (FMS) developed by Applied Autonomy enables the fully automated and secure movement of the vehicle within and outside the port terminal. The FMS is in constant communication with DFDS' systems, exchanging information about the vehicle and its work orders, facilitating secure entry and exit from the terminal without the need for any action by a safety driver. This represents an important step towards fully automated process chains, which are further expected to enhance global efficiency by reducing the turnaround time for unloading containers, and a reduction in CO2 emissions through decreased fuel consumption.
The port utilization scenario is one of the meticulously planned use cases within the extensive AWARD H2020 project. These encompass Hub-to-Hub, Airport, Warehouse, and, notably, the Port use case, each strategically designed to showcase the vast potential of autonomous technology across diverse operational settings.