EasyMile strengthens its partnership with engineering schools
24th October - Toulouse, France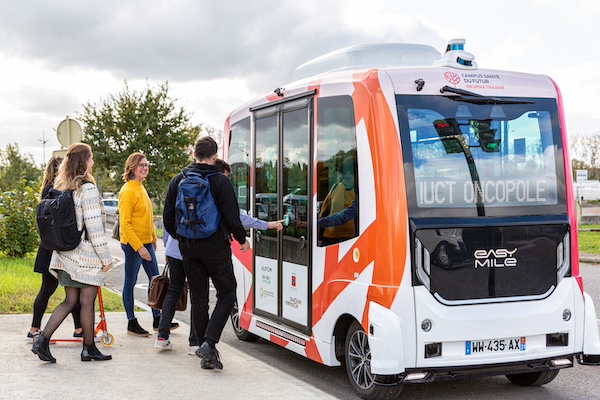 After an exciting beginning of the year with UTAC and ENIT Career fair in May, and our participation in Polytechnique (X) and SUPMICROTECH-ENSMM in October of this year, EasyMile is thrilled to announce our upcoming tour of engineering schools across France. We're on a mission to connect with the brightest young minds and strengthen our partnership with educational institutions. As we venture out to universities like INSA, ENSEEIHT, ISAE Supaero, ESTACA, Centrale SUPELEC, and Phd Talent, we're not just looking for the next generation of innovators – we're offering them the chance to be a part of the autonomous future.

October and November are set to be exciting months for EasyMile, as we embark on a journey to build stronger connections with the academic community. Our tour kicks off on Tuesday, October 24th, at INSA Toulouse, followed by an extended visit to INP-ENSEEIHT (N7) from Thursday, October 26th, till Tuesday, October 31st. These visits will be an opportunity for us to explore avenues of collaboration, fostering innovation, and recruiting top-tier talent.

On Thursday, November 9th, we'll be at ISAE Supaero in Toulouse, where we will engage with the next generation of aerospace and engineering experts. Our aim is to create an environment where ideas can flourish, driving cutting-edge developments in autonomous mobility.

As we continue our journey, we'll be heading to ESTACA in Laval on Thursday, November 16th. Then, on Tuesday, November 21st, we'll be at Centrale SUPELEC in Paris, further expanding our reach and connecting with students from different regions.

Our tour concludes with a visit to Phd Talent career fair 2023 in the CENTQUATRE-Paris on Thursday, November 23rd. This event promises to be an excellent platform for us to engage with future experts and discuss the exciting possibilities of autonomous mobility.

EasyMile invites you to be a part of our mission. Whether you're an aspiring engineer, a forward-thinking innovator, or someone passionate about technology and its real-world applications, we want to meet you.

Mark your calendars, prepare your questions, and be ready to be part of the autonomous future. We'll see you there!