Autonomous baggage tractor at Toulouse-Blagnac Airport goes fully driverless and extends route
7 November 2023 - Toulouse, France
Technology
EasyMile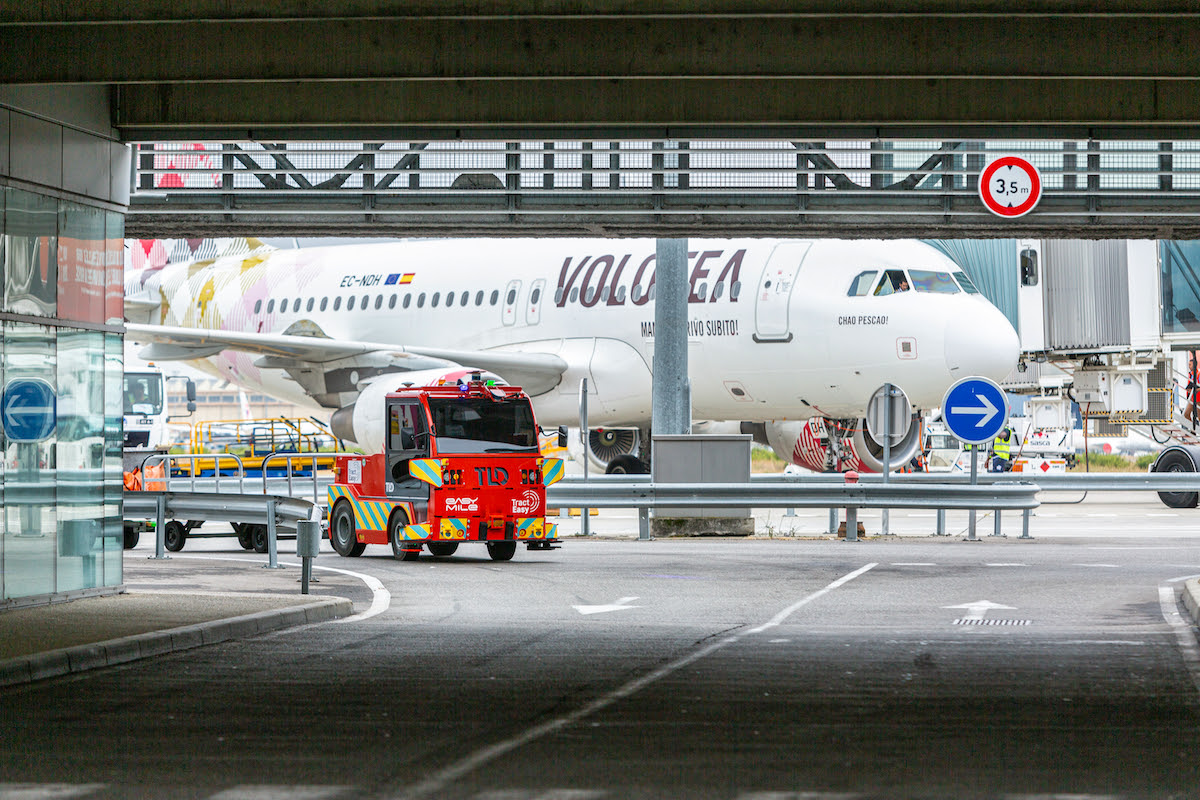 Toulouse, France, 7 November 2023 - The autonomous tow tractor at Toulouse-Blagnac airport has progressed to Level 4 of autonomous driving (completely removing any human on board) with an extended route, allowing for more complex use.
The step is a key part of Alyzia's, one of the airport's ground handling services, goal to serve more flights and optimize baggage handling while guaranteeing everyone's safety.
The EZTow has been running at Toulouse-Blagnac Airport since late-2022. Partners in the deployment are Alvest Group, TLD and Smart Airport Systems for the vehicle, EasyMile for the driverless technology, and Alyzia. The goal is to demonstrate how autonomous vehicles can optimize luggage and freight logistics.
Progressing to Level 4 is not just a technological achievement, it is a critical milestone in demonstrating the value of an industrial autonomous vehicle. By removing any human intervention on board, cost and time efficiency, scalability and flexibility are unlocked.It shows that driverless applications like this are not only truly capable of maneuvering and navigating complex scenarios on their own, but that they are also commercially viable.
The vehicle's route prolongation from 800m to 2000m will extend its use to more situations in the airport, such as studying baggage tracks and optimizing trajectories and maneuvers. The new route also adds challenges like narrow trajectories in the indoors area, also known as the luggage gallery, and more interactions with other traffic.
This demonstrates the readiness of driverless solutions for commercial operations at airports, phasing them in with the range of manually-driven vehicles still in operation. In Toulouse-Blagnac's case, this means specifically the towing of luggage from landing positions to the baggage hall. The service is also an opportunity to test the EZTow on various airport infrastructure elements such as intersections, roundabouts, and turning circles, and in different weather conditions like rain, fog, and snow.
The solution is the most-deployed autonomous tow tractor globally. Multiple EZTows are also in use at Narita International in Japan, and in a fleet at Changi Airport in Singapore. They also operate on a number of major automotive manufacturing plants and logistics centers in Europe and the United States, including the BMW Group Plant Dingolfing and Daimler Truck AG, in Germany.
"Airport autonomous tow tractor adoption is ready for take off," said Richard Reno, CEO of TractEasy, the independent distributor of EZTow and joint venture between TLD and EasyMile.
"Now, with technology evolution, building pools of autonomous vehicle expertise and growing understanding of and capability to address operation environment barriers in the airport market, autonomous tow tractor deployments are set to take off paving the way for improved safety, higher efficiency and lower operating cost at airports around the world. They have emerged as a key part of an airport's automation solution."  
Media Contact:
Benieke Treverton
Head of Communications
benieke.treverton@easymile.com - +33 (0)7 62 83 13 44
---
Le tracteur autonome de l'aéroport de Toulouse-Blagnac passe au niveau 4
Toulouse, France, 7 November 2023 - Le tracteur autonome de l'aéroport Toulouse-Blagnac est passé au niveau 4 de la conduite autonome (suppression totale de l'opérateur à bord) avec un parcours étendu, permettant une utilisation plus complexe.
Cette étape est un élément clé de l'objectif d'Alyzia, l'un des services d'assistance en escale de l'aéroport, qui consiste à desservir davantage de vols et à optimiser le traitement des bagages tout en garantissant la sécurité de tous.
L'EZTow fonctionne à l'aéroport de Toulouse-Blagnac depuis fin 2022. Les partenaires du projet sont Alvest Group, TLD et Smart Airport Systems pour le véhicule, EasyMile pour la technologie autonome, et Alyzia. L'objectif est de démontrer comment les véhicules autonomes peuvent optimiser la logistique des bagages et du fret.
Le passage au niveau 4 n'est pas seulement une réussite technologique, c'est une étape essentielle pour démontrer la valeur d'un véhicule autonome industriel. En supprimant toute intervention humaine à bord, on libère de l'efficacité en termes de coûts, de temps et de flexibilité, ce qui montre que les véhicules autonomes de ce type sont non seulement réellement capables de manœuvrer et de naviguer seuls dans des scénarios complexes, mais qu'ils sont également viables sur le plan commercial.
L'allongement de l'itinéraire du véhicule, qui passe de 800 à 2000 mètres, permettra d'étendre son utilisation à davantage de situations dans l'aéroport, telles que l'étude des trajectoires des bagages et l'optimisation des trajectoires et des manœuvres. Le nouvel itinéraire ajoute également des défis tels que des trajectoires étroites dans les zones intérieures, notamment les zones de livraison de bagage, et davantage d'interactions avec le reste du trafic.
Les solutions autonomes sont prêtes pour les opérations commerciales dans les aéroports, et s'intègrent progressivement à la gamme de véhicules à conduite manuelle encore en service. Dans le cas de Toulouse-Blagnac, il s'agit en particulier de remorquer les bagages entre les avions et le hall à bagages. Ce service est également l'occasion de tester l'EZTow, tracteur à bagage autonome, sur différents éléments de l'infrastructure aéroportuaire tels que les intersections, les ronds-points et les virages, et dans différentes conditions météorologiques telles que la pluie et le brouillard.
L'EZTow est le tracteur de remorquage autonome le plus déployé au monde. Plusieurs EZTow sont également utilisés sur les aéroports internationaux de Narita au Japon et Changi à Singapour. Ils sont également utilisés dans un certain nombre de grandes usines de construction automobile et de centres logistiques en Europe et aux États-Unis, notamment l'usine du groupe BMW à Dingolfing et Daimler Truck AG, en Allemagne.
"Grâce à l'évolution de la technologie, à la constitution de pools d'expertise en matière de véhicules autonomes et à une meilleure compréhension et capacité à surmonter les obstacles liés à l'environnement opérationnel sur le marché des aéroports, les déploiements de tracteurs de remorquage autonomes sont prêts à décoller, ouvrant la voie à une amélioration de la sécurité, à une plus grande efficacité et à une réduction des coûts d'exploitation dans les aéroports du monde entier."
Richard Reno, PDG de TractEasy, joint-venture de TLD et EasyMile et distributeur de l'EZTow.
Media Contact : 
Lucas Yon
Chargé de Communication
+33 (0)6 99 25 92 07 -lucas.yon@easymile.com