Autonomous Terminal Tractor in First Roll-on/Roll-off (RoRo) Port Operations
Toulouse, 21 November 2023 - Rotterdam, Netherlands
Technology
EasyMile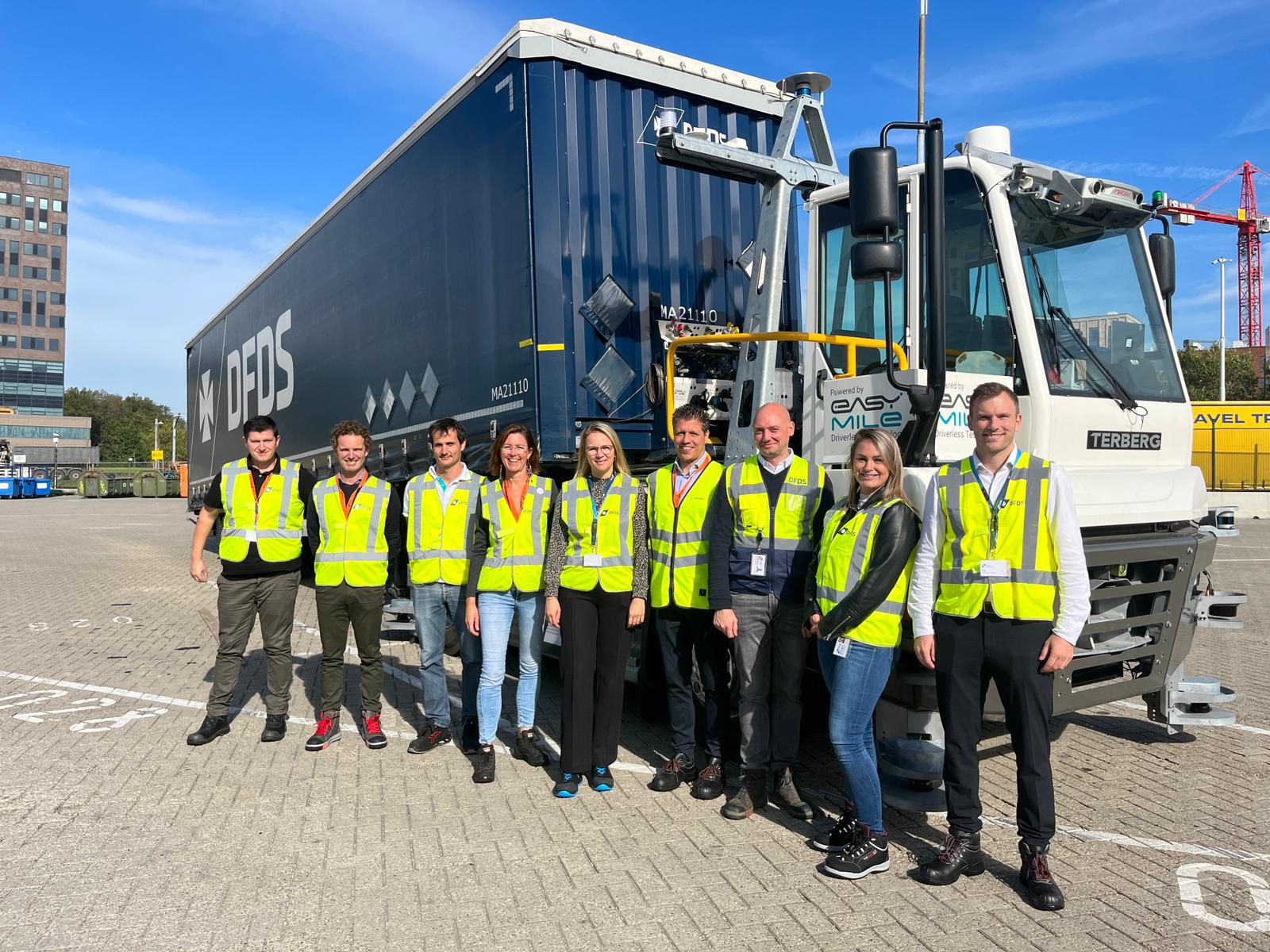 Toulouse, 21 November 2023 - A driverless terminal tractor jointly developed by EasyMile and Terberg Special Vehicles has been successfully used in roll-on/roll-off port operations at DFDS' terminal in Rotterdam (Vlaardingen), The Netherlands.
EasyMile, a leader in autonomous vehicle technology, and Terberg Special Vehicles, a leading manufacturer of terminal tractors, are delighted to announce a groundbreaking achievement in autonomy on ports. Their jointly developed tractor has been successfully deployed for the first time in roll-on/roll-off port operations at the DFDS terminal in Rotterdam (Vlaardingen), The Netherlands. 

The autonomous terminal tractor successfully completed a series of complex tasks including driverless trailer transfer, shunting from point A to B and for the first time, autonomous driving on and off a ship.

Demonstrating driverless trailer transfer in real port operations represents a significant leap forward in the evolution of autonomous logistics. This innovative technology showcases the vehicles ability to maneuver independently and effectively in complex environments, traffic and weather conditions and underscores their potential to transform the efficiency and sustainability of port operations. By successfully conducting trailer transfers autonomously, these vehicles can add capacity, minimize errors, and contribute to the overall efficiency of port logistics. 

Shunting from point A to B using driverless technology in port operations exemplifies the intersection of automation and efficiency. By harnessing driverless technology, the process of moving cargo between two specific points in a port becomes not only precise and reliable but also highly streamlined. The EasyMile/Terberg vehicle is equipped with advanced sensors and navigation systems that ensure safe and efficient shunting operations.

Roll-on/roll-off port operations with a driverless terminal tractor could significantly reduce turnaround times, improved space utilization, and enhance safety within port environments. It is a significant milestone within the AWARD H2020 project, led by EasyMile. The project's aim is to develop a safe and scalable autonomous driving system for heavy-duty autonomous vehicles in real-life operations, including ports.

During the demonstration the vehicle was operated by a fleet management system (FMS), developed by Applied Autonomy, enabling fully automated and secure movement within and outside the port terminal.

The FMS was in constant communication with DFDS' systems, exchanging information around the vehicle and its work orders, facilitating secure entry and exit from the terminal without the need for any action by a safety driver. This represents an important step towards fully automated process chains, which are further expected to improve global efficiency by reducing the turnaround time for unloading containers, and significantly reducing CO2 emissions.

The successful deployment at DFDS' Rotterdam terminal demonstrates the feasibility of integrating autonomous vehicles into port operations, paving the way for more efficient, cost-effective, and safe supply chain management.

Jean-Baptiste Blin of EasyMile, stated, "We are excited to see our technology making a real impact in the port industry. The driverless terminal tractor not only improves the efficiency of port operations but also contributes to our collective goal of adding capacity and promoting safe autonomous transport systems in the logistics sector."

Remy de Bruijn, of Terberg Special Vehicles, added, "Our partnership with EasyMile has allowed us to leverage our expertise in terminal tractors while incorporating advanced autonomous systems. This achievement showcases how autonomous vehicles can add capacity and efficiency to the way we handle cargo in ports."

DFDS, a leading European shipping and logistics company, expressed their enthusiasm for the successful integration of the driverless terminal tractor. "This is a significant step forward in our mission to enhance the efficiency and sustainability of our terminal operations. We are proud to be part of the AWARD H2020 project and to witness this groundbreaking achievement," said Richard van Kleef, DFDS Port Director in Rotterdam.

About EasyMile:
EasyMile is a driverless technology leader who partners with vehicle manufacturers to provide autonomous solutions. 
These include a terminal tractor, the EZTug, which automates horizontal container transport on ports. The EZTow tow-tractor which is being used by a growing number of large vehicle manufacturing plants in North America and Europe, as well as at major international airports.  Finally, the EZ10 is the most deployed autonomous shuttle in the world.
Since 2014, the company has become known for quality delivery and real-world deployments. Its proven technology is the safest on the market and has driven in 400+ locations in more than 30 countries, over 1,000,000km.
EasyMile has more than 280 employees in four locations (Toulouse, Berlin, Denver and Singapore), doubling its headcount every 2 years.
For more information, please visit www.easymile.com.
About Terberg Special Vehicles:
Terberg Special Vehicles is a leading manufacturer of special vehicles, including terminal tractors, shunt trucks, and other customized solutions. With a commitment to innovation and quality, Terberg serves a wide range of industries, including ports, logistics, and distribution.

About AWARD H2020:
The AWARD H2020 project is funded by the European Union's Horizon 2020 program and focuses on autonomous solutions for last mile logistics operations in port environments. It brings together leading companies and organizations to advance the adoption of autonomous technologies in the logistics sector.
---
Un tracteur de terminal autonome pour les premières opérations portuaires de Roll-on/Roll-off (RoRo)
Toulouse, 21 novembre 2023 - Un tracteur de terminal autonome développé conjointement par EasyMile et Terberg Special Vehicles a été déployé avec succès dans le cadre d'opérations portuaires de Roll-on/Roll-off (aussi appelé transroulage ou RoRo) au terminal de DFDS à Rotterdam (Vlaardingen), aux Pays-Bas.
EasyMile, un leader dans la technologie des véhicules autonomes, et Terberg Special Vehicles, un fabricant de premier plan de tracteurs de terminal, sont ravis d'annoncer une avancée révolutionnaire en matière d'autonomie dans les ports. Leur tracteur développé conjointement a été déployé avec succès pour la première fois dans les opérations portuaires Roll-on/Roll-off au terminal DFDS à Rotterdam (Vlaardingen), aux Pays-Bas.
Le tracteur de terminal autonome a accompli avec succès une série de tâches complexes, notamment le transport de remorques, le déplacement d'un point A à un point B et, pour la première fois, la conduite autonome à bord et à l'extérieur d'un navire.
La démonstration du transport de remorque de manière autonome dans de véritables opérations portuaires représente un bond significatif dans l'évolution de la logistique autonome. Cette technologie innovante met en valeur la capacité des véhicules à manœuvrer de manière indépendante et efficace dans des environnements complexes, des conditions de circulation et météorologiques, soulignant leur potentiel pour transformer l'efficacité et la durabilité des opérations portuaires. En réalisant avec succès des transferts de remorques de manière autonome, ces véhicules peuvent accroître la capacité, réduire les erreurs et contribuer à l'efficacité globale de la logistique portuaire.
En exploitant la technologie autonome, le processus de transport de marchandises entre deux points spécifiques dans un port devient non seulement précis et fiable, mais aussi hautement rationalisé. Le véhicule EasyMile/Terberg est équipé de capteurs avancés et de systèmes de navigation garantissant des opérations de déplacement de cargaison sûres et efficaces.
Les opérations portuaires roll-on/roll-off avec un tracteur de terminal autonome pourraient réduire considérablement les temps de rotation, améliorer l'utilisation de l'espace et renforcer la sécurité dans les environnements portuaires.
Il s'agit d'une étape significative dans le cadre du projet AWARD H2020, dirigé par EasyMile. L'objectif du projet est de développer un système de conduite autonome sûr et évolutif pour les véhicules autonomes de gros tonnage dans des opérations réelles, y compris dans les ports.
Pendant la démonstration, le véhicule était opéré par un système de gestion de flotte (FMS), développé par Applied Autonomy, permettant un mouvement entièrement automatisé et sécurisé à l'intérieur et à l'extérieur du terminal portuaire.
Le FMS était en communication constante avec les systèmes de DFDS, échangeant des informations sur le véhicule et ses missions, facilitant l'entrée et la sortie sécurisées du terminal sans nécessiter d'action par un opérateur de sécurité. Cela représente une étape importante vers des processus entièrement automatisées, qui devraient encore améliorer l'efficacité en réduisant le temps de rotation pour le déchargement des conteneurs et en réduisant considérablement les émissions de CO2.
Le succès du déploiement sur le terminal de Rotterdam de DFDS démontre la faisabilité de l'intégration des véhicules autonomes dans les opérations portuaires, ouvrant la voie à une gestion plus efficace, rentable et sûre de la supply chain.
Jean-Baptiste Blin d'EasyMile a déclaré : "Nous sommes ravis de voir notre technologie avoir un réel impact dans l'industrie portuaire. Le tracteur de terminal autonome améliore non seulement l'efficacité des opérations portuaires, mais contribue également à notre objectif collectif d'ajouter de la capacité et de promouvoir des systèmes de transport autonomes et sûrs dans le secteur de la logistique."
Remy de Bruijn, de Terberg Special Vehicles, a ajouté : "Notre partenariat avec EasyMile nous a permis de tirer parti de notre expertise en tracteurs de terminal tout en intégrant des systèmes autonomes avancés. Cette réalisation montre comment les véhicules autonomes peuvent ajouter de la capacité et de l'efficacité à la manière dont nous gérons les cargaisons dans les ports."
DFDS, une société européenne de premier plan dans le domaine de la navigation et de la logistique, a exprimé son enthousiasme pour l'intégration réussie du tracteur de terminal sans conducteur. "C'est un pas important dans notre mission visant à améliorer l'efficacité et la durabilité de nos opérations portuaires. Nous sommes fiers de faire partie du projet AWARD H2020 et de témoigner de cette avancée majeure", a déclaré Richard van Kleef, directeur du port de DFDS à Rotterdam.
À propos d'EasyMile :
EasyMile est un leader mondial dans la fourniture de solutions de véhicules autonomes pour les transports publics et privés. La technologie de pointe de l'entreprise est conçue pour améliorer la mobilité, réduire la congestion routière et améliorer l'expérience globale des passagers.
À propos de Terberg Special Vehicles :
Terberg Special Vehicles est un fabricant de premier plan de véhicules spéciaux, notamment des tracteurs de terminal, des camions de manoeuvre et d'autres solutions personnalisées. Avec un engagement envers l'innovation et la qualité, Terberg dessert un large éventail d'industries, notamment les ports, la logistique et la distribution.
À propos du projet AWARD H2020 :
Le projet AWARD H2020 est financé par le programme Horizon 2020 de l'Union européenne et se concentre sur des solutions autonomes pour les opérations de logistique de dernière mile dans les environnements portuaires. Il réunit des entreprises et des organisations leaders pour faire progresser l'adoption des technologies autonomes dans le secteur de la logistique.
 
---