EasyMilers Join #PourEux Movement to Feed Homeless During Covid-19
April 28 2020, Toulouse, France
Corporate
EasyMile 2020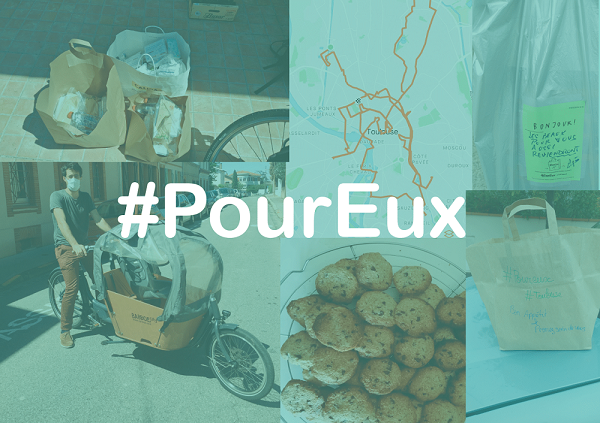 People from EasyMile's French teams have been cooking and biking to support their community in an employee initiative.
28 April, 2020, Toulouse, France –Like so much of the world, Europe is struggling with the humanitarian effect of the Covid-19 health crisis. Because of the confinement in France things have been worse than usual for the homeless. This means the nation's homeless people have less access to life's necessities, especially food.
The #PourEux ("#ForThem" in French) movement started in Lyon. It essentially involves volunteers cooking meals, then listing them on an app ready to be picked up and delivered. The deliverers are more volunteers, who use pedal power to get the food to its recipients. The packs also have a message of solidarity from kids' drawings to a hand-written note. "We're sharing a bit of humanity, not only food," explains EasyMile's Director of Product Marketing Olivier Pairot whose wife, Aurèle, is one of the people behind the introduction of the movement locally. 
On one day alone EasyMilers prepared and delivered 109 meals. Go team!
If you would like to get involved you can find out more here.
[Version Française]
Les "EasyMilers" rejoignent le mouvement #PourEux, venant en aide aux personnes dans le besoins durant la période de confinement.
28 Avril 2020, Toulouse, France – D'une initiative commune, une partie des employés de l'équipe française d'EasyMile ("EasyMilers") cuisinent et livrent des repas pour aider les sans-abris.
Comme partout dans le monde, l'Europe lutte contre les conséquences humanitaires de la crise sanitaire du au Covid-19. En raison du confinement en France, la situation des sans-abris et personnes dans le besoins s'est détériorée, rendant leur accès aux produits de première nécessités plus difficile, la nourriture en premier.
Le mouvement #PourEux est né à Lyon. Il s'agit d'une initiative collective de personnes bénévoles qui cuisinent et préparent des plats, qu'ils signalent via une application, prêts à être récupérés et livrés par d'autres bénévoles, eux à vélos. Les sacs sont accompagnés d'un message de solidarité: du dessin d'enfant au mot personnalisé. "Nous partageons un peu d'humanité, pas seulement de la nourriture" explique Olivier Pairot, Directeur Marketing Produit d'EasyMile, dont la femme, Aurèle, est l'une des personnes à l'origine du mouvement à Toulouse.
En une journée seulement, les "EasyMilers" ont préparé et livré 109 repas, à Toulouse et ses alentours.
Si vous souhaitez participer au mouvement, vous trouverez les informations nécessaires ici.
International Media Contact:
Benieke Treverton
Head of Communications
benieke.treverton@easymile.com
+33 (0)7 62 83 13 44
Contact Presse France/ Pays Francophones:
Lucas Yon
Chargé de communication
lucas.yon@easymile.com
+33 (0)6 99 25 92 07