"Leave the car." Why more tourist sites are trying to cut traffic
From the moment it was built in the mid-1960s, Avoriaz, one of France's highest ski resorts, always aimed to be different.
Other purpose-built resorts at the time were concrete jungles, but with Avoriaz the aim was to blend into the surrounding landscape. Sustainability was built-in from the beginning.
But there was also another notable difference. Cars were banned. 
And they still are. More than half a century later, pedestrians rule the roost, with snowmobiles, 'piste-bashers' and horse-drawn sleighs the only other forms of transport permitted.
While Avoriaz can claim to be France's first pedestrian-only tourist destination, globally there's been a big rise in tourist sites also considering banning cars. Last year, England's Lake District (which has 19 million visitors a year), was reportedly considering banning tourist cars from some areas at peak periods, trialing new bus services to encourage more sustainable forms of transport.
It's not hard to see why this shift is happening. Tourist resorts are becoming more aware of their carbon footprints. Cars make up around a third of tourism's CO2 emissions – only air travel is more damaging to the environment.  
Not only that, but as the most popular destinations just keep getting busier, congestion is becoming more of an issue. For some of the prime spots, not taking action puts at risk the reason people visit in the first place. 
But going pedestrian-only isn't always straightforward. While it might be easy enough for a small resort to restrict visitors to bikes or using local bus services, these measures can also pose problems and don't necessarily tackle issues like accessibility or costs.
 
Going driverless
This is where we see that autonomous transport can play an important role in helping keep holiday resorts and tourist spots free of traffic. 
The Terhills Resort in Belgium, for instance, is a good example of an area that is already benefiting from limiting the number of cars on site.
Once a desolate mining site on the edge of Belgium's only National Park, the resort offers visitors the chance to stay 'at the heart of nature.' Its 365 hectares are teeming with wildlife and plant life. Significantly, since Spring 2021, Terhills has been the home of Center Parcs, a European network of holiday parks where car-free vacations are one of the key selling points.
However, any transport solutions to move people around the site need to do so without detracting from the environment, whilst being efficient and meeting the mobility needs of the site. 
EasyMile passengers shuttles are part of the solution, running daily services along a 2.5 km route, taking in the main resort, on-site hotel, as well as a future walking and cycling bridge over a large lake. 
The shuttles replaced the conventional electric shuttle bus, which was under-used and costly to operate. They plug seamlessly into the resort's smart-mobility network, which includes electric boats, e-steps, e-bikes, and electric golf carts.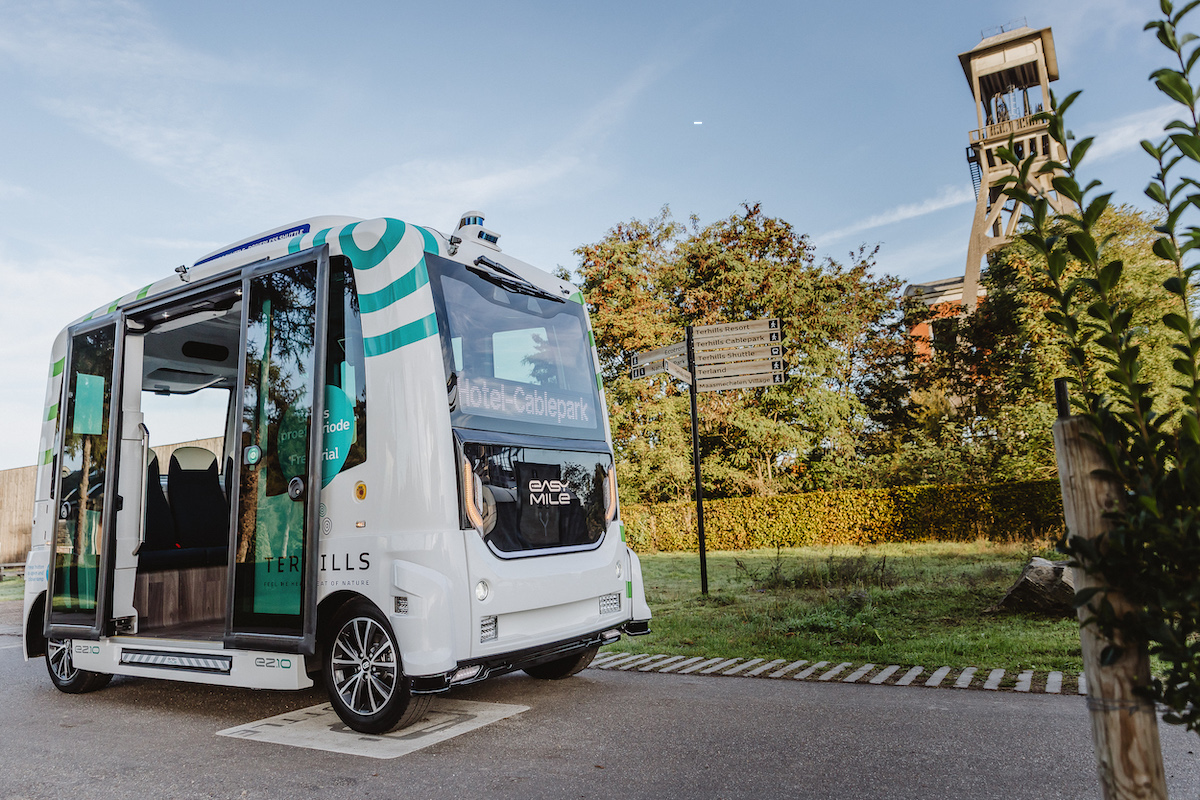 Safer and greener
So, what makes driverless shuttles a good fit for traffic-free resorts? Three reasons:
     1. They're greener 
Electric battery powered shuttles give tourist-resort operators the opportunity to keep their carbon footprints low. In addition, an on-demand autonomous service means greater efficiency, reducing the total mileage covered and cutting overall energy demand.
     2. They're safer
Shuttles with Level 4 autonomy traveling at low speeds. Backed by a sensor set that includes lidar, radar, high-definition cameras and GPS, they are able to come to a safe stop to avoid any hazards. Perfect for an environment where pedestrians are the dominant users of roads.
     3. They're scalable
Driverless technology makes it easier to scale up or scale down, depending on changing demand. A service can swiftly adapt from busy periods – for example at the start and end of the week when more visitors may be arriving on site – to quieter times, for example outside traditional peak holiday times.
Find out more about the Terhills resort shuttle service here: Terhills - Success Story