The defining moment for any developer is when they make that leap from a pilot project to seeing their technology take full flight.
With driverless solutions, that's happening right now, especially in goods transport. 
As an industry, we're now seeing fewer projects 'testing the water,' with one vehicle operating a single route. Increasingly, clients are looking for fully fledged autonomous networks, either expanding on their own testing or they've seen it demonstrated as successful elsewhere. In this article we look at how EasyMile is advancing driverless transport beyond the proof-of-concept phase.
Early adopters moving forward
Many of the clients we've worked with at EasyMile have been working with autonomous vehicles for several years now. As their understanding and confidence in the technology improves, they've already begun to expand past the test phase.
At the BMW Group factory in Dingolfing, the TractEasy autonomous tow tractor is used to transport PHS-hardened sheet metal parts outdoors. At Changi Airport in Singapore, a fleet of TractEasy autonomous baggage tractors are serving flights, as part of a trial of driverless vehicles..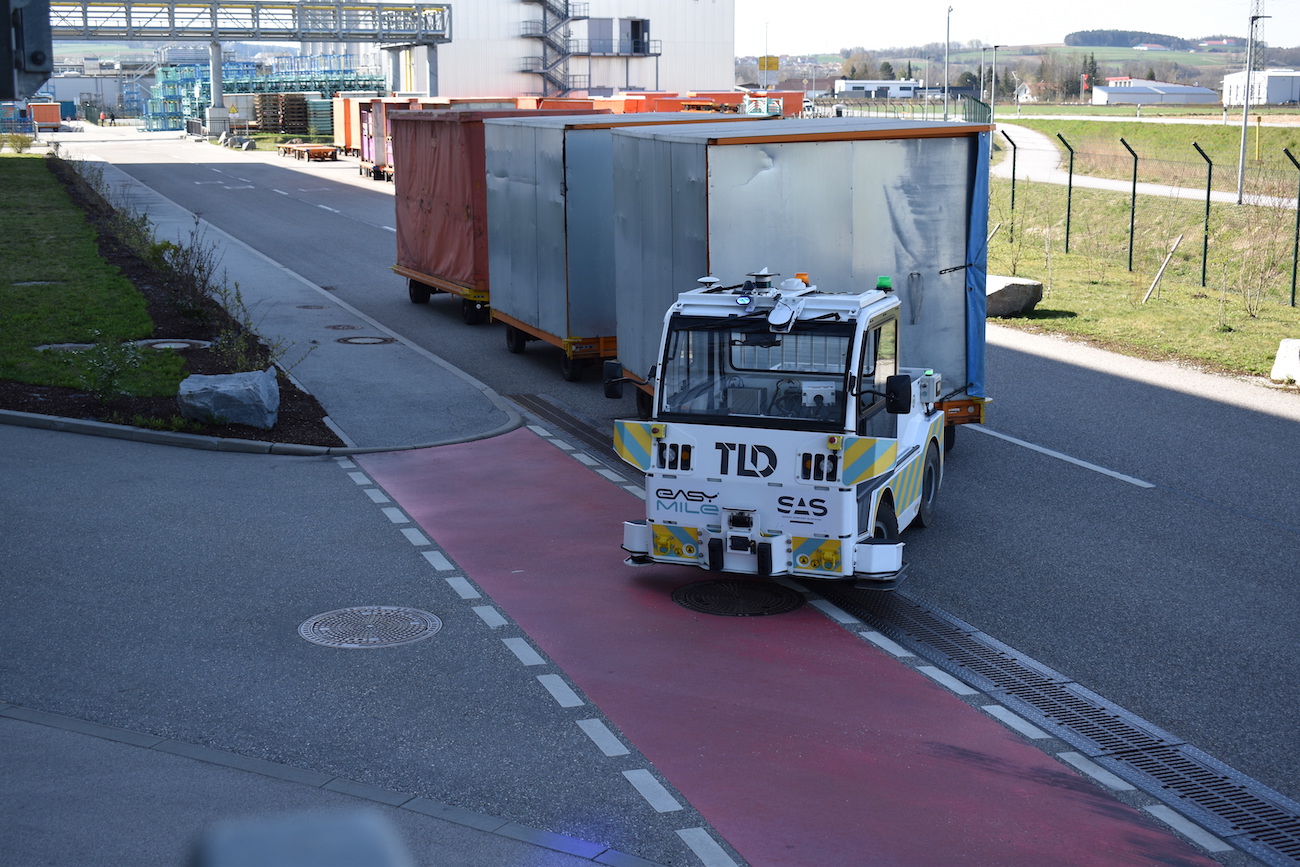 Building confidence, building scale
At EasyMile, we talk a lot about 'scalability.' 
Scaling up is crucial to successfully moving past the concept stage.
Fundamentally, it is about building confidence. Confidence from developers and owners that their underlying technology is robust, and confidence from the passengers and other road users that it's safe. Here are some key areas of focus:
1. System architecture
As we've covered in previous articles, the technology behind autonomous vehicles builds on decades of technological breakthroughs, using an advanced component-set including radar, lidar, GPS sensors, smart brakes, and high-definition cameras. 
At the heart of it all is a fleet-management software that acts as the vehicle's electronic brain. Behind our vehicles, we have EZFleet, which enables full remote assessment and supervision of our autonomous transport services. With access to multiple streams of information – all in real time – one remote supervisor can view the whole fleet at a glance; or zoom in to focus on a specific vehicle. 
This means operators can make the move to Level 4 autonomy with complete confidence.
2. Real-time testing 
Recently, we held one of our regular scalability testing days at our Francazal site in Cugnaux near Toulouse. These sessions give us the opportunity to bring our technology off the testing bench and into the real world – as we assess how robust our autonomous software is in handling a wide variety of operation scenarios.
With 12 vehicles running simultaneously, including passenger movers and industrial towing vehicles, the most recent session was the largest number of vehicles we've ever tested together at one time, and a real demonstration that autonomous transport has truly moved out of its infancy. 
All the vehicles were running different missions, such as metro mode – which takes passengers from station to station – and dispatch mode, which is designed for logistics operators moving goods around their factory sites. 
Watch our video of our testing day here.
3. Walking before we can run 
Moving beyond the pilot phase is an iterative process. 
At each milestone, whether it's moving from on-board attendant to remote supervisor; operating a single shuttle in a known environment to a wider network; or gradually working through the levels of autonomy to reach Level 4, it's a step-by-step progression, working closely with regulators, local transport operators and other road users to ensure the technology is robust and safe for all road users. 
Next steps
Since EasyMile was founded in 2014, we've celebrated a number of firsts: being the first developer to deploy fully driverless at Level 4 in 2018; bringing the technology to more than 400 locations in more than 30 countries; and being the first to be ISO 9001:2015 certified (an important safety and quality management certification).
Now though, autonomous transport is becoming more established and it's clearly moving into another phase. So, what next for our technology?
We are seeing more deployments of multiple vehicles rather than one or two. Most recently, five EZ10s will run seven days a week at the Terhills tourist resort in Belgium, replacing a conventional electric bus that was proving to be inefficient. 
Meanwhile, our tow tractor, the TractEasy is also being used more extensively. In the last 12 months it been taken on by BMW Group to transport parts as part of its Autonomous & Connected Logistics research project, and it is being used to transport production parts outdoors cost-efficiently, safely, and sustainably at Daimler AG's truck assembly plant in Wörth, Germany. It too is moving past the proof-of-concept stage, with other clients looking at orders for multiple vehicles.
Pilot projects will continue as new partnerships are formed in new locations, but the next step, moving to a truly integrated autonomous networks, is an even more exciting stage of the journey.