New Pilot Project for TractEasy
Berlin/Wörth, 30 March 2022
EZTow
EasyMile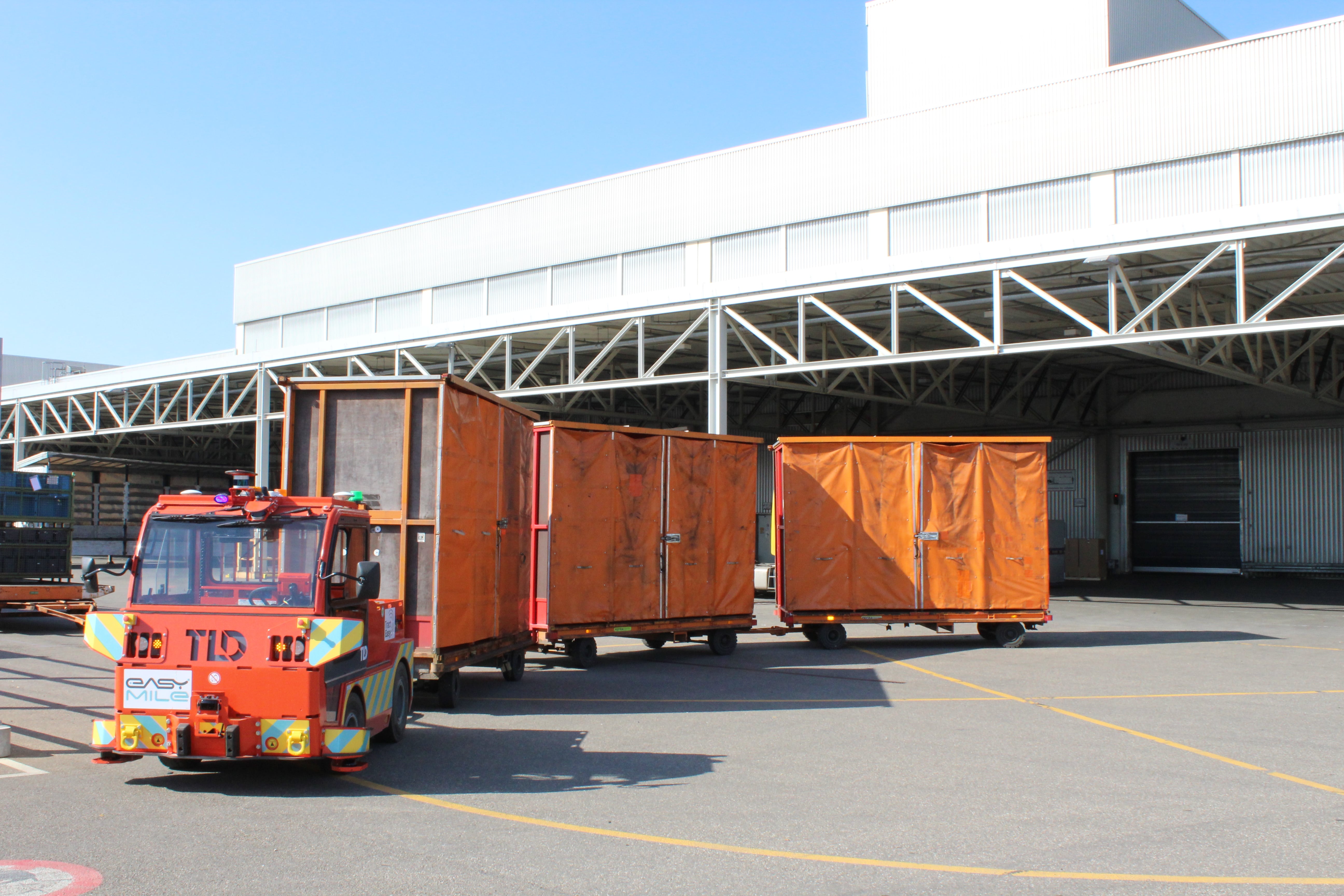 Berlin/Wörth, 30 March 2022 - TractEasy has been launched at the Daimler AG truck assembly plant in Wörth, Germany. The autonomous tow tractor is transporting production parts outdoors cost-efficiently, safely and sustainably.
The deployment started in November last year, with the programming of the 900m cross indoor/outdoor route. The vehicle uses an innovative sensor set to navigate safely and reliably. EasyMile's algorithm connects all data that the sensor set records and combines them with GPS data. With the help of this data, the vehicle orientates itself with centimeter-precision on the extensive production site in mixed traffic conditions.
All EasyMile's solutions come with a fleet management system. On the software side, the tow tractor also offers an interface for integration into all common warehouse management systems so that operations can be monitored and controlled remotely at any time, allowing flexible material handling 24/7.
Industry 4.0 - automation of the material flow
During the trial, TractEasy transports various parts and material from the storage area to the assembly line and will operate outdoors. This is a major step forward for the industry as conventional AGVs (Automated Guided Vehicles) are tied to indoor operations. At the Wörth site, the tow tractor operates at 10 km/h and tows up to 14t.
In order to ensure seamless integration into the factory environment and the logistics process, the otherwise driverless vehicle is initially being supervised by an employee. TractEasy is currently in pilot operation and covers two shifts per day.
The tow tractor is only one solution of the growing automated product portfolio of the technology company EasyMile. It was developed with TLD GSE, a market leader for ground support equipment. Applications for TractEasy are numerous: it premiered on the factory premises of automaker Stellantis in Sochaux, France in 2018, where it transported production parts to the assembly line and automated the material flow on site. To date, more than 20 TractEasy have been deployed around the world, both on industrial sites as well as airports including Amsterdam's Schiphol Airport, Tokyo's Narita International Airport and Singapore's Changi Airport.
About EasyMile
EasyMile is a leader in software and complete solutions for driverless goods and passenger transport, and the number one provider of autonomous shuttles in the world. It partners with blue-chip manufacturers to automate their vehicles with award-winning technology built on safety-by-design, ready for deployment today, with clear client benefits.
Since 2014, the company has become known for quality delivery and real-world deployments. EasyMile's proven technology has driven autonomously in 300+ locations in more than 30 countries, over 1 million kilometers.
With several mass operations around the world EasyMile was the first to deploy fully driverless at Level 4 of autonomous driving. It is also the first autonomous vehicle solutions provider to be ISO 9001:2015 certified.
EasyMile has more than 250 employees in four locations (Toulouse, Berlin, Denver and Singapore), having doubled its headcount every 2 years.
---
Pilotprojekt mit autonomen Lastenschlepper von EasyMile 
Berlin/Wörth, 30.03.2022 - Der autonome Lastenschlepper TractEasy wird im Lkw-Montagewerk der Daimler Truck AG eingesetzt, um Produktionsteile kosteneffizient, sicher und nachhaltig im Außenbereich zu transportieren.
Mit dem Lastenschlepper TractEasy des Technologieunternehmens EasyMile begannen bereits im November letzten Jahres die Fahrten zur Einmessung der ca. 900 m langen Strecke im Wörther Werk. Der autonome Lastenschlepper navigiert dank seines innovativen Sensor-Sets sicher und zuverlässig auf vorab programmierten Routen im In- und Outdoorbereich. Der EasyMile Algorithmus verbindet alle Daten, die das Sensor-Set aufnimmt und kombiniert sie unter anderem mit GPS Daten. Mithilfe dieser Daten orientiert sich das Fahrzeug stets millimetergenau auf dem weitläufigen Produktionsgelände.
Alle Lösungen aus dem Hause EasyMile verfügen über ein zusätzliches Flottenmanagementsystem, sodass die Einsätze jederzeit überwacht und gesteuert werden können. Softwareseitig bietet der Lastenschlepper außerdem eine Schnittstelle zur Integration in alle gängigen Warehousemanagementsysteme.
Industrie 4.0 - Automatisierung des Materialflusses 
TractEasy transportiert verschiedene Teile und Material aus dem Lagerbereich zur Produktionsfläche und agiert in diesem Anwendungsfall ausschließlich im Außenbereich - Ein großer Fortschritt für die Branche, denn herkömmliche AGVs (Automated Guided Vehicles) können nur im Innenbereich betrieben werden. Auf dem Betriebsgelände in Wörth zieht der Lastenschlepper bis zu 14t bei einer Höchstgeschwindigkeit von 10 km/h. 
Damit eine nahtlose Integration in die Werksumgebung und den Logistikprozess gewährleistet werden kann, wird das ansonsten fahrerlose Fahrzeug zunächst von einem Mitarbeitenden begleitet. Aktuell befindet sich TractEasy im Pilotbetrieb und deckt zwei Schichten ab.
Der Lastenschlepper ist nur ein Teil des stetig wachsenden automatisierten Produktportfolios des Technologieunternehmens EasyMile und wurde gemeinsam mit TLD GSE entwickelt, einem Marktführer für Ground Support Equipment. Die Einsätze für TractEasy sind vielfältig: Premiere feierte das Fahrzeug 2018 auf dem Werksgelände des Automobilherstellers Stellantis in Sochaux, wo es Produktionsteile zur Fertigungslinie brachte und den Materialfluss automatisierte. Mehr als 20 TractEasy wurden bisher weltweit eingesetzt, einige davon auf Industriegeländen wie z.B. dem Stellantis Werksgelände in Sochaux, oder an den Flughäfen Schiphol Airport bei Amsterdam, dem Narita International Airport bei Tokio und dem Changi Airport in Singapur.
Über EasyMile
EasyMile ist ein führender Anbieter von Software- und Komplettlösungen für den fahrerlosen Güter- und Personenverkehr und der weltweit führende Anbieter von autonomen Shuttles. EasyMile arbeitet mit Blue-Chip-Unternehmen zusammen, um ihre Fahrzeuge mit preisgekrönter Technologie zu autonomisieren. Der "Safety-by-Design"-Ansatz des Unternehmens ist einzigartig und bietet klare Kundenvorteile.
Seit 2014 ist das Unternehmen für hochwertige Produkte und zuverlässigen Betrieb unter realen Bedingungen bekannt. Die bewährte Technologie von EasyMile wurde bisher an über 300 Standorten in mehr als 30 Ländern eingesetzt - Insgesamt wurden dabei mehr als 800.000 km autonom und unfallfrei zurückgelegt.
Dank der Erfahrung aus unzähligen Massenoperationen auf der ganzen Welt ist EasyMile das erste Unternehmen, das vergangenes Jahr das erste SAE-Level 4 vollständig fahrerlose Shuttle auf Privatgelände eingesetzt hat. Ende 2021 wurde das erste vollständig fahrerlose Shuttle auf öffentlichen Straßen in Toulouse eingesetzt. Es ist auch der erste Anbieter autonomer Fahrzeuglösungen, der nach ISO 9001: 2015 zertifiziert ist.
EasyMile beschäftigt mehr als 250 Mitarbeiter an vier Standorten (Toulouse, Berlin, Denver und Singapur) mit einer Verdoppelung seine Mitarbeiterzahl alle zwei Jahre.
---
EasyMile lance un nouveau projet pilote avec son tracteur autonome
Berlin, 30 Mars 2022 - Le tracteur de manutention autonome TractEasy a été mis en service sur le site d'assemblage des camions de Daimler Truck AG à Wörth, en Allemagne, pour transporter des pièces de production, en extérieur, de manière rentable, sûre et durable
Le déploiement du TractEasy a commencé en novembre de l'année dernière, avec la programmation de l'itinéraire de 900 m sur le site de Wörth. Grâce à son set de capteurs et son logiciel de navigation, le tracteur autonome se déplace de manière sûre et fiable sur des itinéraires préprogrammés, en intérieur comme en extérieur. La technologie d'EasyMile collecte toutes les données enregistrées par les capteurs et les combine avec les données GPS. Grâce à ces données, le véhicule se déplace et s'oriente avec une précision centimétrique sur le vaste site de production et cela en trafic mixte. 
Le tracteur de manutention s'interface à tous les systèmes de gestion d'entrepôt (WMS) afin que les opérations puissent être surveillées et contrôlées à distance à tout moment, ce qui permet une flexibilité des opérations, jusqu'à 24 heures sur 24 et 7 jours sur 7. Toutes les solutions d'EasyMile sont fournies avec un système de gestion de flotte.
Industrie 4.0 - automatisation du flux de matériaux
Pendant ce projet pilote, le TractEasy transporte diverses pièces et matériaux de la zone de stockage à la chaîne de montage et fonctionnera en extérieur - une avancée majeure pour l'industrie, car les AGV (véhicules à guidage automatique) classiques sont majoritairement destinés à des opérations en intérieur. Sur le site de Wörth, le tracteur autonome fonctionne à une vitesse de 10 km/h et remorque jusqu'à 14 tonnes.
Afin d'assurer une intégration continue dans l'environnement de l'usine, le véhicule sans conducteur est supervisé par un employé. Actuellement, le TractEasy est en opération pilote et couvre deux shifts par jour. 
Le TractEasy n'est qu'une des solutions du catalogue croissant de produits automatisés d'EasyMile, et a été co-développé avec TLD GSE, un leader du marché des équipements de soutien au sol. Les applications du TractEasy sont nombreuses. En effet, le véhicule a fait sa première apparition sur le site de l'usine du constructeur automobile Stellantis à Sochaux en 2018, où il a transporté des pièces de production jusqu'à la chaîne de montage et automatisé le flux de matériaux sur place.
À ce jour, plus de 20 TractEasy ont été déployés dans le monde, par exemple sur de nombreux sites industriels comme l'usine Stellantis à Sochaux ou des aéroports comme l'aéroport Schiphol près d'Amsterdam, l'aéroport international Narita près de Tokyo et l'aéroport Changi à Singapour.
À propos d'EasyMile
EasyMile est un leader en matière de logiciels et de solutions complètes pour le transport de marchandises et de passagers, sans conducteur, et le premier fournisseur de navettes autonomes au monde.  L'entreprise s'associe à des constructeurs de premier ordre pour autonomiser leurs véhicules, grâce à une technologie de pointe, éprouvée sur plus de 400 sites dans 30 pays, et plus d'un million de kilomètres parcourus. 
Avec plusieurs opérations d'envergure à travers le monde, EasyMile a été la première entreprise à déployer des services totalement autonomes, au niveau 4 de la conduite autonome. C'est également le premier fournisseur de solutions pour véhicules autonomes à être certifié ISO 9001: 2015.
EasyMile, dont le siège est à Toulouse (France) et des bureaux régionaux à Denver (États-Unis), Berlin (Allemagne) et Singapour, compte aujourd'hui près de 260 experts.