Technology provider EasyMile recently won a 10-year contract for a fleet of fully driverless, remotely supervized shuttles for guest transport at the 365-hectare Terhills tourist site in Belgium, 7 days a week. 
The longevity and commercial nature of the service is the first of its kind in the autonomous shuttle industry.
Olivier Pairot, EasyMile's Product Director, talks us through some of the milestones, challenges and technical aspects of this business case-based mobility service.
Safe, efficient and reliable mobility
Terhills wanted a safe, efficient and reliable mobility service for their site, and they wanted it for the long-term. In an industry that has grown up on proofs of concept and demonstrations, this level of commitment to a schedule-bound fully driverless transport system for such a long period of time is exceptional.
We underwent a thorough technical, financial and legal assessment as part of a European tender process to win this contract. They had criteria and conducted a due diligence on each of these with their own experts, to be able to challenge our answers. We had to describe our safety architecture in detail and they had, and continue to have, an independent safety assessor in the loop.
Working as expected
Our shuttles know at centimeter-level precision where they are at any given moment, thanks to multiple technologies that we fuse such as improved GPS location, and lidar-based location that we call SLAM, or vision-based localization. It allowed us to demonstrate that our technology was capable of maneuvering the vehicles independently and efficiently at Terhills.
With regards to localization, the challenge at Terhills differs from what we have in classic, urban environments, since there are actually less static points of reference such as large buildings. The site is on the edge of Belgium's only national park so it is not the typical landscape our shuttles are used to. So we had to adapt our localization modalities to adapt to this specific environment.
Connectivity at the site is great. But, the whole concept of the vehicles is not to be super dependent on connectivity. At Terhills, the 4G coverage is definitely strong enough – and we do not need 5G to run the service.
The route was modeled in-house and the first weeks of deployment, and service, have confirmed that this set-up is working as expected.
Regular, daily service
The shuttles cover a 2.5 km route connecting the attractions of the Terhills Hotel, to the Terhills Resort and the future walking and cycling bridge over the large lake. They will initially run for 8 hours a day (with the ability to extend this), with the waiting time for passengers at the various stops a maximum of 10 minutes. The system can be expanded to 5 or 6 shuttles, with each stop served every 4 minutes during the busiest hours of the day.
Our confidence in this level of service is three-fold. Firstly, compared to what we do on other sites, the complexity of Terhills is realistic. Secondly, the way the site was designed is incredibly forward-thinking. It's comparable to a small town, and is purposefully laid out to accommodate multiple transport flows. Thirdly, we did the math. We know how to deliver the 4 minute frequency by calculating multiple factors including the vehicle's speed, how smooth the route is, and how many interactions with other vehicles and road users are anticipated.
Delivering this level of service will also leverage the smart fleet management and booking tool developed by Ush. They are a Belgian company belonging to the Lab Box start-up studio supported by D'Ieteren Automotive, and have been part of all autonomous shuttles deployments on public roads in the country. They are now expanding on a new block of the value chain.
Comfortable visitor and guest experience
Terhills want to make it as comfortable as possible for tourists and guests to visit the vast site. Their smart mobility offer already consists of electric boats, e-bikes, and electric golf carts. LRM, the investment company behind it, sees the addition of the self-driving shuttles as what it calls "the icing on the cake" – an element that delivers a real service, and that is at the same time a differentiator for this unique tourist site.
The shuttles will also replace the current, conventional electric bus on the site that suffers a low frequency, and isn't being used enough. It is expected that the system will be competitive with a classic manned bus from a cost point of view.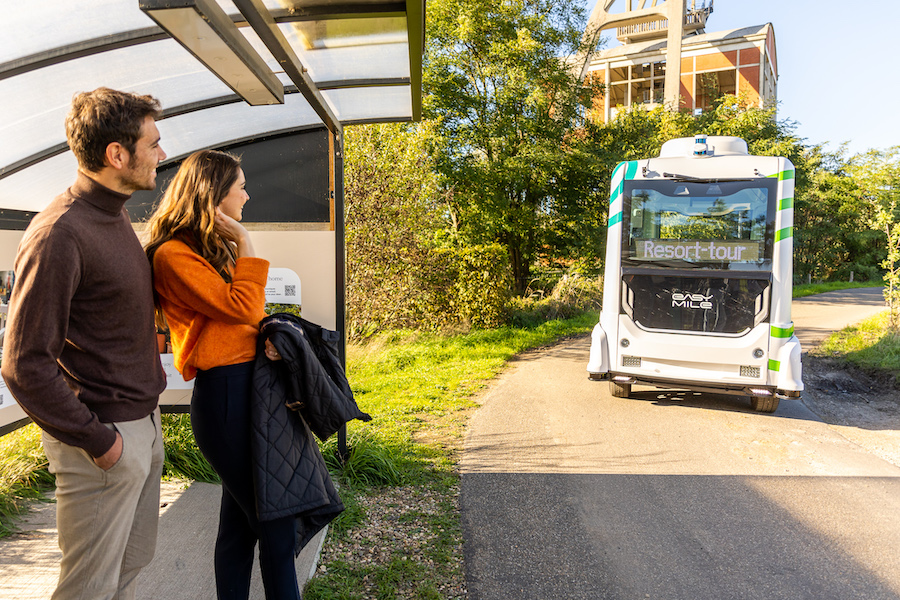 Value for the end user
The target of this contract for LRM is to deliver an efficient service at a competitive cost. The fact that the vehicles can operate long hours, with a high level of service throughout the day (not only peak hours) is next level.
It paves the way for more, similar sites to deploy driverless shuttles as a response to real business needs.
---
Olivier Pairot is EasyMile's Product Director for its people mover platform. He orchestrates solutions with business and technical expertize. Olivier's energy and motivation for shared, driverless transport is palpable. An experienced strategist he aligns what matters for customers with what needs to be done today, and tomorrow. 
Olivier holds a master's degree from HEC Paris in business administration, a master's degree in public law from La Sorbonne, and also studied at Queen's University (Kingston, Canada). 
Olivier's spare time is spent with his family and at his piano. He plays to a professional level and applies the same personal expectations to his work: always improving, with passion.
This article is also published on Unite.AI.