Autonomous Shuttle Service at Tourist Hotspot Goes Fully Driverless
Toulouse, 21 April 2023
EZ10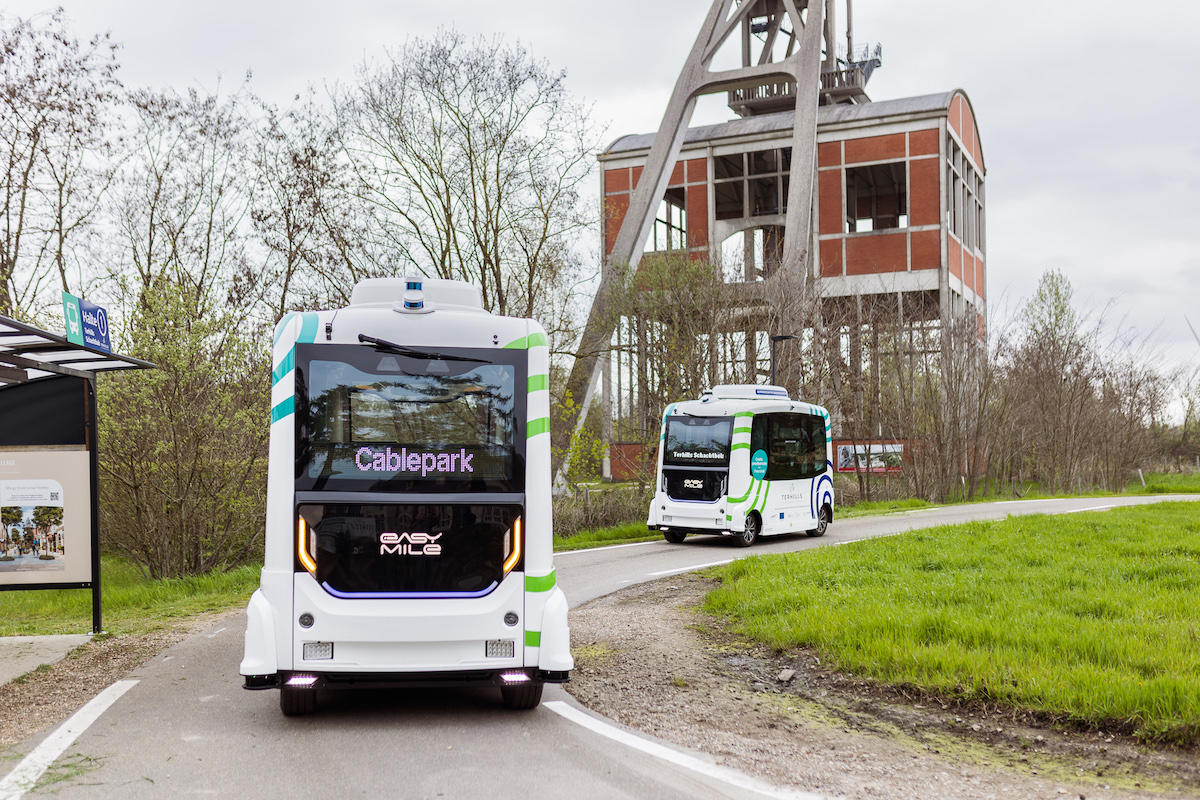 Toulouse, 21 April 2023 - Critical milestone for autonomous technology leader EasyMile and LRM, the investment company behind the Terhills project.

As of today, the driverless shuttles that visitors and guests at the Terhills tourist hotspot in Belgium use to get around the sprawling site are running at Level 4 of autonomous driving. This means manoeuvring completely independently and efficiently, without any human attendant onboard, under remote supervision instead.
This is unique in Belgium, and globally, as never before has there been such a fully autonomous transport system. Even within Europe, there are barely a handful of fully driverless transport systems that come close. According to LRM, the investment company behind the Terhills project, this milestone opens many new doors towards innovation and progressive research.
Hear from Tim De Ceunynck, Mobility Project Manager at LRM
The tourist experience site Terhills in Dilsen-Stokkem and Maasmechelen with its attractions such as the Terhills Resort, Terhills Hotel, Terhills Cablepark, Elaisa Wellness and the main gateway to the National Park, accounts for about 1 million visitors and overnight guests per year. There are also 2.5 million annual visitors to nearby Maasmechelen Village that can also visit the site. To make it as comfortable as possible for all those who visit the sprawling site, LRM - the investment company behind the Terhills project - decided on driverless shuttles. Each shuttle accommodates 12 passengers and is wheelchair accessible. Currently, there are 2 shuttles that connect all the attractions on the site in a 4.5 km loop. The shuttles run 8 hours a day with waiting time at each of the 5 different stops a maximum of 10 minutes.
Fully driverless and safety first
After an extensive preparation phase, the service started transporting passengers in November last year, initially with a human supervizor on board. 
Tim De Ceunynck, Mobility Project Manager at LRM: "We are very proud to announce that our shuttles can now transport visitors fully autonomously and without a human security guard on board. This is unique in Belgium and also a great rarity at the European level!"
An in-depth safety study preceded the launch of the fully autonomous shuttles. 
Tim De Ceunynck: "In terms of safety, the bar has been set incredibly high. Our unmanned shuttles have to be at least as safe as vehicles with a human driver. That's why we appointed an independent safety expert team that examined the technology and processes as well as the environment where the shuttles are deployed. With the choice of the French company EasyMile as supplier for the shuttles, we are in any case working with one of the most advanced technology suppliers worldwide in the field of autonomous driving. EasyMile is also one of the few technology suppliers that has reached level 4 on autonomous driving, which means that the shuttle can drive without a human steward on board. For its part, Ush, Belgium's first autonomous mobility provider, is in charge of everything needed to integrate our shuttles into a working transportation system. Just think of a smart fleet management and booking tool for a flexible and efficient service."
The independent team of experts has now officially confirmed that the transport system is performant enough to operate completely safely even without a steward on board. "The fact that the expert team has given the go-ahead to switch to stewardless driving is an incredible and crucial innovation milestone in Belgium!" said Tim De Ceunynck.
Benoit Perrin, General Manager of EasyMile said, "Progressing to Level 4 is not just a technological achievement, it is a critical milestone in demonstrating the value of a fleet of fully autonomous vehicles. By removing human supervision on board individual vehicles and replacing it with remote supervision of multiple vehicles, cost and time efficiency, scalability and flexibility are unlocked.  We are showing that driverless shuttles are not only truly capable of manoeuvring and navigating complex scenarios on their own, but that they are also commercially viable." 
Now that a human attendant no longer needs to be on board the shuttles at Terhills, they are supervized remotely from a control room. A further phase will follow, including adjustments to the road infrastructure and the construction of additional bus stops. The fleet will also expand to 5 shuttles. The service is a long-term vision, with EasyMile committed to providing Terhills with the most efficient and safest shuttles for 10 years.