TractEasy used for driverless towing of equipment at Kansai Airport
Kansai, Japan - 13 April 2023
EZTow
Kansai International Airport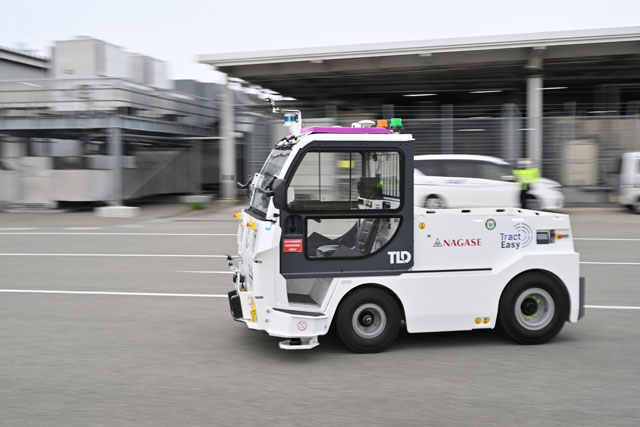 Kansai, 13 April 2023 - TractEasy, equipped with a remote control system, was used to transport equipment at Kansai Airport this month.

In a week-long demonstration, Panasonic's remote control system "X-Area Remote" was used with EasyMile's "TractEasy". Other partners including Peach Aviation also participated.

The ability to tow aircraft power supply equipment
During this demonstration, the TractEasy vehicle was remotely operated from Peach Aviation's office in the Kansai Airport Aeroplaza Building. The primary goal was to assess the vehicle's safety and its capability to transport aircraft power supply equipment. Additionally, the demonstration aimed to evaluate the effectiveness and practicality of the remote operation and monitoring system, including the vehicle's operability.
With a load capacity of 25 tons, the vehicle uses a range of sensors and cameras with real-time processing through its autonomous hauling. This includes centimeter-precise localization at any moment, wide-range perception to handle obstacles and enhanced navigation including vehicle to infrastructure (V2X) communication, predictive control, and decisions at intersections and pedestrian crossings. Powered by electricity, it also contributes to reducing CO2 emissions at production operations. 
 
EasyMile, a leading driverless technology company
TractEasy is the most-deployed autonomous towing solution in the world, already being used by a growing number of other, large vehicle manufacturing plants in North America and Europe including the BMW Group Plant Dingolfing and Daimler, as well as at major international airports including at Narita in Tokyo, and in a fleet at Changi in Singapore.
Remote operation and monitoring
The vehicle at Kansai was fitted with a remote operation and monitoring solution, "X-Area Remote", designed and developed by Panasonic Holdings Corporation. The solution has low-latency stable communications in 4G and 5G environments, cyber security, and AI assist functions for remote operators. It is a remote control solution that integrally monitors, operates, and manages the operation of multiple units of various mobilities.
Early alleviation of labor shortage problems
Integrating autonomous vehicle solutions in airside operations can have a profound impact on the aviation industry, increasing efficiency, safety, and sustainability. By deploying autonomous vehicles such as baggage tugs, airports can streamline operations and reduce human error. These vehicles can navigate the airside areas with precision, eliminating the risks associated with human-driven vehicles and improving overall safety. Moreover, autonomous vehicles optimize time and resource management, leading to increased productivity and cost savings, allowing existing workers to refocus on higher value-added tasks. Additionally, the integration of autonomous vehicles contributes to sustainability efforts by minimizing fuel consumption, reducing emissions, and promoting energy-efficient practices. Ultimately, the adoption of autonomous vehicle solutions in airside operations enhances the reliability, safety, and environmental sustainability of airports, propelling the industry towards a more efficient and advanced future.