EasyMile showcasing it's driverless technology at the UITP Global Public Transport Summit in Barcelona from 4 - 7 June
Toulouse, 26 May 2023
EZ10
EasyMile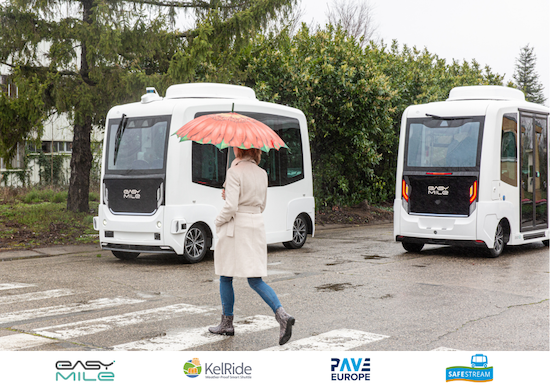 Toulouse, 26 May 2023 – EasyMile, a global leader in driverless technology, is participating in the UITP Global Public Transport Summit, in Barcelona from 4-7 June. With a strong focus on innovation and scalable mobility, EasyMile will showcase its technological advancements for public transport with the KelRide All-Weather and SAFESTREAM Level 4 consortiums, as well as its founding membership of PAVE Europe.

The UITP Global Public Transport Summit is the largest event in the public transport industry, attracting industry experts, policymakers, and decision-makers from across the globe. This four-day summit serves as a platform for showcasing groundbreaking technologies, fostering collaborations, and sharing insights to shape the future of public transportation.
EasyMile will showcase its autonomous shuttle as well as two major technology initiatives.
KelRide is one of the largest public transport projects in Germany to pair autonomous and conventional vehicles. It addresses two of the biggest hurdles that autonomous driving has to overcome: operating safely in all weather conditions, and efficient and seamless integration into wider public transport networks. The project aims to clarify to what extent existing sensor technology, combined with project-specific software solutions for vehicle control and intelligent fleet management, can achieve all-weather suitability in typical Central European weather conditions. 
SAFESTREAM, a consortium that EasyMile leads, partnered with T-Systems for Deutsche Telekom, TÜV Rheinland, P3, the Technical University of Munich (TUM), and the District of Kelheim and Bahnen der Stadt Monheim will bring Level 4 (without an onboard supervizor) autonomous driving to public transport in Germany.
The goal of the project is to replace the currently required safety attendant in the driverless shuttles in the towns of Kelheim and Monheim am Rhein with a technical supervisor not physically present in the vehicle, in compliance with the law. This must be demonstrated in the operation of the shuttle service.
PAVE Europe, of which EasyMile is a founding member, will also join the EasyMile booth. The nonprofit association/coalition represents the dynamic force that generates volunteers, customers, attendees, content, and ongoing revenue to enable it to raise public awareness of AV technology.
Visitors to UITP will have the opportunity to engage with representatives from KelRide, SAFESTREAM and PAVE Europe, as well as EasyMile's team of experts. 
Attendees can pass by EasyMile's booth, in Hall 6 - Booth 6G240, to interact with these knowledgeable professionals, gaining valuable insights into the innovative solutions and technologies that are shaping the future of public transport.