On-demand and Fully Driverless Shuttle Serves a Norwegian Technology Park
Credit Photo: Magnus Lindaas / Brakar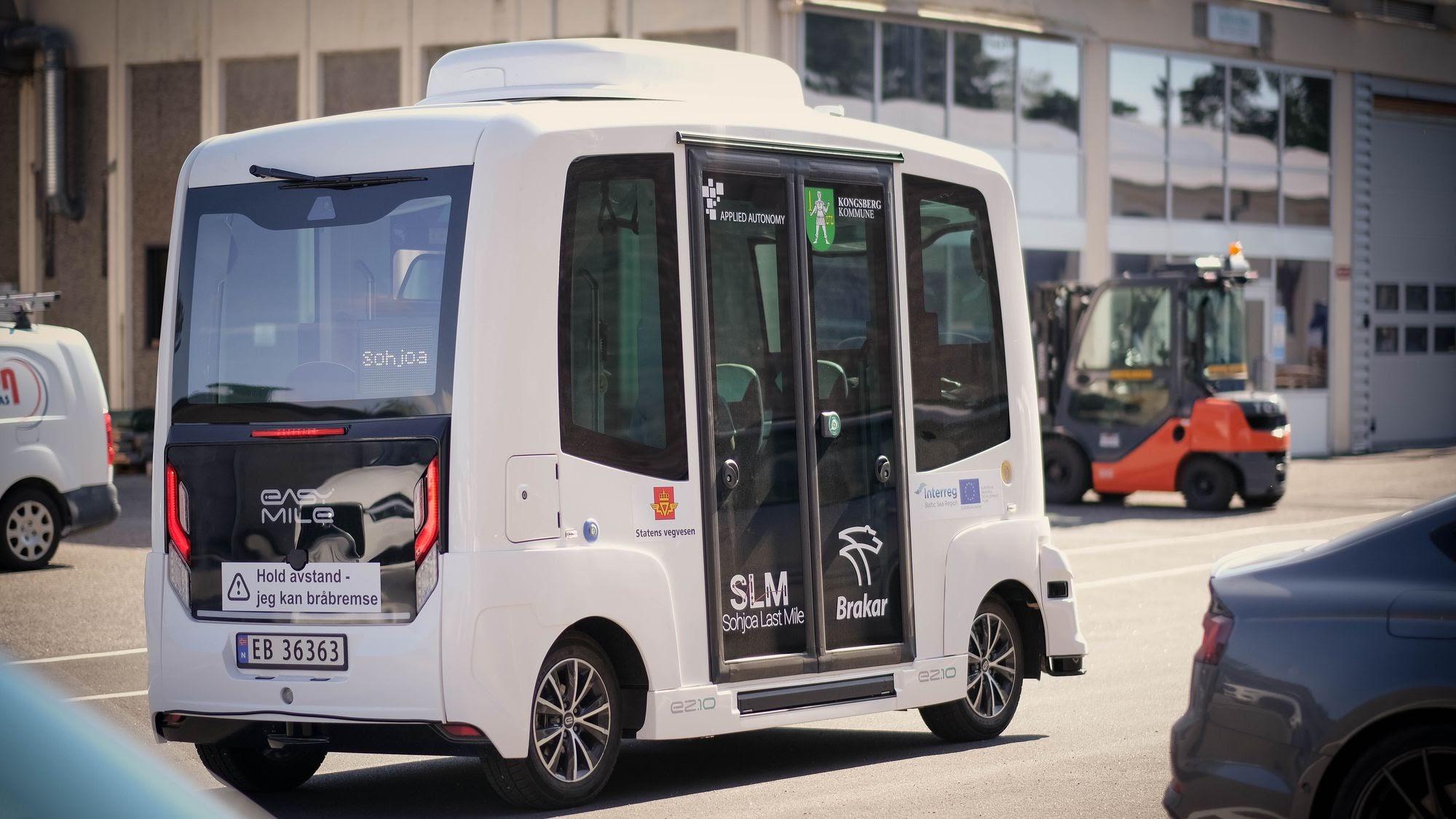 An EZ10 autonomous shuttle is providing a fully driverless (completely remving any onboard supervizor), on-demand service at the Kongsberg Technology Park. A supervizor monitors the bus from a control centre.
The self-driving bus has been operating inside the Technology Park since June 2021, and became fully driverless two months later.
It is programmed on a fixed 3.4km route inside the Technology Park, operating as an on-demand service. Users can order the bus, specifying the pick-up place and time. There are also (?) set bus stops with the service operating on weekdays from 07:30 until 14:30.
The bus is on a closed route inside the Technology Park in Kongsberg, with mixed traffic including pedestrians, trucks, cars, forklifts, and other industrial vehicles. It's monitoring is done from a control center manned by specially trained bus drivers from transport operator Vy. 
Competitive technology
The vehicle in Kongsberg is an updated EasyMile EZ10 Gen 3. This model has also been tested on route 450 in Kongsberg, which operates as a fixed bus route between the Technology Park and Kongsberg train station.
The Sohjoa project is important for the development of the other projects that we have with self-driving buses in Kongsberg and in Drammen, with a view to being able to run the buses without an operator on board in the future. These advances make the technology more competitive, says Brakar's CEO Terje Sundfjord.
Economic gain through simultaneous supervision of multiple vehicles
When the bus operates entirely on its own, safety is ensured from a control centre inside the Technology Park. The centre has been developed by Kongsberg-based solution provider Applied Autonomy in collaboration with EasyMile. The bus is continuously monitored via cameras that are filming both outside and inside. If need be, the bus can be remotely stopped from the control centre. Passengers can get in touch with the control centre at any time via an intercom. 
This is the first step on the way to reaching the economic gain that is to be expected when multiple buses can be supervised simultaneously from the control centre says Applied Autonomy's CEO Olav Madland.