IVECO BUS and EasyMile Reach Next Stage for Autonomous Standard City Bus
Lyon/Toulouse, 23 September 2021
Corporate
IVECO BUS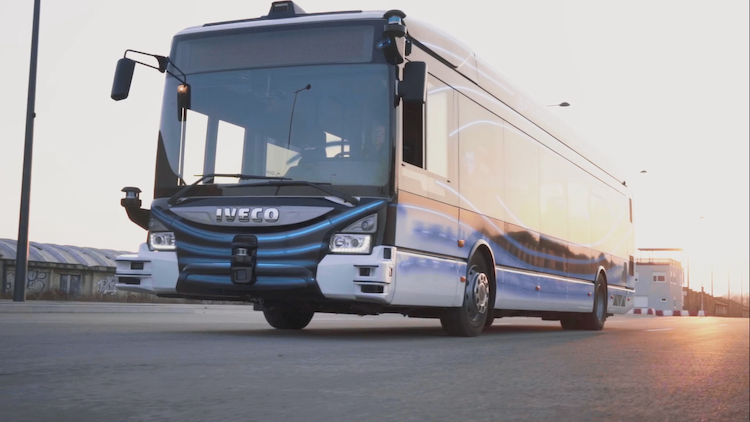 Lyon/Toulouse, 23 September 2021 - Bus manufacturer IVECO BUS, driverless technology provider EasyMile and partners have completed testing of a fully driverless standard bus prototype, capable of operating under real conditions.
This comes after successful testing as part of the multi-partner STAR (Rapid Autonomous Transport System). The bus has proven feasible for autonomous operations in bus rapid transit (BRT) lanes as well as on private sites. 
It marks a crucial milestone for the progress of autonomous transport in Europe. Connected and automated transport systems are deemed "critical if the European transport-related industry is to preserve and consolidate its global competitiveness" in this report. 
With a length of 12 meters, the bus can carry up to 100 passengers comfortably and safely. Technologies integrated into the bus include safety controls and navigation software. EasyMile also contributes what is one of the most advanced fleet management solutions and one of the first fully dedicated to autonomous vehicles.
The EasyMile and IVECO BUS' joint-developed vehicle has undergone extensive testing and development at the Transpolis proving grounds as well as IVECO BUS and EasyMile's own test sites. It has driven in different seasons and weather conditions, reaching peak performance at this stage. 
This includes the autonomous driving system (ADS) embedded in the bus enabling it to repeatedly dock at stations within less than 10cm. This is particularly important as it improves accessibility, especially for wheelchairs users. Maximum speeds reached by the bus in autonomous mode demonstrated that the technology also performs well at 40km/h. Further tests indicated that the software provider's multimodal localization technology in particular is also effective at autonomous speeds over 70km/h. Vehicle to infrastructure (V2X) capabilities allow the bus to anticipate traffic light phases, meaning smooth stopping and starting as well as lower energy consumption. Manoeuvre and stopping precision also enable automatic parking in the depot. 
"We are very proud of this new collaboration with IVECO BUS, a recognized leader and expert in public transportation, which comes after our successful joint STAR project started in 2017. It also shows the maturity of our technology. Autonomous technology brings a series of benefits to bus operations, from additional safety to optimized parking or to improved on board customer services. Together we look forward to offering this new innovative solution to public transport authorities said EasyMile's General Manager Benoit Perrin.
"As a manufacturer that has a long-standing commitment to the development of driver assistance systems, IVECO BUS is proud of the results of this level 4 autonomous bus project. The tests carried out validate, among other things, a speed of 40 km/h. They are a further and necessary, but not final, stage of the project that we will continue to progress with our partners. The vehicle's safety and management features now allow us to plan the next stage, namely, tests under operating conditions" declared Stéphane Espinasse, IVECO BUS Brand President.
EasyMile and IVECO BUS, together with Sector, Transpolis, ISAE-SUPAERO, Université Gustave Eiffel, Inria, and Michelin joined forces to develop the technology to automate the bus in 2017 as part of the STAR, Rapid Autonomous Transport System, project. The collaboration's aim was to develop the first driverless, autonomous standard bus, capable of operating under conditions similar to real operation, with a prototype ready in 2021.
The project partners are now preparing their next step for the second half of the year - to operate the bus in a city under real conditions.
The development is subsidized by the French government through its FUI (Fonds Unique Interministériel) program. 
Project partners and roles are:
●    EasyMile, Driverless solution provider 
●    IVECO BUS, Vehicle provider
●    Sector, Safety analysis 
●    Transpolis, use case definition, testing and validation of autonomous vehicles in realistic environment
●    ISAE-SUPAERO, Semantic localization 
●    Université Gustave Eiffel, Research in accessibility for passengers with reduced mobility and user acceptance
●    Inria, Multi-sensor fusion and collision avoidance
●    Michelin, Connected tires 
The project is labelled and supported by CARA - European Cluster for Mobility Solutions, Aerospace Valley and NFI (Nouvelle France Industrielle).
The project is funded by the Occitanie region, Bpifrance the Auvergne-Rhône-Alpes region and Grand Lyon métropole.

EasyMile Media Contact:
Lucas YON
Mobile +33 (0)6 99 25 92 07
media@easymile.com

About EasyMile:
EasyMile is a leader in software and complete solutions for driverless goods and passenger transport, and the number one provider of autonomous shuttles in the world.  It partners with blue-chip manufacturers to autonomize their vehicles with award-winning technology built on safety-by-design, ready for deployment today, with clear client benefits.
Since 2014, the company has become known for quality delivery and real-world deployments. EasyMile's proven technology has driven autonomously in 300+ locations in more than 30 countries, over 800,000km.
With several mass operations around the world EasyMile was the first to deploy fully driverless at Level 4 of autonomous driving. It is also the first autonomous vehicle solutions provider to be ISO 9001:2015 certified.
EasyMile has more than 250 employees in five locations (Toulouse, Berlin, Denver, Singapore and Adelaide), doubling its headcount every 2 years.
For more information, please visit www.easymile.com. 

About IVECO BUS:
IVECO BUS is a brand of CNH Industrial N.V., a global leader in capital goods listed on the New York Stock Exchange and on the Borsa Italiana in Milan. 
A major player in the field of public transport, and among the leading bus and coach manufacturers in Europe, IVECO BUS designs, manufactures and markets a broad range of vehicles that meets all the needs of public and private operators: 
- school, intercity and tourism coaches;
- standard and articulated city buses, including BRT dedicated versions; city midibuses
- minibuses for all passenger transport missions.
IVECO BUS benefits from a strong expertise in alternative energies vehicles and is now capable of offering a complete range running on compressed natural gas – fully compatible with biomethane – and in the electromobility field, to suit every kind of transport need. Thus, IVECO BUS positions itself as a reference partner to face the numerous challenges of sustainable mobility.
IVECO BUS employs over 6,000 people across four production units, in Annonay, France, Vysoké Myto, Czech Republic, Brescia, Italy and in Rorthais, France with its electromobility center of excellence.
The extensive IVECO BUS and IVECO service network guarantees assistance around the world wherever an Iveco Bus vehicle is at work.
For further information about IVECO: http://www.ivecobus.com
For further information about CNH Industrial: www.cnhindustrial.com
---
IVECO BUS et EasyMile : nouvelle étape vers l'autobus urbain autonome 
Lyon/Toulouse, 23 Septembre 2021– Le constructeur IVECO BUS, le fournisseur de technologie sans conducteur EasyMile et ses partenaires ont achevé les tests avec un prototype d'autobus standard totalement autonome sans conducteur, capable d'opérer dans des conditions similaires à une exploitation réelle.
Une nouvelle étape a été franchie avec des tests réussis dans le cadre du projet de recherche STAR (Rapid Autonomous Transport System). L'autobus a démontré sa capacité à opérer de manière autonome en site propre sur des voies dédiées mais également sur des sites privés.  
Il s'agit d'une étape cruciale pour le développement du transport autonome en Europe. Les systèmes de transport connectés et automatisés sont considérés "essentiels si l'Industrie du Transport Européen veut préserver et consolider sa compétitivité mondiale" selon ce rapport. 
D'une longueur de 12 mètres, l'autobus peut accueillir une centaine de passagers dans des conditions optimales de sécurité, de sûreté et de confort. La technologie intégrée au véhicule comprend des capteurs de sécurité et des logiciels de navigation. EasyMile apporte l'une des gestions de flotte les plus avancées et l'une des premières totalement dédiées aux véhicules autonomes. 
Vidéo du bus disponible ici.
L'autobus, développé conjointement par EasyMile et IVECO BUS, a fait l'objet d'expérimentations et de développements approfondis sur la piste d'essais de Transpolis ainsi que sur les propres sites d'essais d'IVECO BUS et d'EasyMile. Il a roulé en toutes saisons dans des conditions météorologiques différentes, réalisant à ce stade des performances de pointe.
Cela comprend le système de conduite autonome (ADS) intégré au véhicule lui permettant des accostages précis à moins de 10 cm des quais de manière répétée. Un point particulièrement important puisqu'il améliore l'accessibilité, en particulier pour les usagers en fauteuils roulants. Les vitesses maximales atteintes par l'autobus en mode autonome ont démontré que la technologie fonctionne également bien jusqu'à 40 km/h. D'autres tests ont montré que la technologie de localisation multimodale du fournisseur de logiciels en particulier est également efficace à des vitesses autonomes supérieures à 70 km/h. Les capacités de véhicule à infrastructure (V2X) permettent au bus d'anticiper les phases de feux de circulation, ce qui signifie un arrêt et un démarrage en douceur ainsi qu'une consommation d'énergie réduite. La précision des manœuvres et des arrêts permet également un stationnement automatique dans le dépôt.
 
« Nous sommes très fiers de cette nouvelle collaboration avec IVECO BUS, leader reconnu et expert du transport de personnes, qui fait suite au succès de notre projet commun STAR démarré en 2017. Elle montre également la maturité de notre technologie. La technologie autonome apporte une série de bénéfices à l'exploitation d'autobus, allant d'une sécurité supplémentaire à un stationnement optimisé ou à des services clients améliorés à bord. Ensemble, nous sommes impatients de proposer cette nouvelle solution innovante aux autorités de transport public », a déclaré Benoit Perrin, Directeur Général d'EasyMile.
"Constructeur engagé depuis de nombreuses années dans le développement d'équipements d'aide à la conduite, IVECO BUS est fier des résultats de ce projet d'autobus autonome de niveau 4. Les essais réalisés validant, entre autres, une vitesse de 40 km/h, constituent une étape supplémentaire et nécessaire mais non finale du projet que nous continuerons à mener à bien avec nos partenaires. Les dispositifs de sécurité et de gestion du véhicule nous permettent maintenant d'envisager la prochaine étape, à savoir, des essais en condition d'exploitation. » a déclaré Stéphane Espinasse, Responsable de la marque IVECO BUS et Président IVECO France.
EasyMile et IVECO BUS, ainsi que Sector, Transpolis, ISAE-SUPAERO, Université Gustave Eiffel, Inria et Michelin se sont associés pour développer la technologie d'automatisation d'un autobus en 2017 dans le cadre du projet STAR, (Rapid Autonomous Transport System). L'objectif de la collaboration était de développer le premier autobus standard autonome sans conducteur, capable d'opérer dans des conditions similaires à une exploitation réelle, donnant le jour à un prototype en 2021.
Les partenaires du projet préparent maintenant leur prochaine étape pour le second semestre - exploiter l'autobus dans une ville dans des conditions réelles.
Le développement est subventionné par le gouvernement français à travers son programme FUI (« Fonds Unique Interministériel »).
Les partenaires du projet et leurs missions sont : 
●    EasyMile, fournisseur de solutions pour les véhicules sans conducteur
●    IVECO BUS, pour l'autobus 
●    Sector, pour l'analyse de la sécurité 
●    Transpolis, pour la définition des cas d'utilisation et les tests de validation dans un environnement réaliste 
●    ISAE-SUPAERO, pour la localisation
●    Université Gustave Eiffel pour l'accessibilité aux personnes à mobilité réduite et l'acceptabilité de ce type de véhicules pour l'ensemble des usagers
●    Inria, pour la perception et l'évitement à vitesse élevée des obstacles sur la voie
●    Michelin, pour les pneus connectés
Le projet est labélisé et soutenu par CARA - European Cluster for Mobility Solutions, Aerospace Valley et NFI (Nouvelle France Industrielle).
Le projet est financé par la région Occitanie, Bpifrance et la région Auvergne-Rhône-Alpes.
Contact presse EasyMile:
Lucas YON
Mobile +33 (0)6 99 25 92 07
media@easymile.com

À propos d'EasyMile :
EasyMile est un leader mondial en matière de solutions de mobilité intelligentes et de technologie sans chauffeur et le premier fournisseur de navettes autonomes dans le monde.  Il s'associe à des fabricants de premier plan pour autonomiser leurs véhicules avec une technologie primée, basée sur la sécurité par conception, prête à être déployée aujourd'hui, avec des avantages évidents pour le client. 
Depuis 2014, l'entreprise est reconnue pour ses réalisations de qualité et ses déploiements en conditions réelles. La technologie autonome éprouvée d'EasyMile est déployée dans plus de 300+ environnements, dans plus de 30 pays, sur plus de 800 000km.
Grâce à ses déploiements de masse à travers le monde, EasyMile a été le premier à porter les véhicules en operation au niveau 4 de conduite autonome sans conducteur. C'est également le premier fournisseur de solutions de conduite autonome à être certifié 
ISO 9001:2015.
EasyMile compte plus de 250 employés sur cinq site (Toulouse, Berlin, Denver, Singapour et Adelaïde), doublant ses effectifs tous les 2 ans.
Pour en savoir plus sur EasyMile : https://easymile.com/
IVECO BUS
IVECO BUS est une marque de CNH Industrial N.V., un leader mondial dans les biens d'équipements coté au New York Stock Exchange et à la Bourse de Milan.
Acteur majeur dans le monde du transport public, et parmi les constructeurs leaders en Europe, IVECO BUS conçoit, produit et commercialise une vaste gamme de véhicules qui répondent précisément aux besoins des entreprises privées de transport et des autorités publiques organisatrices de transport :
-    autocars scolaires, interurbains, de ligne et de tourisme ;
-    autobus standard et articulés et leurs versions BHNS ; midibus urbains ;
-    minibus Daily répondant à l'ensemble des missions du transport de personnes.
IVECO BUS bénéficie d'un savoir-faire et d'une expertise de longue date en matière d'énergies alternatives, et est en mesure de proposer dès aujourd'hui une offre complète de véhicules au gaz naturel comprimé – compatible avec le biométhane – et d'électromobilité, répondant ainsi à tous les types de missions. De ce fait, IVECO BUS se positionne comme un véritable partenaire de référence pour faire face aux nombreux enjeux de la mobilité durable.
IVECO BUS emploie plus de 6 000 personnes et dispose de trois usines, situées à Annonay en France, à Vysoké Myto en République Tchèque, à Brescia, en Italie, ainsi que d'un pôle d'excellence Electromobilité situé à Rorthais en France.
Un vaste réseau de points de service IVECO BUS et IVECO garantit une assistance partout dans le monde où un véhicule Iveco Bus est en exploitation.
Pour plus d'informations sur IVECO BUS, visitez www.iveco.com 
Pour plus d'informations sur CNH Industrial, visitez www.cnhindustrial.com 
---
IVECO BUS und EasyMile entwickeln autonomen Standard-Stadtbus
Lyon/Toulouse, 23 September 2021–IVECO BUS und Technologieunternehmen EasyMile geben den Abschluss einer erfolgreichen Testreihe eines fahrerlosen Standard Stadtbusses bekannt. Gemeinsam mit weiteren Partnern im Rahmen des STAR Projektes wurde der 12m lange autonome Stadtbus-Prototyp erfolgreich unter realen Bedingungen betrieben.
Die Testphase erfolgte im Rahmen des "STAR"-Projekts, an dem EasyMile, Iveco Bus, Transpolis, Michelin und weitere Partner seit 2017 an der Entwicklung eines autonomen Standardbus-Prototypen arbeiten. Nun hat das 12 m lange Fahrzeug, das bis zu 100 Passagieren Platz bietet, seine Eignung für den autonomen Betrieb auf Schnellbusspuren (BRT) und auf Privatgrundstücken bewiesen. 
Der Bus wurde sowohl auf dem Testgelände von Transpolis als auch auf den eigenen Testgeländen von Iveco Bus und EasyMile ausgiebig auf Herz und Nieren geprüft. Die Tests fanden zu allen Jahreszeiten und unter unterschiedlichsten Witterungsbedingungen statt, um Spitzenleistungen zu erzielen.
 
Innovative Technologie für Flottenmanagement, Docking und Navigation
Zu den in den Bus integrierten Technologien gehören Sicherheitssteuerungen, Navigationssoftware und Bereitstellungsprozesse. EasyMile steuert auch eine der fortschrittlichsten Flottenmanagementlösungen bei, die vollständig auf autonome Fahrzeuge ausgerichtet ist. Dazu gehört das in den Bus integrierte autonome Fahrsystem (ADS), das es ihm ermöglicht, Haltestellen mit einem Abstand von weniger als zehn Zentimetern konstant anzudocken. Dies ist besonders wichtig, da es die Zugänglichkeit, insbesondere für Rollstuhlfahrer, verbessert. Dies ist besonders wichtig, da es die Zugänglichkeit insbesondere für Rollstuhlfahrer verbessert. 
Die im autonomen Modus erreichten Höchstgeschwindigkeiten des Busses zeigten, dass die Technologie auch bei 40 km/h gut abschneidet. Weitere Tests zeigten, dass insbesondere die multimodale Lokalisierungstechnologie des Softwareanbieters auch bei Geschwindigkeiten über 70 km/h im autonomen Modus wirksam ist. (V2X)-Funktionen (Vehicle to Infrastructure) ermöglichen es dem Bus, Ampelphasen zu antizipieren, was ein intelligentes Anhalten und Starten ermöglicht, und damit den Energieverbrauch senkt. Die Manövrier- und Anhaltepräzision ermöglicht auch das automatische Einparken im Depot.
"Die Technologie für autonomes Fahren bringt eine Reihe von Vorteilen für den Busbetrieb mit sich, von zusätzlicher Sicherheit über optimiertes Parken bis hin zu verbesserten Dienstleistungen für die Fahrgäste an Bord. Gemeinsam freuen wir uns darauf, diese neue innovative Lösung den öffentlichen Verkehrsbetrieben anzubieten." (Benoit Perrin, General Manager von EasyMile)
 
"Diese Tests sind eine weitere und notwendige, aber nicht finale Stufe des Projekts, die wir gemeinsam mit unseren Partnern weiter vorantreiben. Die Sicherheits- und Managementfunktionen des Fahrzeugs ermöglichen es uns nun, die nächste Phase zu planen, nämlich die Tests unter Betriebsbedingungen." (Stéphane Espinasse, Präsident von Iveco Bus)
Über das STAR-projekt
Seit 2017 arbeitet EasyMile mit den Projektpartnern IVECO BUS, Sector, Transpolis, ISAE-SUPAERO, Université Gustave Eiffel, Inria und Michelin zusammen, um im Rahmen des STAR-Projekts (Rapid Autonomous Transport System) die Technologie zur Automatisierung eines Standard Stadtbusses zu entwickeln. Ziel der Zusammenarbeit war es, bis 2021 den Prototypen eines fahrerlosen, autonomen Standard Busses zu fertigen, der unter realen Bedingungen eingesetzt werden kann. Für die zweite Jahreshälfte bereiten die Projektpartner nun ihren nächsten Schritt vor – den Bus in einer Stadt unter realen Bedingungen zu betreiben.
Das Projekt wird von der französischen Regierung durch das FUI-Programm (Fonds Unique Interministériel) gefördert.
Projektpartner und Rollen sind:
● EasyMile, Anbieter von fahrerlosen Lösungen
● IVECO BUS, Fahrzeuganbieter
● Sektor, Sicherheitsanalyse
● Transpolis, Use Case Definition, Test und Validierung von autonomen Fahrzeugen in realistischer Umgebung
● ISAE-SUPAERO, Semantische Lokalisierung
● Université Gustave Eiffel, Erforschung der Zugänglichkeit für Passagiere mit eingeschränkter Mobilität und Benutzerakzeptanz
● Inria, Multisensor-Fusion und Kollisionsvermeidung
● Michelin, Connected-Reifen
Das Projekt wird von CARA - European Cluster for Mobility Solutions, Aerospace Valley und NFI (Nouvelle France Industrielle) ausgezeichnet und unterstützt. Das Projekt wird von der Region Okzitanien, Bpifrance, der Region Auvergne-Rhône-Alpes und der Metropole Grand Lyon finanziert.
Pressekontakt EasyMile:
Franca Trippler
Mobile +49 (0)1625716406
media@easymile.com
Über EasyMile
EasyMile bietet Software- und Komplettlösungen für fahrerlosen Personen- und Güterverkehr. Das Unternehmen arbeitet mit Blue-Chip-Herstellern zusammen, um seine Produktpalette mit seiner einzigartigen und preisgekrönter Technologie zu automatisieren. Der "Safety-by-Design" Ansatz, bei dem nach standardisierten und zertifizierten Prozessen in der Herstellung und Entwicklung verfahren wird, garantiert höchste Qualität und damit einen klaren Kundenvorteil. 
Seit 2014 ist das Unternehmen für hochwertige Lieferungen und Einsätze unter extremen Bedingungen bekannt. EasyMile's bewährte Technologie brachte autonome Fahrzeuge bereits an über 300 Standorten in mehr als 30 Ländern auf die Straße.