EasyMile at the Rencontres Nationales du Transport Public 2021 in Toulouse, showcasing its fully autonomous shuttle service in the city
Toulouse, France - 21 Septembre 2021
EZ10
Photo Credit EasyMile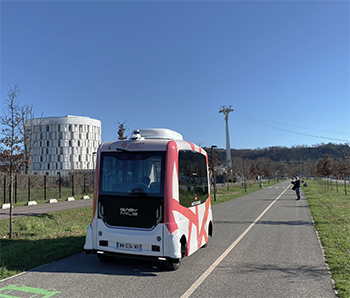 Toulouse, France - September 22, 2021 - EasyMile, a Toulouse-based company and world leader in autonomous vehicle technology for passenger and good transportation, will be attending the Rencontres Nationales du Transport Public (RNTP) from September 28 to 30 at MEET - exhibition center, in Toulouse, France.
It will present its autonomous mobility solutions for passenger transport to industry stakeholders as well as to the local officials, on stand 10A.
As a key player in the development of new modes of passenger and good transport, EasyMile has been supporting major transport operators and local authorities for 7 years in the implementation of autonomous solutions for passenger transport, thanks to its EZ10 autonomous shuttle. EasyMile has deployed more than 400 services in France and abroad. 
Earlier this year, the company began an autonomous shuttle service on the Oncopole health campus in Toulouse, enabling visitors, patients and staff to travel on a one-kilometer loop, linking the remote parking lot to the hospital entrance. 
For the Oncopole project, in partnership with Alstom, the IUCT-Oncopole and Toulouse Métropole, EasyMile is the first company to have received authorization to operate its fully autonomous level 4 shuttle - without an on-board operator and supervised remotely - on public roads in France. This authorization is also one of the first in the world, marking a significant advance in the global regulatory framework for the deployment of autonomous vehicles.
Visitors are invited to try the EZ10 shuttle on the Oncopole site (30 minutes by car from the MEET), during the service hours (arranged for the show), from 9:30 am to 12:30 pm and from 1:30 pm to 4:30 pm. 
 
---
Communiqué de Presse
EasyMile participe aux Rencontres Nationales du Transport Public 2021 à Toulouse, mettant à l'honneur le service de navette complètement autonome du campus santé de l'Oncopole
Toulouse, France - 22 Septembre 2021 - EasyMile, entreprise basée à Toulouse et leader mondial de technologie pour véhicules autonomes pour le transport de passagers et de marchandises, sera présent aux Rencontres Nationales du Transport Public (RNTP) du 28 au 30 Septembre au MEET - Parc des expositions, à Toulouse.
À l'occasion du salon, organisé par le Groupement des Autorités Responsables de Transport (GART) et l'Union des Transports Publics et Ferroviaires (UTP), EasyMile présentera aux acteurs du secteur ainsi qu'aux élus locaux ses solutions de mobilités autonomes pour le transport de passagers, sur le stand 10A. 
Acteur majeur dans le développement des nouveaux modes de transport de passagers et de marchandises, EasyMile accompagne depuis 7 ans les principaux opérateurs de transport ainsi que les collectivités territoriales dans l'implantation de solutions autonomes pour le transport de passagers, grâce à sa navette EZ10. EasyMile compte plus de 400 déploiements dans l'hexagone et à l'international. 
L'entreprise a notamment déployé en début d'année un service de navette autonome sur le site toulousain de l'Oncopole, permettant aux visiteurs, patients et personnels de se déplacer sur une boucle d'un kilomètre, reliant le parking déporté à l'entrée de l'hôpital. 
Pour le projet de l'Oncopole, en partenariat avec Alstom, l'IUCT-Oncopole et Toulouse Métropole, EasyMile est la première entreprise à avoir reçu l'autorisation pour opérer sa navette, en complète autonomie, de niveau 4 - sans opérateur à bord et supervisée à distance - sur route publique en France, et sera effective d'ici la fin de l'année. Cette autorisation est également l'une des premières au monde, marquant un progrès significatif dans le cadre réglementaire du déploiement des véhicules autonomes.
Les visiteurs du salon qui le souhaitent, sont invités à venir essayer la navette EZ10 sur le site de l'Oncopole (30 min en voiture depuis le MEET), pendant les heures de service (aménagés à l'occasion du Salon), de 9h30 à 12h30 et de 13h30 à 16h30. 
---
Contact Presse EasyMile
Lucas Yon
Chargé de Communication 
+33 (0)6 99 25 92 07 - lucas.yon@easymile.com