EasyMile Demonstrates Future Mobility in a Complex Environment
October 9th, 2020 - Toulouse
EZ10
EasyMile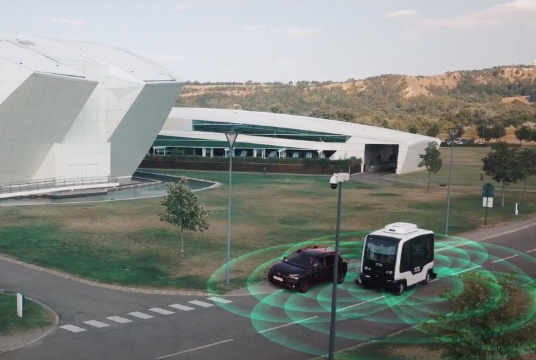 An EZ10 driverless shuttle is set to be deployed in mixed traffic between a train station and business park in Belgium by early 2021.
EasyMile will deploy an EZ10 autonomous shuttle in southern Belgium, in the city of Louvain-La-Neuve. Over 6 months riders will be able to use a completely innovative soft and autonomous mobility service, connecting the Louvain-La-Neuve train station to the Einstein business campus (LLN Science Park).
As part of the Navajo project, which aims to offer a new mobility service and test autonomous vehicles in a complex environment, the EZ10 shuttle will operate in mixed traffic, sharing the road with other users (vehicles, cyclists, pedestrians, etc.). This challenging experiment will be carried out over 3 evolving phases, testing acceptance levels of passengers and other road users.
EasyMile, and its key partner Ush, will support the city of Ottignies-Louvain-La-Neuve and local transport operator Le TEC in setting up the service: from the deployment phase to the maintenance of the shuttle, including training of Le TEC staff to welcome passengers and ensure the smooth running of the service.
For more information, click here.
French Version
EasyMile test sa navette autonome en environnement complexe
Une navette autonome EZ10 Gen3 d'EasyMile va être mise en service début 2021 en trafic mixte entre une gare et un parc d'affaire. 
EasyMile va mettre en service une navette autonome EZ10 en Wallonie, dans la ville de Louvain-La-Neuve. Cette expérimentation de 6 mois a pour ambition d'offrir un service de mobilité douce et autonome, totalement novateur, permettant de relier la Gare de Louvain-La-Neuve au quartier d'affaire Einstein (LLN Science Park). 
Dans le cadre du projet Navajo, dont les objectifs sont de proposer un nouveau service de mobilité et de tester un véhicule autonome dans un environnement complexe, la navette EZ10 évoluera en trafic mixte, au milieu d'autres usagers de la route (véhicules, cyclistes, piétons...). Cette expérimentation ambitieuse se fera sur plusieurs phases avec une trajectoire évolutive, qui permettra, notamment, de tester l'acceptabilité des passagers et autres usagers de la route. 
EasyMile, et son partenaire Ush, accompagneront la ville d'Ottignies-Louvain-La-Neuve et l'opérateur de transport Le TEC dans la mise en place du service: de la phase de déploiement à la maintenance de la navette, en passant par la formation du personnel du TEC présent à bord de la navette et sur site pour accueillir les passagers et s'assurer du bon déroulé du service. 
Pour plus d'information, cliquez ici.