Mitsubishi Fuso Truck and Bus Corporation (MFTBC) trial EasyMile's TractEasy driverless tow tractor on outdoor route
Photo Credit: MFBTC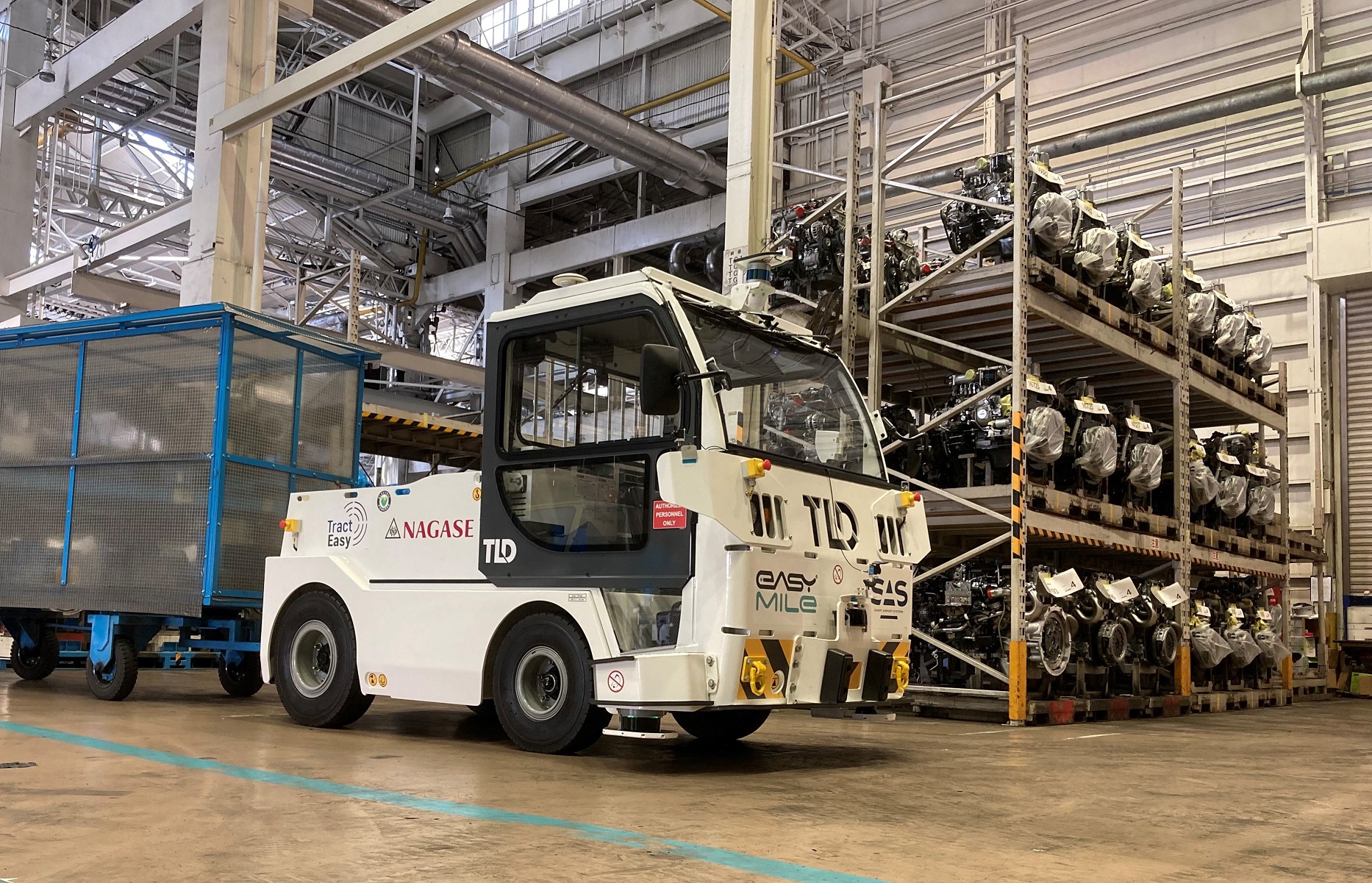 - Mitsubishi Fuso Truck and Bus Corporation (MFTBC) has joined other leading manufacturers,and airports, around the world to use EasyMile's TractEasy

- It tested the driverless tractor to tow vehicle engines between buildings, crossing an outside route, on its production line

- Aim is to address labor shortages, while increasing safety and efficiency

- Part of a Memorandum of Understanding (MoU) MFTBC, Panasonic Holdings Corporation, NAGASE, and EasyMile have signed to trial EasyMile's autonomous technology with remote operation in the MFBTC factory environment
Toulouse, France - 24 November 2022 - Mitsubishi Fuso Truck and Bus Corporation (MFTBC) trialed EasyMile's autonomous tow tractor, TractEasy, on its production line this month deeming it reliable, safe and stable. The driverless tow tractor delivered vehicle components in the outside areas of its Kawasaki, Japan plant.
MFTBC has been investing in new technologies as part of its "Factory of the Future" project to improve efficiency and safety at its plants. One of the main focus areas is the means of transporting goods such as components, which require a lot of manpower and physical input. It has already tried and implemented other autonomous vehicles for component delivery indoors. However, the delivery between buildings, through outside routes, proved more difficult, because they can be affected by weather and be more complex, as obstacles and people are moving around, which can increase risk. MFTBC chose TractEasy to address these issues.
The verification took place for a total of six days. Assuming the delivery of vehicle engines, TractEasy covered a distance of approximately 900 meters from the engine manufacturing building to the vehicle assembly lines. It successfully maneuvered independently and efficiently on the predetermined route and kept to production schedules.
With a load capacity of 25 tons, the vehicle uses a range of sensors and cameras with real-time processing through its autonomous hauling. This includes centimeter-precise localization at any moment, wide-range perception to handle obstacles and enhanced navigation including vehicle to infrastructure (V2X) communication, predictive control, and decisions at intersections and pedestrian crossings. Powered by electricity, it also contributes to reducing CO2 emissions at production operations. 
The EasyMile vehicle at MFBTC is provided by NAGASE and fitted with a remote operation and monitoring solution, "X-Area Remote", designed and developed by Panasonic Holdings Corporation. The parties signed an MoU to collaborate on the trial of EasyMile's autonomous technology with remote operation in the MFTBC factory environment.
They will continue the vehicle verification going forward with NAGASE aiming to commercialize the service for the logistics industry, mainly at airports and ports, towards implementation of an autonomous logistics driving platform.
TractEasy has already been deployed by Daimler Trucks, the parent company of MFTBC, at their Wörth, Germany plant. It is the most-deployed autonomous towing solution in the world, also being used by a growing number of other, large vehicle manufacturing plants in North America and Europe, as well as at major international airports including in a fleet at Changi in Singapore, at Narita in Tokyo, with more to come later this year.
---
About EasyMile
 
EasyMile is a leader in software and complete solutions for driverless goods and passenger transport. It partners with blue-chip manufacturers to autonomize their vehicles with award-winning technology built on safety-by-design, ready for deployment today, with clear client benefits.
Since 2014, the company has become known for quality delivery and real-world deployments. EasyMile's proven technology has driven autonomously in 300+ locations in more than 30 countries, over 1, 000,000km.
With several mass operations around the world, EasyMile was the first to deploy fully driverless at Level 4 of autonomous driving, and the first to receive authorization to run at this level on public roads in Europe.
In 2021, EasyMile raised a 55 million Series B to scale commercially. Today, it is the number one provider of autonomous shuttles in the world, and has deployed the highest number at Level 4 of autonomous driving (completely removing any human supervizor onboard) on the market.
Global users of its autonomous tow tractor solution include BMW, Daimler, and other major automotive manufacturing plants and logistics centers in Europe and the United States. It has also served airports including Narita International in Japan, and in a fleet at Changi Airport in Singapore. 
EasyMile has more than 250 employees in four locations (Toulouse, Berlin, Denver and Singapore), doubling its headcount every 2 years.
 
EasyMile: https://easymile.com/ 
 
About MFTBC 
Based in Kawasaki, Japan, Mitsubishi Fuso Truck and Bus Corporation (MFTBC) is one of Asia's leading commercial vehicle manufacturers, with 89.29% of its shares owned by Daimler Truck AG and 10.71% by various Mitsubishi group companies. An icon in the Japanese commercial vehicle industry with a longstanding history of 90 years with its FUSO brand, MFTBC manufactures a range of commercial vehicles including light, medium, and heavy-duty trucks and buses, and industrial engines for over 170 markets worldwide. In 2017, MFTBC introduced the eCanter, the first all-electric light-duty truck in series-production and in 2019, the Super Great – Japan's first heavy-duty truck fitted with Level 2 Automated Driving Support Technology, a benchmark in the Japanese commercial vehicle market. MFTBC operates under the umbrella of Daimler Truck Asia, together with its partner organization Daimler India Commercial Vehicles (DICV) in India. This strategic unit allows the entities to collaborate on areas such as product development, parts sourcing and production to provide the best value to customers.
 
About the "Factory of the Future" project
 
Beginning in 2017, the "Factory of the Future" initiative was set up to invest in automation,
robotics and IT systems in further steering the plant towards Industry 4.0. This project aims to alleviate issues such as labor shortages, reduce production costs as well as improve productivity and work environment by enhancing the efficiency and safety in our production process, through cutting-edge technology. Initiatives such as digital end-of-line inspection and predictive maintenance using sensors on critical machines are just some of the examples of the improvements that have already been made. MFTBC is always dedicated to generating new ideas to further increase our effectiveness and efficiency.
---
Communiqué de Presse
Le tracteur autonome d'EasyMile en test sur un site de Mitsubishi Fuso Truck and Bus Corporation (MFTBC) au Japon
Mitsubishi Fuso Truck and Bus Corporation (MFTBC) rejoint d'autres grands constructeurs et aéroports du monde entier en automatisant une chaîne de production avec le TractEasy d'EasyMile.
L'entreprise a testé le tracteur autonome pour remorquer les moteurs des véhicules entre les bâtiments
L'objectif est de remédier à la pénurie de main-d'œuvre, tout en améliorant la sécurité et l'efficacité.
Ce projet s'inscrit dans le cadre d'un protocole d'accord que MFTBC, Nagase Mobility, Panasonic Holdings Corporation et EasyMile ont signé pour tester ensemble la technologie autonome d'EasyMile sur l'Usine de MFBTC.
Toulouse, France - 23 November 2022 - Mitsubishi Fuso Truck and Bus Corporation (MFTBC) a testé l'intégration ce mois-ci du tracteur de manutention autonome d'EasyMile, TractEasy, dans sa chaîne de production, le jugeant fiable, sûr et stable. Le véhicule autonome a permis le transport et la livraison des composants de véhicules, entre les différents hangars de l'usine de Kawasaki, au Japon.
MFTBC a investi dans les nouvelles technologies dans le cadre de son projet "Usine du futur" afin d'améliorer l'efficacité et la sécurité de ses usines. L'un des principaux domaines d'intervention concerne les moyens de transport de marchandises tels que les composants, qui nécessitent beaucoup de main-d'œuvre et d'apport physique. Elle a déjà essayé et mis en œuvre d'autres véhicules autonomes pour la livraison de composants à l'intérieur des bâtiments. Cependant, la livraison entre les bâtiments, par des voies extérieures, s'est avérée plus difficile, car elle peut être affectée par les conditions météorologiques et être plus complexe, car des obstacles et des personnes se déplacent, ce qui peut augmenter les risques. MFTBC a choisi TractEasy pour résoudre ces problèmes.
La vérification a eu lieu pendant six jours au total. Assurant la livraison de moteurs de véhicules, le TractEasy a parcouru une distance d'environ 900 mètres entre le bâtiment de fabrication des moteurs et les chaînes de montage des véhicules. Il a manœuvré avec succès, de manière indépendante et efficace, sur l'itinéraire prédéterminé et en respectant les horaires de production.
Avec une capacité de charge de 25 tonnes, le véhicule utilise une série de capteurs et de caméras avec un traitement en temps réel pour son transport autonome. Il s'agit notamment d'une localisation précise au centimètre près à tout moment, d'une perception à large portée pour gérer les obstacles et d'une navigation améliorée comprenant la communication entre véhicules et infrastructures (V2X), le contrôle prédictif et les décisions aux intersections et aux passages piétons.
Le véhicule EasyMile du MFBTC est fourni par Nagase Mobility et équipé d'un système de commande et de surveillance à distance, "X-Area Remote", conçu et développé par Panasonic Holdings Corporation. Les parties ont signé un protocole d'accord pour collaborer étroitement à l'essai de technologies autonomes avec téléopération sur le site de MFTBC. 
Le TractEasy a déjà été déployé par Daimler Trucks, la société mère de MFTBC, dans son usine de Wörth, en Allemagne. Il s'agit du tracteur de manutention autonome le plus déployé au monde. Elle est également utilisée par un nombre croissant d'autres usines de fabrication de gros véhicules en Amérique du Nord et en Europe, ainsi que dans les principaux aéroports internationaux, notamment une flotte à Changi à Singapour et à Narita à Tokyo.
---
À propos d'EasyMile
 
EasyMile est un leader en matière de logiciels et de solutions complètes pour la mobilité autonome. L'entreprise s'associe à des fabricants de premier ordre pour autonomiser leurs véhicules.
Depuis 2014, EasyMile a déployé sa technologie autonome dans plus de 300 endroits dans plus de 30 pays, sur plus de 1 millions de km.
Avec plusieurs opérations d'envergure à travers le monde, EasyMile a été la première entreprise à déployer des services totalement autonomes, au niveau 4 de la conduite autonome. C'est également le premier fournisseur de solutions pour véhicules autonomes à être certifié ISO 9001: 2015.
Les clients comprennent les principaux opérateurs de transport au monde, les autorités municipales, les aéroports, les entreprises, les parcs d'activités, les universités, les fabricants et les grands centres logistiques.
EasyMile compte près de 260 experts, dont le siège est à Toulouse (France) et des bureaux régionaux à Denver (États-Unis), Berlin (Allemagne) et Singapour.
Outre les deux fondateurs, le Président-fondateur Gilbert Gagnaire et l'administrateur Philippe Ligier, EasyMile bénéficie d'investisseurs qui sont également des partenaires techniques: Alstom et Continental. Ils sont rejoints par les actionnaires financiers: Bpifrance, Searchlight Capital, McWin et NextStage AM. Cette combinaison sans précédent fournit non seulement un financement solide, mais également une feuille de route technologique puissante.
 
EasyMile : https://easymile.com/
---
Pressemitteilung
Mitsubishi Fuso Truck and Bus Corporation (MFTBC)
Testeten den fahrerlosen TractEasy Schleppervon EasyMile auf einer Outdoor-Route auf Ihrem Werksgelände.
Mitsubishi Fuso Truck and Bus Corporation (MFTBC) hat sich anderen führenden Herstellern und Flughäfen auf derWelt angeschlossen, um den TractEasy von EasyMile zu testen
Das Unternehmen testete den fahrerlosen Schlepper, um Fahrzeugmotoren zwischen Gebäuden zu befördern und dabei eine Außenstrecke ihrer  Produktionslinie zu bewältigen
Ziel ist es, dem Arbeitskräftemangel entgegenzuwirken und gleichzeitig die Sicherheit und Effizienz zu erhöhen
Als Teil einer Absichtserklärung (MoU) haben MFTBC, Panasonic Holdings Corporation, NAGASE, und EasyMile vereinbart, die autonome Technologie von EasyMile mit Remote-Steuerungsfunktionen in der MFBTC-Fabrikumgebung zu testen
Toulouse, Frankreich – 24. November 2022 – Die Mitsubishi Fuso Truck and Bus Corporation (MFTBC) testete kürzlich den autonomen Schlepper von EasyMile, TractEasy, auf ihrer Produktionslinie und hält ihn für zuverlässig, sicher und äußerst stabil. Der fahrerlose Schlepper transportierte Fahrzeugkomponenten im Außenbereich des Werks in Kawasaki, Japan.
MFTBC hat im Rahmen seines Projekts "Fabrik der Zukunft" in neue Technologien investiert, um die Effizienz und Sicherheit in den Werken zu verbessern. Einer der Schwerpunkte ist der Transport von Gütern wie Komponenten, die bisher vom Personal einen hohen physischen Einsatz erfordern. MFTBC hat bereits andere autonome Fahrzeuge für die "Fabrik der Zukunft" für Komponentenlieferungen in Innenbereichen ausprobiert und implementiert. Der Transport zwischen Gebäuden im Außenbereich erwies sich jedoch als schwieriger, da sie vom Wetter stark beeinflusst sind und komplexen Anforderungen  ausgesetzt sind. MFTBC entschied sich für TractEasy, um diese Herausforderungen daher anzugehen und zu testen.
Der Test fand insgesamt sechs Tage lang statt. Bei der Anlieferung von Fahrzeugmotoren legte der TractEasy eine Strecke von etwa 900 Metern von der Motorenfertigung bis zu den Montagebändern der Fahrzeuge auf dem Werksgelände zurück. Er manövrierte selbstständig und effizient auf der vorgegebenen Route und hielt die Produktionspläne ein.
Mit einer Tragfähigkeit von 25 Tonnen nutzt das Fahrzeug eine Reihe von Sensoren und Kameras mit Echtzeitverarbeitung während seines autonomen Transports. Dies ermöglicht  eine zentimetergenaue Lokalisierung, sowie eine präzise Umfeldwahrnehmung zur Erkennung von Hindernissen, eine intelligente Navigation, und eine Fahrzeug-zu-Infrastruktur (V2X)-Kommunikation und zusätzlich trägt das elektrisch angetriebene Fahrzeug zur Reduzierung der CO2-Emissionen in der Produktion bei.
Das EasyMile-Fahrzeug bei MFBTC wird von Nagase Mobility bereitgestellt und ist mit einer Fernsteuerungs- und Überwachungslösung, "X-Area Remote", ausgestattet, die von der Panasonic Holdings Corporation entworfen und entwickelt wurde. Die Parteien unterzeichneten eine Absichtserklärung zur Zusammenarbeit bei der Erprobung der autonomen Technologie von EasyMile mit Fernbetrieb in der MFTBC-Fabrikumgebung.
TractEasy wird bereits von Daimler Trucks, der Muttergesellschaft von MFTBC, in ihrem Werk in Wörth, Deutschland, eingesetzt. Es ist die weltweit am häufigsten eingesetzte autonome Logistiklösung im Außenbereich, die auch von einer wachsenden Zahl anderer großer Fahrzeughersteller in Nordamerika und Europa sowie auf großen internationalen Flughäfen, einschließlich einer Flotte in Changi in Singapur und Narita in Tokio, eingesetzt wird. Weitere folgen später in diesem Jahr.
---
Über EasyMile
 
EasyMile ist führend bei Software und Komplettlösungen für den fahrerlosen Waren- und Personentransport. Es arbeitet mit Blue-Chip-Herstellern zusammen, um ihre Fahrzeuge mit preisgekrönter Technologie zu autonomisieren, die auf Safety-by-Design basiert und heute schon einsatzbereit ist, mit klaren Kundenvorteilen.
Seit 2014 ist das Unternehmen für qualitativ hochwertige Bereitstellung und reale Einsätze bekannt. Die bewährte Technologie von EasyMile ist an über 300 Orten in mehr als 30 Ländern genutzt worden und es wurden weit über 1.000.000 km autonom zurückgelegt.
Mit mehreren Einsätzen von Fahrzeugflotten auf der ganzen Welt war EasyMile der Erste, der vollständig fahrerlos auf Level 4 des autonomen Fahrens in verschiedenen Projekten gesetzt hat, und das erste Unternehmen, das die Genehmigung erhielt, auf öffentlichen Straßen in Europa auf diesem Level erstmals zu fahren.
Im Jahr 2021 sammelte EasyMile 55 Millionen in der Series B Funding Runde ein, um kommerziell zu skalieren. Heute ist es der weltweit führende Anbieter von autonomen Shuttles und hat die meisten auf dem Markt auf Level 4 des autonomen Fahrens (ohne jegliche menschliche Aufsichtsperson an Bord) eingesetzt.
Zu den weltweiten Nutzern seiner autonomen Schlepperlösung gehören BMW, Daimler und andere große Automobilhersteller und Logistikzentren in Europa und den Vereinigten Staaten. Das System wird auch an Flughäfen wie Narita International in Japan und Schiphol in den Niederlanden eingesetzt und ist in einer Flotte am Flughafen Changi in Singapur im Einsatz.
EasyMile beschäftigt fast 300 Mitarbeiter an vier Standorten (Toulouse, Berlin, Denver und Singapur) und hat seine Mitarbeiterzahl alle zwei Jahre in der Vergangenheit verdoppelt.
EasyMile: https://easymile.com/ 
Über MFTBC
Die Mitsubishi Fuso Truck and Bus Corporation (MFTBC) mit Sitz in Kawasaki, Japan, ist einer der führenden Nutzfahrzeughersteller Asiens, dessen Anteile zu 89,29 % von der Daimler Truck AG und zu 10,71 % von verschiedenen Unternehmen der Mitsubishi-Gruppe gehalten werden. Als Ikone der japanischen Nutzfahrzeugindustrie mit einer langjährigen Geschichte von 90 Jahren stellt MFTBC mit seiner Marke FUSO eine Reihe von Nutzfahrzeugen her, darunter leichte, mittelschwere und schwere Lkw und Busse sowie Industriemotoren für über 170 Märkte weltweit. 2017 stellte MFTBC den eCanter vor, den ersten vollelektrischen Leicht-Lkw in Serienproduktion, und 2019 den Super Great – Japans ersten Schwerlast-Lkw, der mit der automatisierten Fahrunterstützungstechnologie Level 2 ausgestattet ist, eine Benchmark in der japanischen Werbung Fahrzeugmarkt. MFTBC agiert unter dem Dach von Daimler Truck Asia gemeinsam mit seiner Partnerorganisation Daimler India Commercial Vehicles (DICV) in Indien. Diese strategische Einheit ermöglicht es den Einheiten, in Bereichen wie Produktentwicklung, Teilebeschaffung und Produktion zusammenzuarbeiten, um den Kunden den besten Mehrwert zu bieten.
 
Über das Projekt "Factory of the future"
 
Ab 2017 wurde die Initiative "Fabrik der Zukunft" gegründet, um in Automatisierung zu investieren, Robotik und IT-Systeme, um das Werk weiter in Richtung Industrie 4.0 zu lenken. Dieses Projekt zielt darauf ab, Probleme wie Arbeitskräftemangel zu lindern, Produktionskosten zu senken sowie die Produktivität und das Arbeitsumfeld zu verbessern, indem die Effizienz und Sicherheit in unserem Produktionsprozess durch Spitzentechnologie verbessert wird. Initiativen wie digitale End-of-Line-Inspektion und vorausschauende Wartung mit Sensoren an kritischen Maschinen sind nur einige Beispiele für bereits umgesetzte Verbesserungen. MFTBC ist stets bestrebt, neue Ideen zu generieren, um unsere Effektivität und Effizienz weiter zu steigern.