Smart Shuttle in Complex Live-Traffic in Australia
26 November 2020, Raby Bay, Queensland, Australia
EZ10
Royal Automobile Club of Queensland (RACQ)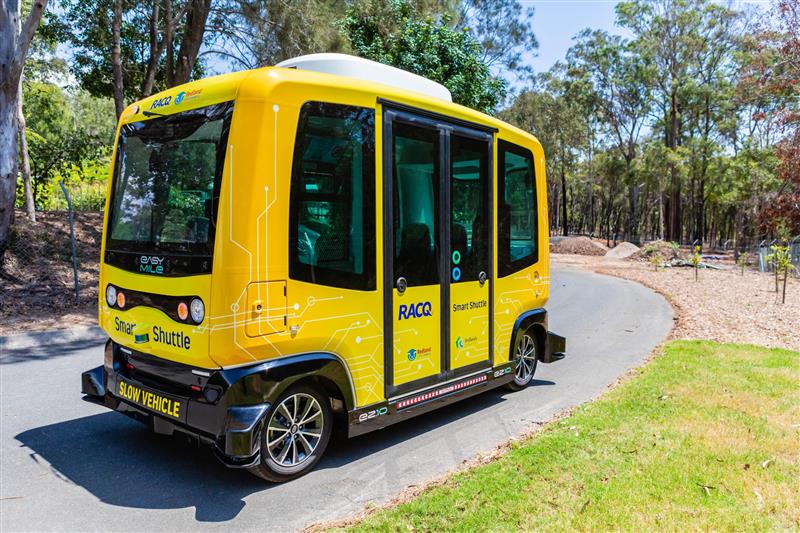 A critical step in the broader process of integrating driverless technology onto Australian roads, this trial aims to test the technology safely in a complex live-traffic environment.

The Royal Automobile Club of Queensland (RACQ) Smart Shuttle has hit the streets in Australia's most northern state again for the second on-road trial of a driverless bus.
RACQ Head of Public Policy Rebecca Michael said the Club had partnered with Redland City Council again to trial an autonomous shuttle bus at Raby Bay after the successful first trial on Karragarra Island which was completed earlier this year.
"This is an incredible opportunity for ground-breaking research and is a critical step in the broader process of integrating driverless technology onto our roads," Dr Michael said. 
"The trial aims to test the technology safely in a more complex live-traffic environment than we had initially on Karragarra Island and so you'll see it making its rounds on a fixed loop starting at the Raby Bay Harbour Precinct, travelling along Masthead Drive to the Raby Bay Foreshore Park.
"We're looking forward to seeing members of the public test out the shuttle and welcome feedback from passengers as well as those sharing the road with the bus. This will help us understand the role autonomous vehicle technology might play in meeting transport needs in the future."
Dr Michael said the driverless EZ10 shuttle, would have a chaperone onboard to answer any questions. It is operated by multimodal public transport provider Keolis Downer.
"Up to six passengers at a time will be able to ride the smart shuttle for free and the vehicle is all-abilities friendly with an automated ramp providing access as needed," she said.
"A COVID-safe plan is also in place to ensure the safety of all passengers and employees. The measures include regular and thorough cleaning regimes and ensuring all passengers register through a QR code located at bus stops."
Dr Michael thanked Raby Bay residents for their patience during the trial and asked motorists to drive with care.
"While the driverless bus moves at a maximum of 20km/hour, its running times have been limited to 9am-3pm Wednesdays to Fridays and 10am-3pm on weekends to minimise disruptions for locals," she said.  
"The route also provides numerous opportunities for other vehicles to safely pass. Please only overtake when it is safe to do so, and give the shuttle a wide berth to prevent triggering the safety sensors."
Originally published by RACQ as RACQ Smart Shuttle driving into the future at Raby Bay.