Two fully autonomous, remotely supervized EasyMile shuttles in service at National Sports Shooting Centre (CNTS)
Toulouse, 11 January 2023
EZ10
Keolis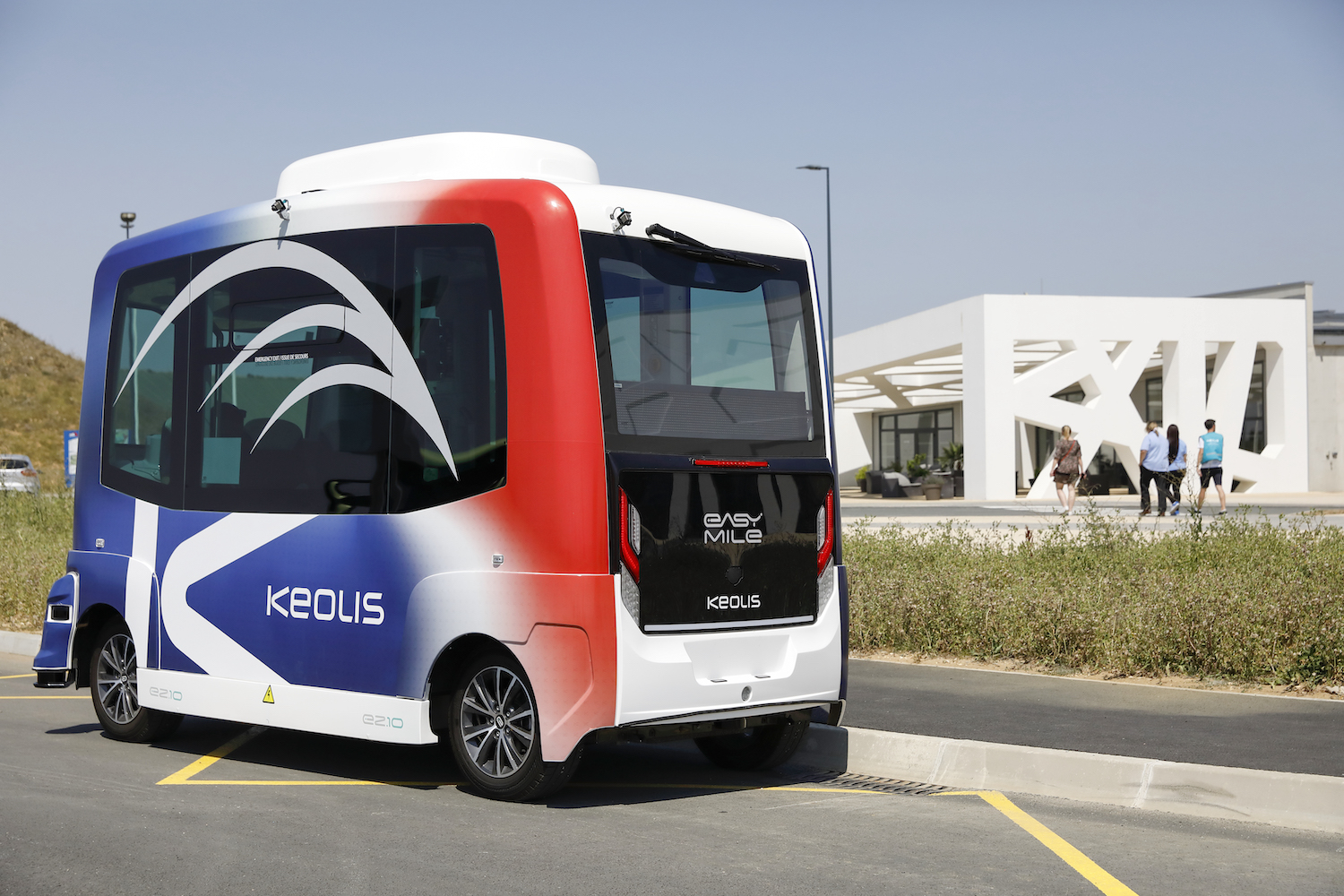 Two driverless shuttles with a single remote supervizor, in service, and on track at France's National Sports Shooting Centre (CNTS).
Toulouse, 11 January 2023 - EasyMile and multinational public transport public transport operator Keolis have taken a further step in completely automated mobility by remotely supervising two fully driverless shuttles, without any human supervizor on board, at France's National Sports Shooting Centre, in the centre of the country. This new phase aims to validate the economic and operational model of the autonomous shuttles.
During competition days, EasyMile's autonomous electric shuttles will transport spectators and athletes the 1.5 km between the main car park, located at the entrance of the centre, and the shooting ranges. This last-mile service is a new, more environmentally friendly mode of mobility. The shuttles are also accessible to people with reduced mobility. 
A key step towards scaling up mobility services to level 4 autonomy 
For 18 months, Keolis tested and operated these two third-generation EasyMile autonomous shuttles on the CNTS site. The deployment enabled the transport operator, a leader in the commissioning of autonomous shuttles, to test the navigation software bricks and to validate the latest features of the critical safety systems, which allow the vehicles to travel safely in level 4 autonomy (without any on-board human assistance and supervised remotely).
The two shuttles run simultaneously without an operator on board. They are monitored by a field operator and a supervision centre in Paris. Passengers can communicate with the supervisor using an intercommunication system and cameras positioned inside the vehicles.
Thanks to a sufficiently high level of technological integrity, this offers a real mobility service on the CNTS site. It also paves the way for other similar deployments, joining sites such as ArianeGroup, and Terhills, Belgium, also with fleets of fully autonomous shuttles, supervised remotely. 
These private sites, in a controlled environment, are the perfect use cases for the deployment of autonomous shuttles, and the last step before scaling up to public roads, as EasyMile has already started to do on the IUCT Oncopole medical campus in Toulouse, to provide innovative, inclusive and sustainable mobility solutions.
"This new service, based on the know-how of two major players in autonomous public transport, is a further step towards scaling up, thanks to the control of operations by a single supervisor for two shuttles. Carried out in collaboration with Keolis, this project highlights the service that a fleet of autonomous shuttles can provide and the maturity of our technology." Benoit Perrin, Managing Director of EasyMile.
This service is part of the SAM consortium (Safety and Acceptability of Autonomous Driving and Mobility), a nationwide project in France for experimenting with autonomous driving and mobility that brings together industrial players, research and local partners. The challenge is twofold: to develop the use and knowledge of these systems by citizens and local players and to build the future regulatory framework, particularly in terms of safety validation. 
The operation is at the heart of the national strategy for autonomous vehicles, enabling the co-construction of a legislative framework for deployment on open roads. It is being carried out with the support of the French government's Investissements d'avenir, operated by ADEME, as part of the EVRA (Experimentation of Autonomous Road Vehicles) call for projects.
About EasyMile
 
EasyMile is a leader in software and complete solutions for driverless goods and passenger transport. It partners with blue-chip manufacturers to autonomize their vehicles with award-winning technology built on safety-by-design, ready for deployment today, with clear client benefits.
Since 2014, the company has become known for quality delivery and real-world deployments. EasyMile's proven technology has driven autonomously in 300+ locations in more than 30 countries, over 1, 000,000km.
With several mass operations around the world, EasyMile was the first to deploy fully driverless at Level 4 of autonomous driving, and the first to receive authorization to run at this level on public roads in Europe..
In 2021, EasyMile raised a 55 million Series B to scale commercially. Today, it is the number one provider of autonomous shuttles in the world, and has deployed the highest number at Level 4 of autonomous driving (completely removing any human supervizor onboard) on the market.
Global users of its autonomous tow tractor solution include BMW, Daimler, and other major automotive manufacturing plants and logistics centers in Europe and the United States. It has also served airports including Narita International in Japan, Schiphol in the Netherlands, and operates in a fleet at Changi Airport in Singapore. 
EasyMile has more than 250 employees in four locations (Toulouse, Berlin, Denver and Singapore), doubling its headcount every 2 years.

Media Contact 
Benieke Treverton
benieke.treverton@easymile.com
+33 (0)7 62 83 13 44 
---
Deux navettes totalement autonomes d'EasyMile, supervisées à distance, en service au Centre National de Tir Sportif (CNTS)
Deux navettes sans conducteur avec un seul superviseur à distance, en service et sur la piste du Centre national de tir sportif (CNTS) en France.
Toulouse, 11 Janvier 2022 - EasyMile franchit avec Keolis une étape supplémentaire en supervisant à distance deux navettes totalement autonomes, sans opérateur à bord, sur le site du Centre National de Tir Sportif à Châteauroux. Cette nouvelle phase a pour objectif de valider le modèle économique et opérationnel des navettes autonomes.
Pendant les jours de compétitions, les navettes autonomes électriques d'EasyMile transporteront les spectateurs et athlètes afin de parcourir les 1,5 km qui séparent le parking principal - situé à l'entrée du CNTS - et les stands de tir. Ce service, dit du dernier kilomètre, privilégie un nouveau mode de mobilité plus doux et plus respectueux de l'environnement. Les navettes sont également accessibles aux personnes à mobilité réduite.
Une étape clé vers le passage à l'échelle des services de mobilité en niveau 4 d'autonomie
Pendant 18 mois Keolis a préalablement testé et exploité avec un superviseur à bord ces deux navettes troisième génération d'EasyMile sur le site du CNTS. Keolis, leader dans la mise en service de navettes autonomes, a ainsi pu tester le logiciel de navigation et de valider les dernières caractéristiques des systèmes de sécurité. 
Désormais, les deux navettes circulent simultanément sans opérateur à bord. Elles sont placées sous la surveillance d'un opérateur terrain et d'un centre de supervision, déporté à Paris.
Les passagers peuvent entrer en communication avec le superviseur grâce un système d'interphone et de caméras positionnées à l'intérieur des véhicules.
Ces navettes autonomes offrent un véritable service de mobilité sur le site du CNTS et ouvrent la voie à d'autres déploiements du même type. Le site d'ArianeGroup en région parisienne, et le service déployé à Terhills en Belgique passent également en niveau 4 (flotte de navettes complètement autonomes, supervisée à distance). 
Ces sites privés en environnement contrôlé sont les cas d'usages parfaits pour le déploiement de navettes autonomes. C'est une étape importante avant le passage à l'échelle sur routes publiques, déjà initié au travers du service quotidien à Toulouse à l'IUCT Oncopole. Au travers de ces navettes EasyMile propose des solutions de mobilités innovantes, inclusives et durables.
"Ce nouveau service, porté par le savoir-faire de deux acteurs majeurs du transport public autonome, est une étape supplémentaire vers le passage à échelle, grâce à un contrôle des opérations assurée par un seul superviseur pour deux navettes. Mené en collaboration avec Keolis, ce projet met en évidence le service que peut rendre une flotte de navettes autonomes et la maturité de notre technologie ." Benoit Perrin, Directeur Général d'EasyMile.
Ce service s'inclut dans le cadre du consortium SAM, (Sécurité et Acceptabilité de la conduite et de la Mobilité autonome), un projet d'envergure nationale française d'expérimentations de conduite et de mobilité autonome réunissant des acteurs industriels, de la recherche et des partenaires territoriaux. L'enjeu est double : développer les usages et la connaissance de ces systèmes par les citoyens et les acteurs locaux et construire le futur cadre réglementaire, notamment en termes de validation de la sécurité. 
L'opération est au cœur de la stratégie nationale pour les véhicules autonomes permettant la co-construction d'un cadre législatif pour le déploiement sur route ouverte. Elle est réalisée avec le soutien des Investissements d'avenir de l'État, opérés par l'ADEME, dans le cadre de l'appel à projets EVRA (Expérimentations de Véhicules Routiers Autonomes).
À propos d'EasyMile
EasyMile est le premier fournisseur de technologie pour véhicules autonomes, pour le transport de passagers et de marchandises. Les solutions d'EasyMile ont été déployées sur plus de 400 sites dans 30 pays.  
L'EZ10, véhicule pour le transport de passagers, est la navette autonome la plus déployée au monde, pour des cas d'usage du premier/dernier kilomètre. Pour le transport de biens, le TractEasy est un tracteur de manutention optimisant la supply chain en intérieur comme en extérieur, 24h/24 et 7j/7 dans les usines et les grands sites industriels. EasyMile propose également un système de gestion et de supervision de flotte, EZFleet, l'un des tout premiers à être déployé avec des véhicules autonomes en circulation.
EasyMile a été le premier à déployer des services totalement autonomes, au niveau 4 de la conduite autonome. C'est également le premier fournisseur de solutions pour véhicules autonomes à être certifié ISO 9001: 2015.
L'équipe d'EasyMile est composée de près de 300 experts hautement qualifiés, dont le siège est à Toulouse (France) et des bureaux régionaux à Denver (États-Unis), Berlin (Allemagne) et Singapour.
Contact Presse
Lucas Yon
06 99 25 92 07