By using autonomous shuttles in combination with local public transport, nine out of ten private cars can be replaced: this was the finding of the so-called Lisbon study commissioned by the OECD in 2015. In the same year, the Fraunhofer Institute IAO predicted in a study that autonomous driving would "achieve technical maturity before 2025". The media attention for the topic was huge at the time, but since then, at least in terms of public perception, little has changed.
Although autonomous shuttles are still used relatively rarely in road traffic, the rapidly growing number of autonomous shuttle projects means that this is likely to change soon. And not only is technology advancing fast, there is also public interest again. In a recent article in Gründerszene magazine, journalist and mobility expert Don Dahlmann expressed his belief that it is only "a matter of time before the market for autonomous shuttles will reach a size of several billion euros."
Time for some real talk: CleverShuttle stepped by and spoke with Franca Trippler from EasyMile about the use of autonomous shuttles in public transport. The French company based in Berlin has been developing software for autonomous vehicles since 2014 and works with well-known vehicle manufacturers.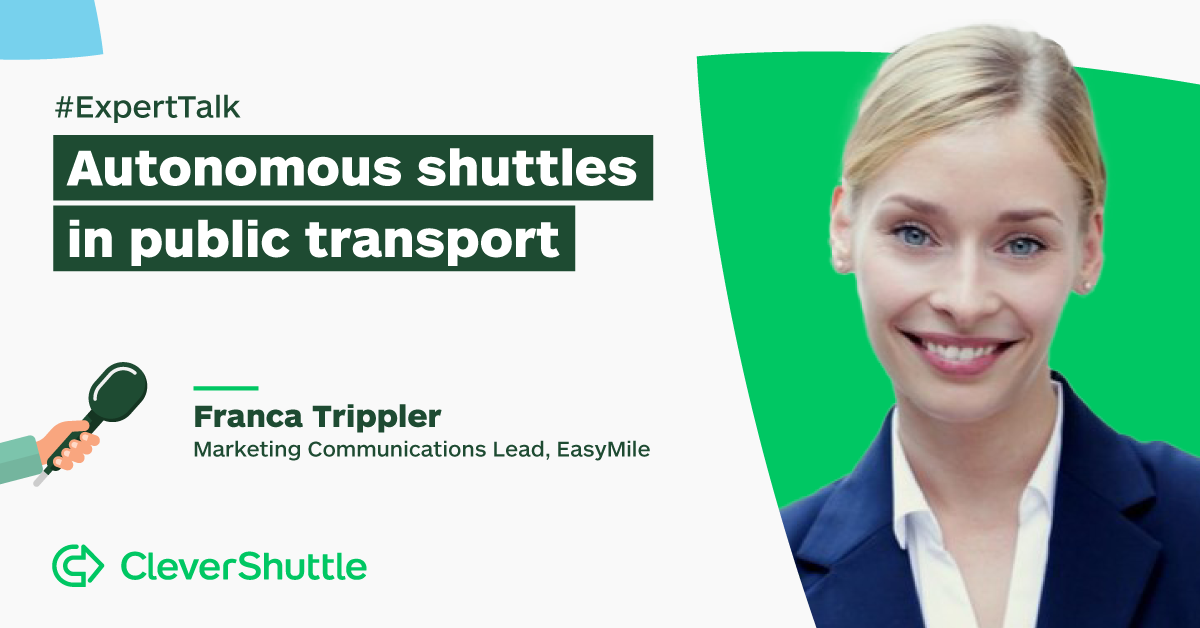 "We believe that the on-demand revolution will really take off once we have automation – and who better to speak to about the status quo of AVs in demand-responsive public transit, than the world's leading software company for autonomous shuttles, EasyMile?"
CleverShuttle: The best-known solution from EasyMile is the EZ10 Shuttle, which is used for passenger transport − a so-called people mover. However, you also have other vehicles in your portfolio. What does that look like?
We work with vehicle manufacturers around the world. For example, our electric shuttle EZ10 is manufactured by Ligier, a French manufacturer of light vehicles. We are currently working with IVECO Bus on an autonomous and fully electric bus that will offer space for 100 passengers.
Our job is to automate the vehicle platforms of our partner companies. This means that we build the software on the already successfully existing hardware platform. The EZ10's hardware is provided by Ligier, we put our sensor set on it and develop the software for it. This software then processes the data from the sensors and analyzes it - e.g. which obstacles, vehicles or people are in the closer surroundings. Thanks to the real-time processing of the data, the driverless system can react quickly and adapt by slowing down, stopping etc.
CleverShuttle: Just a few years ago, when I took a test drive in an autonomous vehicle it stopped in front of every falling leaf, that was in autumn. What has happened since then?
The prerequisite for autonomous driving is smooth environment recognition, i.e. correct perception and processing of sensor data from camera, laser and lidar or radar systems. Reliability is of course the most important thing here. A lot has happened in the further development of such sensors in recent years, but a certain sensitivity is still there. Currently, for example, adverse weather conditions such as heavy snowfall, rain or fog are still restricting highly automated mobility offers. Many see this as one of the last remaining challenges on the way to autonomous driving, but the technology is constantly evolving.
CleverShuttle: What projects in Germany is EasyMile currently involved in?
There are around 30 projects in Germany at the moment, all with different scenarios. Our "People Mover" EZ10 is often used to shorten the so-called "first and last mile" to facilitate the connection to the nearest public transport hub. In most cases, our shuttles are integrated into local transport and share the road with all other road users. According to the legislator, however, a safety attendant must still be on board on public roads. But that could soon change with the recently passed law on autonomous driving.
CleverShuttle: Can you name one or two specific examples where you are already working in Germany?
We have been using a fleet of 3 EZ10s in the Hamburg district of Bergedorf since September 2021 to connect a residential area to the nearby train station using an on-demand service. We have a similar project in Berlin but as a "line" mode, just like a conventional bus service. In Monheim am Rhein, our shuttles are used to make the historic old town with its narrow streets accessible - a standard city bus would simply not fit through there.
But we also frequently use our shuttles in rural areas to better connect towns and cities outside of rush hours. We are also on the move on private property and often fully driverless there. This way, we help private sites like company premises or business parks and campuses to avoid a "transport burnout". This means that our solution aims to reduce the amount of individual traffic and the associated parking spaces on factory and company premises with an autonomous on-site mobility offer.
CleverShuttle: Where are we currently in Germany in terms of the development and use of automated vehicles?
In a European comparison, Germany is way ahead with the recently passed law on autonomous driving. According to the federal government, vehicles with autonomous driving functions should start operating regularly by 2022. Until then, however, the technology and also the standardized processes for the construction, approval or data processing of the autonomous vehicles will have to be further improved. Our neighboring country France, for example, has passed a very similar law that should be implemented by September 2022.
CleverShuttle: At the moment, autonomous vehicles are still very expensive. When does the use of autonomous shuttles or the purchase of an autonomous shuttle in public transport pay off? Will the journeys then also be more expensive for the passengers?
We have an individual cost structure that we tailor to our customers' needs. Our shuttle pays off wherever a standard bus is not needed in terms of capacity. Our vehicles are all fully electric and do not require any additional infrastructure or resources: theoretically, the shuttles can even be charged using a conventional socket. The use of autonomous vehicles is therefore not as expensive as is often assumed and is particularly worthwhile for public transport providers when our solution helps to make the so-called first or last mile to the next public transport hub faster and more comfortable.
CleverShuttle: What is the biggest cost factor for transport operators?
Except for ressources, it's certainly the personnel costs. We've already talked about the recently passed law on autonomous driving. Next year the safety attendant could be completely taken off board for certain routes. Nevertheless, these positions are by no means superfluous, because the monitoring of such autonomous vehicles must be guaranteed at all times. The routes and vehicles can then be monitored from a digital control unit which allows passengers to communicate with the supervisors remotely with a push of a button in case of a problem on board. This is very cost-efficient as one employee can monitor several vehicles at the same time and allows people to focus on more value-added tasks.
CleverShuttle: We still have one final question for you that we will ask all of our experts in an interview: What mode of transport will you use to travel to work in 2035?
I currently live in Magdeburg, right by the city park near the famous Magdeburg Cathedral. And there actually is a shuttle service with one of our EZ10s in this park. Whenever I look out of the living room window, our EZ10 drives smoothly over the bridge into the city park - and the people here are thrilled. And seeing this makes me pretty confident that such mobility solutions will be part of my commute to work in 2035.
CleverShuttle: Thank you for the interview!
---
About CleverShuttle

CleverShuttle is a leading operator for on-demand ride-pooling services. Founded in 2014, CleverShuttle's mission is to get flexible, green mobility services on the road reliabl and cost-effectively, so that more people can have convenient and affordable access to sustainable mobility. To do so, CleverShuttle partners with cities and public transport authorities, rolling out on-demand ridepooling services that seamlessly integrate into existing public transport systems. With a focus on operational excellence, CleverShuttle covers all functional aspects of on-demand ride-pooling – ranging from demand forecasting and shift planning, through intelligent traffic control, to driver- and charge-management for electric fleets.

CleverShuttle currently operates on-demand services in Leipzig, Düsseldorf, Offenbach district, Essen, Darmstadt, Taunusstein and Frankfurt. CleverShuttle is a subsidiary of Deutsche Bahn.
Autonomous Mobility for Public Transport and Private Site Mobility