Autonomous shuttle expands medical district
Driverless shuttles helped give employees at the Children's Medical Center in Texas an alternative transport option when construction work took away some of their available staff parking.
Work on site meant employees had to park half a mile away from the hospital, operated by Children's Health, as closer parking lots are reserved for patients. 
To solve the problem, the health provider worked with EasyMile and Toyota Financial Services to introduce an electric-battery powered, autonomous shuttle, which gave staff and other users a convenient and sustainable link to the campus.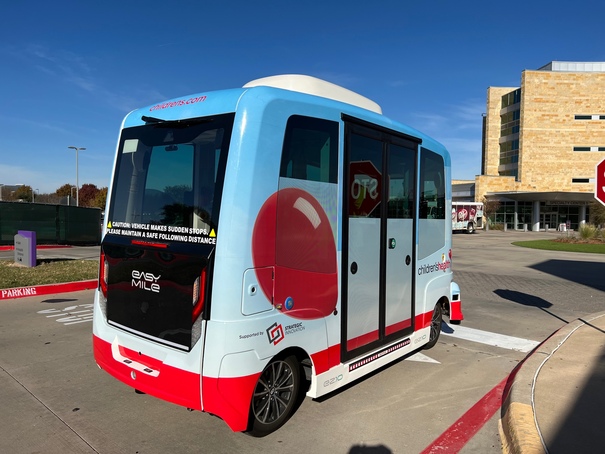 Environmental benefits from an autonomous solution
Children's Medical Center Plano launched the autonomous shuttle in December 2021, following two years of planning and collaboration between EasyMile and Toyota Financial Services. 
One of the biggest benefits was the shuttle's environmental impact. The electric battery-powered vehicle is estimated to have saved about 27 gallons of gasoline per week than was used by a traditional shuttle bus using an internal combustion engine. This has avoided adding around 90,000 pounds of CO2 into the atmosphere every year.
The six-passenger shuttle was fully automated, although during the initial phase of the program, Children's Health provided an on-board supervisor, who was able to operate the vehicle if there was an obstruction in the road. It was programmed with sensors to handle all the duties of a typical bus, including a built-in wheelchair ramp.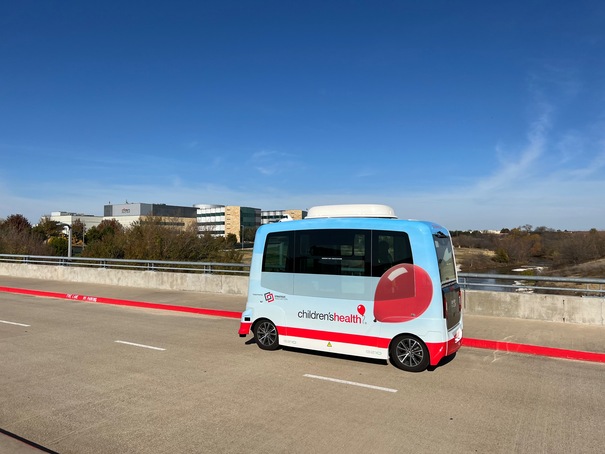 Success for EasyMile driverless shuttle at Children´s Health Plano
The pilot project saw EasyMile and Children's Health work closely with the US National Highway Traffic Safety Administration (NHTSA) to gain approval. It had positive feedback from passengers. Many were curious about how the technology worked and children using the shittle were excited about riding in a driverless vehicle (with a typical description being "it's the coolest thing").
With 25 trips per day, the hospital has used the project to test the technology's functionality., While it was a pilot project. Children's Health has said it would like to eventually add similar services to its other sites, including facilities in the medical district in Dallas. It could also lead to driverless vehicles playing a larger role in the area, with the city of Plano's authorities also been monitoring the hospital's program to assess the feasibility of using autonomous shuttles between local business and government buildings.

This is something we can utilise to help a lot more folks move around in a greener manner, if we were able to take all these ridership groups who are routed to different hospitals, combine them as one and do it a sustainable way, that's just a home run for everyone