The first Level 4 autonomous shuttle to solve the last mile gap
On the TLD Group plant site, in Sorigny, France, an EZ10 driverless shuttle has been deployed to fill the gap between the plant and the restaurant, on a 1km shared route, the very first fully driverless service, without service attendant. 
This major milestone has been made possible thanks to a remote supervisor based 500km away, following and monitoring the shuttle with the possibility of communicating with the passengers thanks to a full intercommunication system, through microphones and cameras. 
The shuttle ran on a daily basis, at lunch time, giving the employees more mobility. Since the beginning of the service, more than 50% of the on-site employees ride the EZ10 daily. 
The EZ10 has proven to be a safe, reliable service around our campus. Employee feedback is very positive, especially in case of inclement or hot weather!
TLD is proud that the first deployment with no safety supervisor on-board took place in one of our factorIes. It is an important milestone both for EasyMile and for mobility in general.
A major step forward
This is a major step forward and demonstrates EasyMile's ability to deliver the full promise of autonomous driving for local mobility. It solves the first/last mile challenge with:
• Attractive cost per passenger thanks to driverless operations
• EasyMile's safe, turnkey driverless solution, which includes the driverless vehicle, autonomous driving software, fleet management system, as well as control center.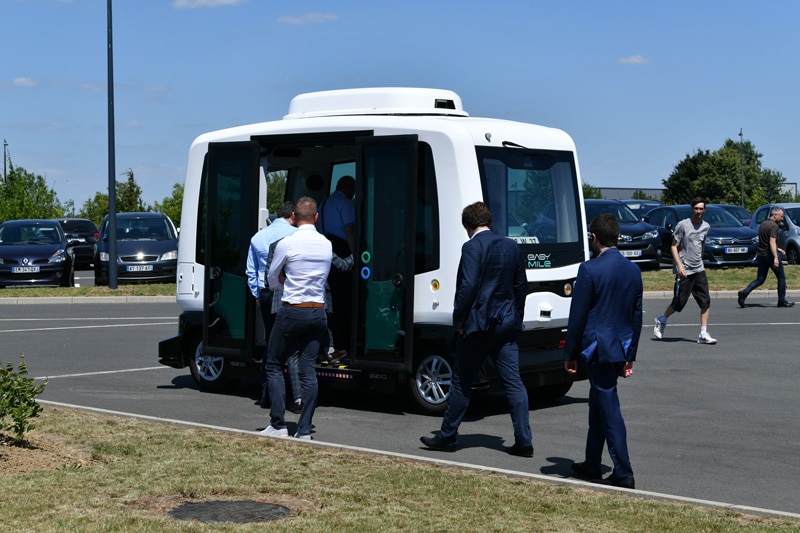 New mobility option for private sites
The EZ10 shuttle is the Level 4 solution for private sites.
Safe and reliable, it benefits from a strong track-record with 600,000km travelled without collisions. Fully electric, it also reduces emissions and noise. 
Thanks to its cutting-edge technology, EasyMile offers a fully driverless service (without service attendant on-board) on private sites, customizable to your needs.